Birthday boys: Similarities between two daredevils - Virender Sehwag and Navjot Singh Sidhu
Chivalrous, unflinching and controversial at times, the two dashing opening batters are different from rest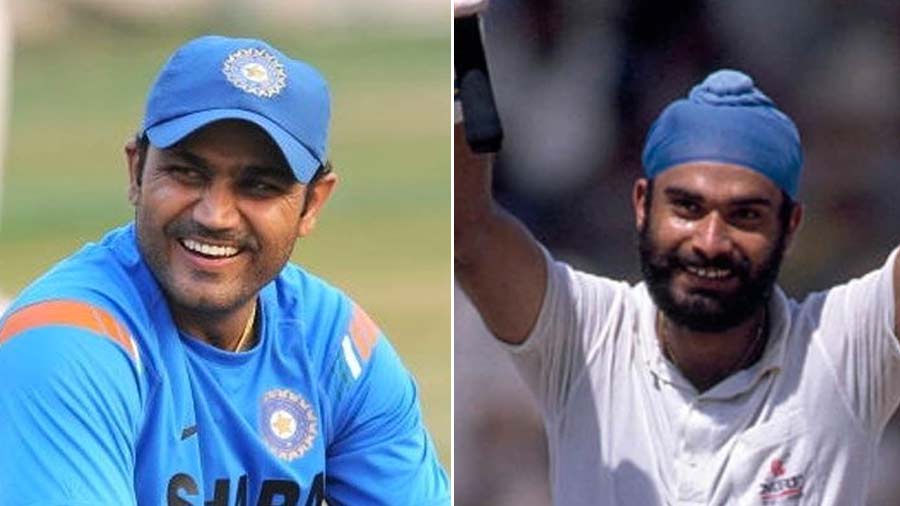 Virender Sehwag (L) and Navjot Singh Sidhu
File Picture
---
Calcutta
|
Published 20.10.22, 06:48 PM
|
---
Usually when two celebrities share their birthdays, one is prompted to look for similarities. And if they are from the same profession, the need becomes that much more urgent.
October 20 happens to be the birthday of Virender Sehwag and Navjot Singh Sidhu. Now, what is so special about them?
Both opened the innings for India for years. Sidhu from 1987 to 1999 and Sehwag between 2001 and 2013. Both never hesitated to take the battle right into the enemy camp. Both were unorthodox technically yet immensely effective. And on their day, they were fearless and invincible. Now,  years down the line, post their retirement, both Sidhu and Sehwag are a treat to listen to. 
The two north Indians have rewritten the coaching manual with their distinct style of batting which has earned them reverence despite the presence of bigger stalwarts. 
If Sidhu was written off as a stroke-less wonder, he slogged for months to be the bowlers' nightmare in the 1987 World Cup and the rest is history.  He scored four consecutive fifties in the World Cup prompting Aussie skipper Allan Border to state, "When the bloke hits the ball, it stays hit."
The late '90s India vs Australia series was hyped over the Sachin Tendulkar-Shane Warne rivalry, but let's not forget it was the Patiala Sardar who showed the audacity to walk down the track and go hammer and tongs against the legendary Aussie spinner. 
In the first Test at Wankhede Stadium where Tendulkar failed, Sidhu scored 62 and 64 in the two innings hammering Warne's confidence. 
So impressed was Warne that he said later, ""One batsman I never felt received the credit he deserved during the series was Navjot Sidhu."
Talking about Sehwag, like Sidhu, he too didn't get off to a flying start at the international level but slowly and steadily cemented his place in the team.
Wasn't he lethal? He mauled tradition and a happy-go-lucky approach was key to many a triumph for India. 
Ask him to go steady, he wouldn't adhere, many a time his harakiri has cost the team dear but years down the line, when we sit back to write his cricketing story, Sehwag's impact can never be overlooked. Be it his partnership with Tendulkar in the Indo-Pak clash in the 2003 World Cup or his epic double century against Sri Lanka at Brabourne Stadium or his ODI double ton against West Indies - Sehwag was unparalleled. And what about his comeback Test knock against Australia at Adelaide in 2008?   
Post-hanging up their boots, both Sehwag and Sidhu never minced words and the media has been agog with their intrepid statements.  
Sidhu unfortunately has ruffled too many feathers as a politician and his ambitions have boomeranged. But but as a TV commentator and reality show judge, Cherry as he is nick named has earned a special place in our hearts.
Sehwag on the other hand might have restrained himself a bit with his over-the top comments but the entertaining messages on social media are missed for sure.
Here's wishing both the legends a Happy Birthday!