Big Ben ticks all boxes: Lance Klusener
Aggregating 343 runs and having scalped 9 wickets in the Test series versus Windies, Stokes is now the top-ranked all-rounder in Test cricket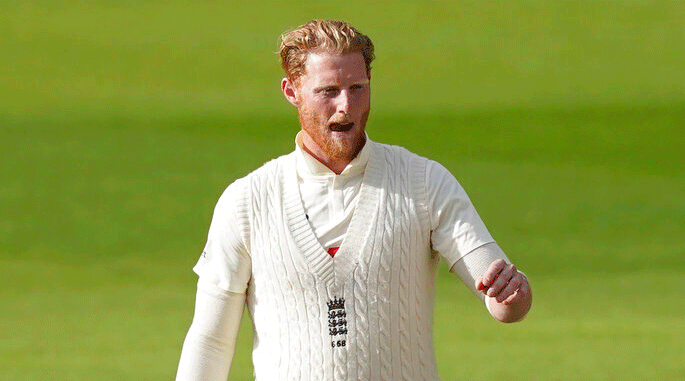 ---
|
Calcutta
|
Published 23.07.20, 03:22 AM
---
Presence of a fast bowling all-rounder in a team always provides it with an edge and that's what Ben Stokes has been giving England in a consistent manner, emphasises former South Africa all-rounder Lance Klusener.
Over the last few years, Stokes's all-round performances underlined how he has grown in stature and he seems to be continuing from where he had finished after international cricket finally resumed after almost four months.
Aggregating 343 runs and having scalped nine wickets in the ongoing Test series versus West Indies, Stokes is now the top-ranked all-rounder in Test cricket and has also moved up to No. 3 in the rankings for batsmen.
Klusener, thus, has little doubt over acknowledging Stokes as the best all-rounder now across all formats. "Oh definitely, Stokes is the best across formats at present. He's in a rich vein of form, which is really special.
"A fast bowling all-rounder of Stokes's quality is the glue of a good team, and England are becoming stronger and stronger because of that.
"It's certainly good to have a spinner all-rounder in your side, but we've seen in the past the huge advantage teams have had comprising all-rounders who could bowl fast, like (Ian) Botham and (Jacques) Kallis. England are enjoying that advantage now," Klusener, one of the top all-rounders of his time, told The Telegraph from Durban.
His capacity as a batsman aside, Stokes's ability to consistently hit the 140kmph-mark while bowling keeps him ahead of other all-rounders of today, Klusener pointed out.
"We also have (West Indies) captain Jason Holder, who is another fine cricketer. He is working on his game, but if he works a bit more on his speed, he can go to the next level.
"The same goes with Hardik Pandya. If he can bowl consistently at 140kmph and do the needful coming out to bat at, say No. 7, that's what matters. I think ticking all these boxes gives Stokes the edge over others."
Just like Stokes, Klusener also was a left-handed batsman and right-arm quick and used to come up with crucial contributions that bailed the Proteas out on several occasions. In the 1999 World Cup he was adjudged Player of the Tournament.
Having a capable left-handed batsman in the middle order helps a team make matters tougher for its rivals, Klusener explained.
"Well, Stokes is a much better player than I was, first of all. But yeah, if you have a left-handed batsman in that middle/lower-middle order who is good with the bat, it does make a difference, especially in Test cricket, because bowlers find it difficult to deal with.
"We all know what (Adam) Gilchrist used to do coming in that position, making it very, very tough for bowlers," Klusener said.
Asked if there was any area where Stokes still needs to work on, Klusener replied: "He could be working on managing himself and keeping himself 100 per cent fit.
"The way he's playing now, it's about keeping himself in the space which allows him to continue performing at that level."