Allan Donald bowled over by Jasprit Bumrah
'His adaptability to all formats is just crazy and everyone talks about him'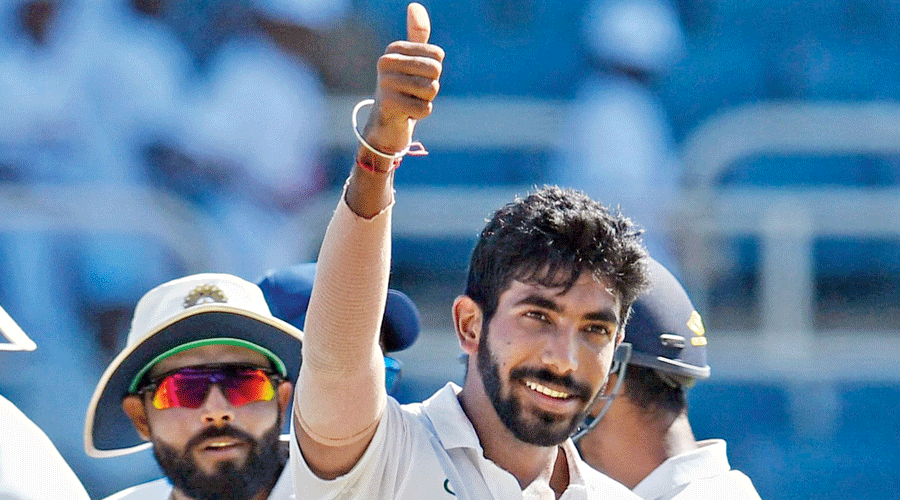 In early 2018, Jasprit Bumrah was unleashed in South Africa after his consistent showing in white-ball cricket.
File Photo
---
Published 19.01.22, 02:02 AM
|
---
In his debut, at Eden Gardens back in November 1991, which also marked South Africa's return to international cricket, Allan Donald had impressed one and all with his brilliant spell (5/29) of bowling in that historic ODI versus India.
Then 25, Donald, thereafter, took little time to create his own space among the fiery quicks. In early 2018, Jasprit Bumrah was unleashed in South Africa after his consistent showing in white-ball cricket, and he had responded almost immediately in his debut Test series, going on to be India's bowling spearhead across all formats just four years down the line.
Like Donald, Bumrah too has been able to quickly establish himself as a leading fast bowler today. Donald believes Bumrah also stands out among the current quicks of world cricket.
"Two blokes who I would keep at the top across all formats are (Kagiso) Rabada and Bumrah. But the one who would stand out in terms of all formats is Bumrah. His adaptability to all formats is just crazy and everyone talks about him. He has sublime skills in all formats of the game," Donald, who also used to be known as 'White Lightning', told The Telegraph from Bloemfontein.
"I was watching him bowl the other day. Especially how he delivers the ball after a stuttering run-up and releases the ball is simply crazy. He has got a magnificent wrist turn-over that no one else has presently in the game. It just can't go wrong for him.
"His ability to bowl yorkers any time in all formats also stands out. He also knows when to bowl that yorker in Test cricket. He's an absolute gun for me in all formats. "I don't think I've seen such steel in a young fast bowler. When he first came on to the scene, I thought, 'Wow! This guy has got real pace'. And now, he's one guy whom I would always have in my team across formats," Donald said.
Lack of patience
Bumrah and his pace colleagues, Donald feels, became "a little impatient" at certain phases of the second and final Tests, both matches that India lost to concede the series in spite of winning the opener.
"There were times when India's bowlers deviated from their normal plans. By normal plans, I mean bowling the fourth-stump line in order to find the 'keeper's gloves. At times, they became a bit more frustrated and bowled on both sides of the wicket (in Johannesburg and Cape Town)," Donald, currently head coach of the Knights, pointed out.
"Bowlers were always in the game because of the pitches, whose inconsistency really surprised me. But India just faltered in terms of their patience, and the small openings allowed South Africa to breathe better and start scoring a little more freely."
Kohli's slump
Lauding the Proteas bowlers for keeping Kohli relatively quiet in the Test series, Donald, having worked alongside him as bowling coach of Royal Challengers Bangalore, also believes the former India skipper will very soon be back to his best.
"I'm not sure if Virat was exposed technically, but South Africa hammered away at the basic areas and let the pitch do the business when bowling to him. The bowlers piled on the basic pressure really well.
"Is Virat invincible? No. But even the greatest have gone through a slump, as the game is a great leveller. Even Steve Smith hasn't really been on fire since his comeback after the ball-tampering issue.
"I know Virat's standards and I'm sure he will be back at some point. It won't take long."