Accepted my destiny and happy with opportunities given: Srini
'Things are not clear in the Board... Clouds have to disappear'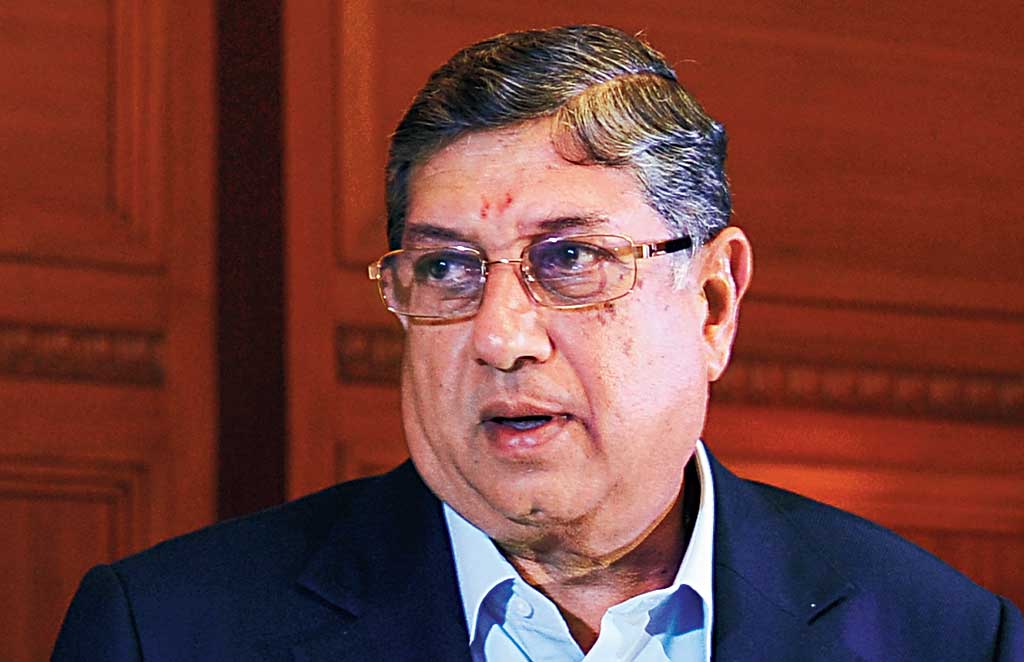 Narayanswami Srinivasan
Telegraph picture
---
Chennai
|
Published 27.12.18, 09:49 PM
|
---
Friday will be somewhat of an emotional day for Narayanswami Srinivasan, one-time supremo of cricket globally, as nine former India captains assemble under one roof for the release of a "coffee-table book" on India Cements Limited and his own association with the infrastructure major.
While India Cements has completed 70 years, Srinivasan has himself notched up a half-century of being involved with it.
Srinivasan, who has done his Masters in chemical engineering, is the India Cements vice-chairman and managing director.
As of Thursday evening, Chandu Borde, Sunil Gavaskar, Gundappa Viswanath, Kapil Dev, Dilip Vengsarkar, Krishnamachari Srikkanth, Rahul Dravid, Anil Kumble and Mahendra Singh Dhoni had confirmed their presence.
Iconic Dhoni, in fact, will receive the first copy from Tamil Nadu chief minister Edappadi K. Palanisami. Srinivasan and Dhoni share a special bond, which goes much beyond employer and employee.
Dhoni, by the way, is VP-marketing of India Cements and captains IPL giants Chennai Super Kings (CSK), which has close ties with the company.
In between meetings, Srinivasan spoke to The Telegraph for around half-an-hour at the India Cements HQ on Santhome High Road.
"A host of other India and state-level cricketers will also be present. That they are coming is an honour for India Cements, which has been associated with sports, especially cricket, for decades...
"Sourav Ganguly too was scheduled to come, but he's informed me of some difficulty in getting suitable connections out of Barcelona," Srinivasan, a former chairman of the International Cricket Council (ICC) and former president of the Board of Control for Cricket in India, said.
According to Srinivasan, "many" of the Board's affiliates are also expected to be represented at the function.
Excerpts from the interview...
Q So many former India captains together... You've pulled off a coup...
A (Smiles) They've agreed to grace the occasion because of what India Cements has done for cricketers. Instead of time-bound contracts, we'd offer employment. That so many cricketers are coming is humbling.
Q The coffee-table book is being released at a time of so much uncertainty in the Board. Your thoughts?
A This, indeed, is a time when the Committee of Administrators (CoA) is asserting itself, while the Board's member Associations believe authority rests with them... Yes, things are not clear at this stage... The clouds have to disappear.
Q But the two Supreme Court-appointed Administrators, chairman Vinod Rai and Diana Edulji, are themselves speaking in different voices...
A It appears so.
Q Talking of the Board's member Associations, the CoA feels they are dragging their feet on implementing the Justice Rajendra Mal Lodha Committee's reforms which figure in the Supreme Court's order of July 18, 2016... What do you have to say?
A Some of the things are sub judice. Let's wait for the January 17 hearing in the Supreme Court.
Q As a former president of the Board, you must have been concerned with the allegations of sexual harassment against CEO Rahul Johri. He got a 2-1 verdict from the inquiry committee and continues in his position...
A Such things never happened when the Board was run exclusively by members, who voluntarily gave time... At the senior level, there were no professionals. I wouldn't like to add to what I've said.
Q You sought to ensure a bigger share of the ICC's pie for India, but got criticised (when Shashank Manohar became the chairman) for limiting the Dollars intended for the less-influential members...
A I'd like to correct you... I never tried to limit anybody's share of the ICC's pie. What I did do is ask for India's legitimate share. I'm proud to be an Indian, why be apologetic about it? I'm sorry to say, but for personal advancement, India's interests are being frittered away in the ICC... India has been a dominant force and must remain so. Always.
Q Quite a few among the Board's member Associations still look up to you for guidance. Could you, one day, make a comeback instead of remaining influential behind the scenes?
A I don't know... Your question relates to the future.
Q The Super Kings's successful return to the IPL, after a two-year ban, made for a fascinating story. What were your emotions when Dhoni's men beat the Sunrisers Hyderabad to win the tournament for a record-equalling third time?
A I wouldn't like to talk about myself, for other things may come in... I'll happily say that CSK's win (which matched the Mumbai Indians's record) is testimony to Dhoni's leadership and the obvious skills he possesses. Testimony too to the commitment and the resilience of the entire team. The franchise's successful return went beyond any script.
Q I see that even you are wearing a sky blue shirt with the 'IC' logo...
A Everybody wears sky blue because I'm only seen in shirts of that colour... Dhoni too wears sky blue shirts when he comes here... As for the 'IC' logo, it gives a sense of belonging. A sense of pride, which I believe is necessary.
Q The last one... Any regrets?
A (Pauses) Let's say I have accepted my destiny and I'm happy with the opportunities life has given.