Barcelona is at heart of Messi's craft
The city of Barcelona binds Messi and Picasso – two of its most famous residents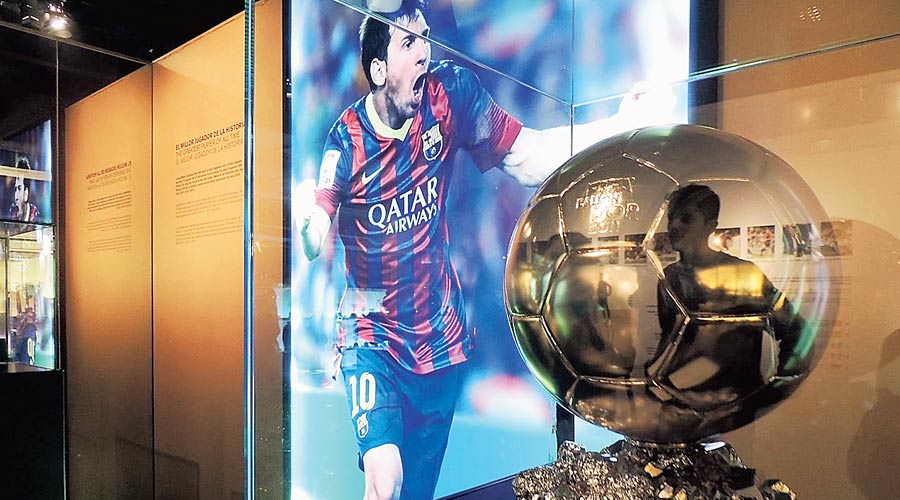 Barcelona's Club Museum at Camp Nou has a section devoted exclusively to Lionel Messi and is called Espai Leo Messi.
Picture by Jayanta Basu
---
Published 14.08.21, 02:18 AM
|
---
Lionel Messi and Pablo Picasso have great similarities. Not just about the two being great artists, one weaving magical patterns on grass, the other on canvas.
The city of Barcelona binds Messi and Picasso, two of its most famous residents. The city nurtured their unbelievable skills and presented them as masters to the world. Incidentally, both came to Barcelona during their formative years, aged 13 or 14, reached the pinnacle of their professional careers before both chose to leave for Paris.
While visiting Barcelona one can mostly relate to Picasso's immense impact while walking through the corridors of the sprawling Picasso Museum. But Messi, you feel him everywhere. Finding people in a Barcelona shirt with Messi and the fabled No.10 printed on its back is as common as finding metros in the cosmopolitan capital of Spain's Catalonia region. And such a sight would be even more regular if there was a Barcelona match around.
In December 2019, while in Spain for covering the global climate summit in Madrid, I took a Sunday out to literally crisscross the city of Barcelona along with a media colleague and ended up visiting Camp Nou in the end.
As chance would have it, there was a Barcelona La Liga match against Mallorca. Messi had scored a hat trick in a 5-2 win. The match was in the late evening. When we got out from the Collblanc metro station, a 10-minute walk from Camp Nou, the game was still a good four-odd hours away, but the "Messi fever" was already at play. There was a "Messi" everywhere it seemed.
But that was only the trailer. As one entered the Camp Nou complex, Messi could be seen everywhere. Starting with the superstar's huge poster on stadium wall — one which was taken down immediately after news confirming that Messi would leave Barcelona — to the small memento shop, to the large departmental store and finally in the FC Barcelona museum.
"Out of the ten shirts we sell, at least eight to nine are Messi shirts," the saleswoman in the departmental shop had said.
Once you enter the museum — one of the most visited global museums with about 1.2 million annual footfall — Messi rules. Brazil's Ronaldinho, who too enjoyed a huge fan following in Barcelona till Messi took over; comes a distant second in terms of both importance and attention.
"We have come here all the way from South Africa just to see Messi play… We saved money for so many years," an excited young couple gushed.
Messi, whom the Catalan club found too costly to keep, actually brought more money to Barcelona compared to what he got from the club over the years. A calculation undertaken by some financial experts show that during the last three years, Messi made about 383 million euros but in return brought about 619 million euros to the club. That's a net profit of 236 million euros to Barcelona!
"Lionel Messi single-handedly makes 30 per cent of the club's total revenue" wrote Nishant Narayanan, a Barcelona researcher who added that "a player also makes the club a ton of money through ticketing, VIP passes and shirt sales".
So will Barcelona be better off — even financially — without Messi? That's hard to say at this point in time, but it's quite clear that Camp Nou — and the city of Barcelona to a large extent — will not be the same without Messi.
Picasso, even after he had left Barcelona, could not banish the city from his system — one of his famous works, Les Demoiselles d'Avignon (the master originally wanted to name it Le Bordel d'Avignon) was painted in Paris but was themed on a road in Barcelona. Will that be the case with Messi too? Will he return to Barcelona once he is done with PSG?
"I have no doubt that after some years, we will return as this is our home, I have promised that to my kids too," Messi said during his farewell media conference at Camp Nou.
Barcelona is not just a club to Messi. Barcelona is Messi.