Xertz Carbon XZ0: Sunglasses that allow you to 'hear'
Going running, cycling or just chilling on the terrace will not damage the device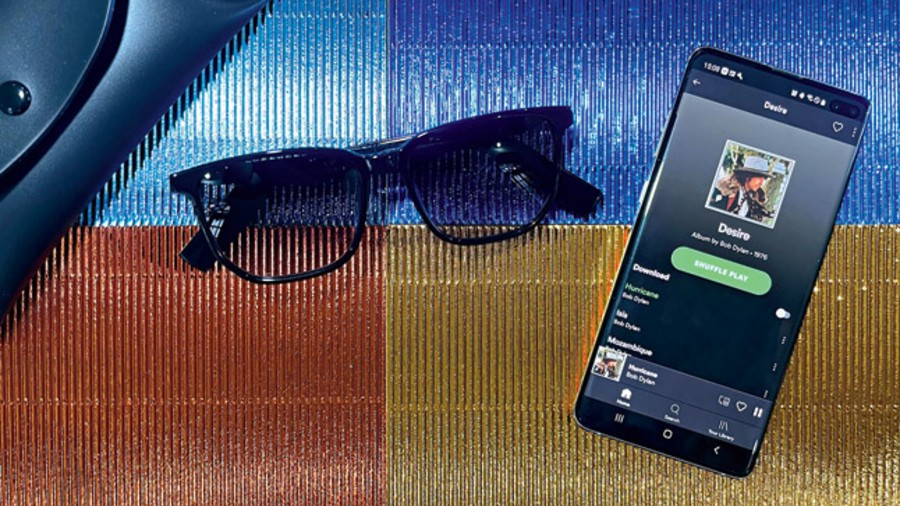 Xertz Carbon XZ01 Audio Frames is a wireless audio solution, which pairs with smartphones via Bluetooth.
Pictures: The Telegraph
---
Published 26.05.21, 03:21 AM
|
---
In India, audio-integrated sunglasses still form a niche category. There are a few options available but it's certainly a growing one and probably holds enough promise among those who aren't particularly picky or fond of earbuds. These are people who like to listen to music on proper speakers but are forced to wear earbuds while on the road.
But it's these niche products that are doing brisk business, like Xertz, which is a start-up that was established only last year in England and is being backed by Indian technology firm Shree Samiri Technologies. Right, the names are difficult to remember but what we have for review is Xertz Carbon XZ01. I agree that the device name could have been simpler. Yet, there is much to be spoken about the device, which appears simple but it gets a few things right.
Firmly in place
XZ01 comes in a slightly biggish box inside which is a case containing the device. Out of the pouch, it looks just like another pair of shades. From the front, it looks like a typical pair of Fastrack, which sits snugly on the nose. The bridge is just perfect and so are the nose pads. A brisk walk won't shake this pair of shades off your nose. It's only when you look at the pair of sunglasses from the side you will notice the slight thickness of the frame, which holds all the tech goodies. Personally, I didn't require any adjustments on the hinges while the lenses are not at all bad. Wearing it around the house made me feel a bit like a boozy version of Rowan Atkinson, who just got punched by his better half for cracking a few irritating jokes. The frame is scratch resistant and what you get is nylon lenses. Plus, there is IP67 protection, which makes it safe from splash and dust. Going running, cycling or just chilling on the terrace will not damage the device.
The oversised temples gives away that these are audio sunglasses. Usually, a new pair of sunglasses bring with it some squeeze at the sides of the head, which wasn't the case here. Neither did the device get loose enough to the point they start bobbing on the head after a week of usage.
Let's talk about sound
Of course, it's the sound that matters. We have seen Bose come up with some fantastic audio-enabled shades. They sound great and they are costly. Here, the sound is clean, with enough depth to decipher Elton John's lyrics, which is a tough ask. The open-ear design doesn't direct all the music to the ears, so if you are listening to music at max volume, the person next to you may hear the all the sweet whisperings of Jane Birkin on Je t'aime Moi Non Plus. In fact, the song makes for a good entry to the audio capabilities of XZ01. It's that spectacularly notorious piece of pop debauchery, which immediately reminds one of a disheveled Serge Gainsbourg bringing Hugh Hefner down on his knees. The audio frame captures the sounds well and makes every word/groan audible.
Listening to 10cc's I'm Not in Love was a pleasure as I had forgotten the subtle intro after being basted by tinny sounds of cheap earbuds. It's clear and things are not too bad. Shifting gears to Elton John, I thoroughly enjoyed his albums Goodbye Yellow Roads as well as Honky Chateau. There is no active noise cancellation but outside noises do get cut off to a degree.
But there are issues; not everything is spiffing. The audio lacks the punch which a good quality wireless earbuds may offer by sitting closer to the eardrums. Also, Xertz should look at introducing an app using which can you control the equalizer. It's a very simple Bluetooth-enabled audio solution. I would like to hear richer sounds.
There are two tiny buttons near the hinges, using which you can control what's playing on the phone, like increasing/decreasing volume, pause/play, waking up a voice assistant and so on. The instructions you give are clearly understood.
When it comes to battery life, Xertz promises five hours but since I listened to music at 80 per cent level, I could get around four hours, which is not all bad. There are two 110mAh batteries that charge up pretty quickly and I guess you won't be wearing this pair for more than two-three hours at a stretch.
Should you buy it?
I am someone who likes big sounds and that too coming from a music system. If it is about wireless earbuds, I would rather go with the best options available in the market because I don't want to do injustice to Rolling Stones or The Doors. So getting something that's niche works for me. It's way cooler than most earbuds. At the same time, XZ01 doesn't compete with earbuds as such because these are two product categories. What Xertz should look at is incorporating an app to run the show. Overall, Xertz Carbon XZ01 allows you to hear the world around you without distractions. It's a pleasant break from cheap earbuds.
Other options • Bose Frames Tempo: It allows you to hear music and your surroundings at the same time for a workout unlike any other. The sweat-and-weather-resistant design is "built for the outdoors". It's the sound you expect from Bose, with everything you need from sport sunglasses.
• Fastrack Vibes Audio Smart Sunglasses: Integrated bluetooth 4.1, 200 mAh battery and get up to three hours playback once fully charged.
More about Xert Device: Xertz Carbon XZ01
Price: Rs 9,999 (Xertz.in)
High notes
• Sleek design
• Clean audio and allows the user to be aware of surrounding sounds
• Splash and dust resistant
Muffled notes
• A dedicated app will give more control
• Mic quality can improve