Wind farms: where kites stay away, lizards play
Scientists grapple with ecology puzzle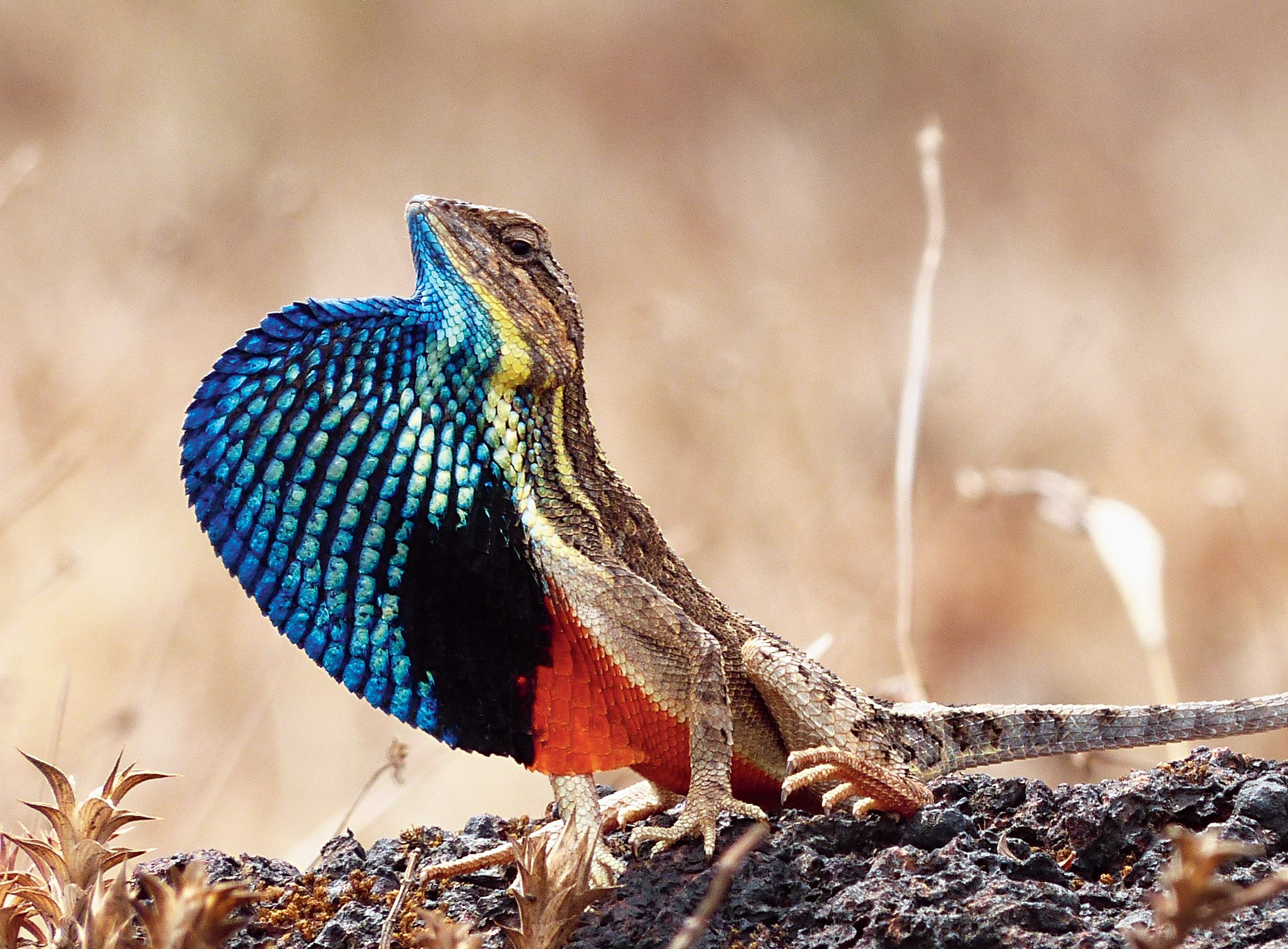 A fan-throated lizard.
Picture by Abi Vanak
---
New Delhi
|
Published 05.11.18, 08:43 PM
|
---
On the Western Ghats, biologists have discovered that wind farms reduce the abundance of predatory birds and increase lizard populations, triggering a cascade of changes in the food chain whose long-term consequences remain unclear.
A study by ecologists from the Indian Institute of Science, Bangalore, has revealed that predatory birds such as buzzards, hawks and kites avoid areas around wind turbines and allow lizard populations there to thrive.
The scientists found that the population densities of the most common lizard species — the fan-throated lizard — were three times higher at sites around wind turbines than sites away from them.
All the sites surveyed were on the Chalkewadi plateau in Maharashtra, about 30km southwest of Satara, where wind farms have operated for over a decade.
"We're not saying that wind farms are wrecking the ecosystem," said Maria Thaker, assistant professor at the IISc who led the study, published on Monday in the journal Nature Ecology and Evolution. Research scholars Amod Zambre and Harshal Bhosale are the co-authors.
"But wind farms can act like apex predators: they can remove predatory birds without killing them and cause a cascade of effects on their terrestrial prey," Thaker told The Telegraph.
India has a cumulative installed wind energy capacity of more than 32,000MW, the fourth largest after China, the US and Germany. Most of the wind farms are clustered at sites in Andhra Pradesh, Gujarat, Maharashtra, Karnataka and Rajasthan.
Several earlier studies outside India had suggested that wind turbines can kill birds and bats through direct collisions. A 2013 study had estimated that between 140,000 and 328,000 birds are killed by collisions with wind turbines annually across the US. A 2008 Canadian study suggested that bats may also die from sudden drops in air pressure close to wind turbines.
In Chalkewadi, the IISc researchers did not find evidence of collisions but observed predatory birds avoiding wind farms. The abundance of predatory birds and the frequency of their typical dive attacks to pick up prey such as lizards from the ground were four times lower at sites near wind farms than those away from them.
"One might think that wind farms are bad for birds but good for lizards, but that may not be true," Thaker said.
Devoid of predatory pressure from birds, lizard populations rise, but the lizards themselves change. They display lower levels of anti-predator responses and lower stress-induced corticosterone levels. They also appear thinner and the intensity of colours in their fan-throats appear weaker. "The lizards become bolder because there are no birds, but also have poor body condition, perhaps because there are more lizards now competing for available resources," Thaker said.
The IISc team said that while humans have long been considered "super-predators", their study shows that even without the direct presence of humans, wind farms can act as apex predators. The impacts of wind farms may be "greatly underestimated", they wrote.
"We still don't know the long-term impacts of such changes," Thaker said.
The IISc scientists are currently engaged in studies to determine how the changes in the lizard populations might affect beetles or other insects or plants, organisms lower on the food chain on the Chalkewadi plateau.