WhiteHat Jr is arming kids with coding skills and making their bright ides shine
An opportunity for a first-hand experience of what's happening in the hub of technological innovation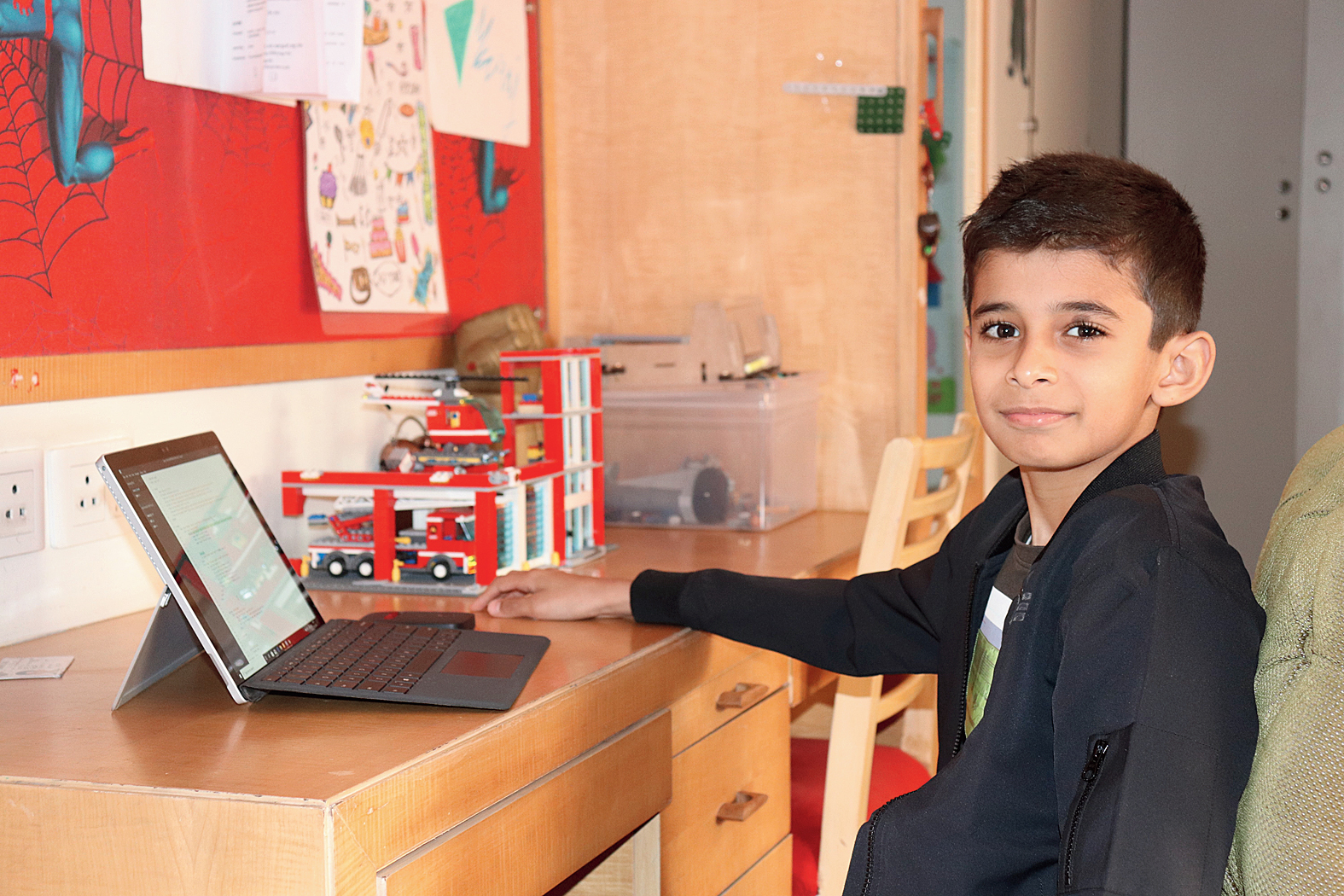 Yuvraj Shah, who improved his coding skills with WhiteHat Jr has come up with the app Medmaze, which helps people to donate their unused but not expired medicines
WhiteHat Jr
---
Published 14.04.20, 02:29 PM
|
---
If there's anything I can tell you about kids today, it is that they're full of potential and pick up things like coding a lot more naturally than perhaps people from an earlier generation," Karan Bajaj, founder and CEO of WhiteHat Jr, tells The Telegraph.
Founded in 2018 by the former Discovery Networks CEO, WhiteHat Jr. teaches children to code. The online platform has seen over 250,000 student trials, over 500,000 student projects created, over 1,000 teachers onboarded and 100 per cent month-on-month student and revenue growth. And it has translated into the company's Silicon Valley Programme, which has chosen 12 Indian kids aged between six and 16 years from across India and — if the coronavirus situation gets tackled — they would soon visit Silicon Valley to pitch their ideas to noted VCs there. Here's what Karan Bajaj told us.
WhiteHat Jr is enjoying a new milestone — your team is set to send a bunch of six to 14-year-olds to Silicon Valley to pitch their ideas. What kind of programming have these kids learnt so far?
WhiteHat Jr's mission is to enable kids to become creators and in line with that mission we follow a project-based teaching philosophy which places a high emphasis on kids building games and apps right from the start. Building an app requires coding logic as well as an understanding of developing user interface and back-end data structures. All our students learn these concepts within 40 hours of learning to code with WhiteHat Jr and are able to build apps, post which they are invited for the Silicon Valley Challenge. Depending upon the grade to which the kids belong, they also start learning text-based programming languages. Our Silicon Valley Programme winners have learnt front-end programming languages like React Native, HTML/CSS and JavaScript as well as been introduced to back-end concepts like Python.
With coronavirus affecting almost every industry, when do you think these kids would make it to Silicon Valley to pitch their ideas?
The itinerary is still being firmed up since we're trying to maximise learning experiences for the kids and not just make this a recreational foreign vacation.
What kind of support will these kids get once they reach San Francisco, in way of funding and further education in coding?
The core idea behind sending these kids to Silicon Valley is to give them a first-hand experience of what's happening in the hub of technological innovation. These 12 kids have been selected after vetting 7,000-plus entries from across India and are exceptionally brilliant kids who we're sure will do some great things in the future. During the trip we will make them meet some noted entrepreneurs so that they can learn some valuable lessons.
The kids will also get an opportunity to visit Googleplex and interact with their engineers, as well as visit the Waymo facility to experience driverless cars and talk to their product managers. All of this will help them to broaden their minds and understand the possibilities that are open to them as young coders. These kids will continue to learn coding on WhiteHat Jr and our team will be personally mentoring each of them with a focus on developing their products. The chance to talk about their ideas and products to top venture capitalists (VCs) like Nexus Venture Partners and Owl Ventures is really the icing on the cake. We have also started a 15 under 15 fellowship wherein WhiteHat Jr will help the top 15 kids on the platform incubate their own start-ups and provide a $15,000 fellowship to them.
Since the launch of your start-up, what kind of change have you noticed in school curricula?
While some education boards have asked schools to introduce coding in the curriculum, kids today largely learn only the basics of computing in schools. There needs to be a more comprehensive approach to teaching them coding as one of the key skills of the future. While schools are doing their bit in using technology to enable learning for students, we believe that there's an opportunity for them to work with specialised players like us to focus on certain key areas. Also, a key point here is that some of these skills need to be taught in a one-to-one format — something that is not possible for schools to do at a scale. We are connecting with various schools to explain the benefits of coding classes at an early age and sensitising them on the gap in the current education system that we're addressing.
We are witnessing an overwhelming demand from schools across the country and are currently in discussions with over 150 schools to roll this programme out. We're offering schools flexibility in terms of how they can collaborate with us, including models where we will license our curriculum to schools and train their teachers to supplement the school's existing computer science class. We are also helping schools form post-school coding clubs where we will conduct coding classes to complement their existing computer science curriculum.
Do you see more and more girls take up coding?
Yes, increasingly more girls are taking up coding along with the boys. In our Silicon Valley programme winners, we have three girls and even on the platform, 35 per cent of sign-ups are girls. This is a heartening trend since hopefully in the long run, this will also aid to improve the gender skew in technical fields and computer science. Coding is a gender-agnostic skill and as a father of two daughters, I believe in the incredible power of early childhood learning and wanted to harness the creativity that most five- or six-year-olds naturally have.
Why should a seven-year-old become well-versed at coding rather than spend that extra time they have on playing, reading and just being kids? Some say it's another way of making parents spend more money on computers. What's your take on it?
If there's anything I can tell you about kids today, it is that they're full of potential and pick up things like coding a lot more naturally than perhaps people from an earlier generation. What we must realise is that these kids are born digital natives and are familiar with apps and games since a very young age. Of course, balance is key, so playing, reading, sports and other things that go with being kids are equally important but it's naive in today's time to think that learning coding and all these other fun things are mutually exclusive.
What we've observed is that while initially it's the parents that take the lead in introducing the kids to the programme, once the kids start to learn coding, they enjoy the classes and the process of creating something so much that they usually take the lead in learning more about the skill. The way I see it, most jobs these days already require you to work on computers. So that's not a hypothetical future world scenario, it's already the present. Coding is going to be an essential skill in the coming years, like what happened with mathematics during the industrial revolution. So it's up to the parents to equip and prepare their children with the skills required for the future.
Also, at a young age, the power to grasp and understand any subject or activity is higher than at a later stage in our lives. Teaching kids to code provides a well-structured way to introduce them to rational thinking and problem-solving skills. It also helps kids to improve their logical and analytical thinking and increases creativity and concentration — all of which are skills that can be applied far beyond the realm of computer science.
A great example of this would be of one of our students, Aditya Jha, who's in the top 10 in his age group in the state in chess and his father believes that coding classes have improved his ability in chess. So, there are many examples of kids benefitting from coding classes not just regarding computer-related applications but even beyond them. The trend that we are seeing is coding skills triggers performance in complementary fields, like math and chess.