Galaxy Watch3: robust and versatile
The smatwatch offers a bundle of health features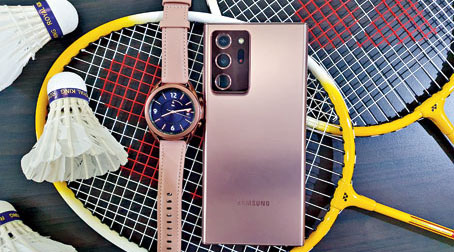 ---
---
Like in other aspects of our lives, many are having a love-hate relationship with their smartwatches. A mechanical watch will always remain a style statement but can a smartwatch be seductive enough to be an all-day wear? To a 20-something it would be a great idea for a smartwatch to tell its owner to start moving around instead of lying around unproductive for hours but a 40-something doesn't take instructions easily. They would need more health-related features rather than a debate that intellectualises the watch. Samsung's latest flagship offering — the Galaxy Watch3 — does just that... offers you a bundle of health features. What the Apple Watch has done in the, well, Apple universe, the Galaxy Watch3 does it for Android. It's not a tool for snobbery but a call to action so that good health ensues.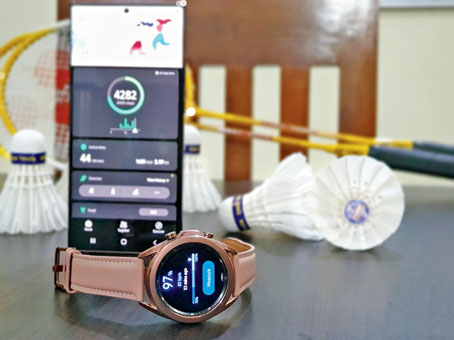 For all occasions
Out of the box, the first thing you will notice is how light the watch is, which is a clear advantage if you're planning to workout wearing the device. Looking closer at the super AMOLED screen, it's extremely bright during the day and dims to the right degree at night.
The design of the Samsung Watch remains mostly unchanged and that's a great thing because it has always had a great size and shape. Small watches are not always designed to feel like a traditional watch. So an Apple Watch may not be the first choice for a person who loves something more traditional. The Watch3 is a smart timepiece trying to blend in with expensive traditional designs. The strap is made from genuine leather, which is helpful if you are planning to spend the entire day with the Watch. Work or party, the strap fits every occasion and it's a relief from the ugly silicon options. The only problem is, when you go swimming, the leather strap wouldn't like it and you would need to swap it for a silicon option. Ah well, you can't have it all!
The 360-degree display is the best money can buy. The screen is as good as it can get, which is typical of Samsung products. On the outside, there is a physical rotating bezel which has a satisfying tactile click and it helps to control the different functions on the watch. The rotating bezel is one of the big selling points of the Watch. On the right side there are two buttons, one for going back and the other is the home button. Tap down on the back button for a couple of seconds, you go into Samsung Pay. Look at the top button closely to find a classy Galaxy Watch branding. It only shows how much effort the company's design team has put into the device.
On the left side is the speaker, somewhat lower on the body. There is also a microphone on the watch, so you can receive phone calls. It is also IP68 water resistant, which means you can do a lot of activities (yes, you can swim), without having to worry. There is also a small charging pad in the box or you can charge it at the back of, say, the Samsung Galaxy Note20 Ultra (reverse charging).
Spoilt for choice
Let's start with how accurate the watch is... or not! During runs, heart rate data gets recorded perfectly and if you look at the GPS map, things are pretty much spot on. The battery is strong enough to tide you over at least two days even if you keep the power-draining options on, especially the always-on feature. On a 30-minute run, with GPS on, you will end up losing around five per cent of the battery, which is pretty good.
The watch also has a microphone and speaker on board, which you can use for fielding phone calls. The call quality on the watch is surpringly good, though it cannot replace the same on a set of wireless headphones.
The workout screen is also very good, which you can customise completely. In fact, you can customise a lot using the Galaxy Wearable app. You can change the settings from within the watch but at times it is easier to do the same from the app. In case you can't find your watch, there is a Find My Watch option on the phone app.
There is a lot going on under the hood. It has NFC for Samsung Pay, GPS, Bluetooth (which can connect to your phone or earbuds) or even to another computer in case you want to use PowerPoint controls. There is a quiet but strong motor, which vibrates to inform about notifications.
There is an auto-chat history, so if you open Messages, you'll will get to see the previous messages from the phone. There are many ways to reply to text messages — you have quick replies, voice replies, emojis. The best way to reply to a message on such a small screen is to write out the words on the screen! Yes, it recognises handwriting. The other big-hitting features include the ability to store music offline and integration with Spotify.
There are many fitness exercise routines and the device can detect them automatically. Like, if you start running the watch can detect it. Another personal favourite is the voice recorder, which helps to take down voice memos.
Dive into the big features
Watch3 has 1GB of RAM and 8GB of storage, which is actually quite a lot. It runs on Samsung's TizenOS, which is stable and light. Apps load fast and there is a nice snappiness to the functioning. In earlier editions there have been times when the watch froze for a few seconds; there is none of that here. Having said that, Samsung should consider updating the interface in the coming editions to make the Watch feel different and give users a clear message that the company is also focused on software. But this is more of a quibble because the Watch works just fine!
Going full steam ahead, there are a bunch of features people would like to spend on. There is oxygen level tracking, a feature that I got as a software update on Monday. The readings have been between 97 and 99 per cent, which is fair enough. But do remember that even though it's an important reading, context is also important. Samsung never said not to get in touch with a physician. The company suggests that for "best results, rest at least five minutes before measuring, and stay still and comfortable during measurement". It is a feature for fitness and wellness and definitely not for the diagnosis and treatment of a medical condition. Let a medical expert create an action plan... not your watch (whatever the brand).
The accelerometer is also useful. There is something called fall detection. If the user is older or at a risk of falling because of some medical condition, this could be a really good feature. If one makes a hard fall, there will be a notification and then it connects to an emergency contact number.
There is also supposed to be an ECG function but we have to wait in India for certain regulatory approvals. It would be a software update, so keep an eye out for it.
The sleep tracking option has been around on Samsung watches for a long time. The company has made improvements and there is very little battery drain because of the feature, which is around five per cent overnight.
Is it for you?
Samsung has made many smartwatches over the years and has managed to tune to perfection the Tizen software running the show. Does it take competition to Apple Watches? I don't see many iPhone users sporting an Android watch. That would be an unfair comparison. Samsung does a few things very well, like sleep tracking. Plus, the physical rotating dial remains unparalleled.
Samsung would be my go-to brand for an Android smartwatch that I wouldn't hesitate to show-off. Thoughtful design combined with a long list of functions. The Running Coach is a good showcase of what a smartwatch should come preloaded with and not be an extra charge. The feature is there on the Watch3 and it helps you to reach the fitness target which you can set for yourself. Light running, calorie burning or endurance... choose an option and start your run.
Yes, there are enough in way of a health matrix on the Samsung Galaxy Watch3 to make it the most robust and versatile Android smartwatch out there.
At a glance
Device: Samsung Galaxy Watch3
Connectivity: 4G or Bluetooth/ Wi-Fi
Options: 41mm and 45mm
NFC: Yes
Display: Super AMOLED, 1.2-inch/1.4-inch, 360x360
Processor: 1.15GHz
Storage: 1GB RAM + 8GB
Sensors: Accelerometer, barometer, gyro sensor, light sensor, optical heart rate sensor
Battery: 247mAh and 340mAh
Price: 41mm is priced at Rs 29,990 and Rs 34,490 for the Bluetooth and 4G variants respectively while Galaxy Watch3 45mm Bluetooth and 4G variants are priced at Rs 32,990 and Rs 38,990