Virtual dressing up
Gaming and augmented reality are helping fashion brands warm up to a new generation of customers who dress up for the 'gram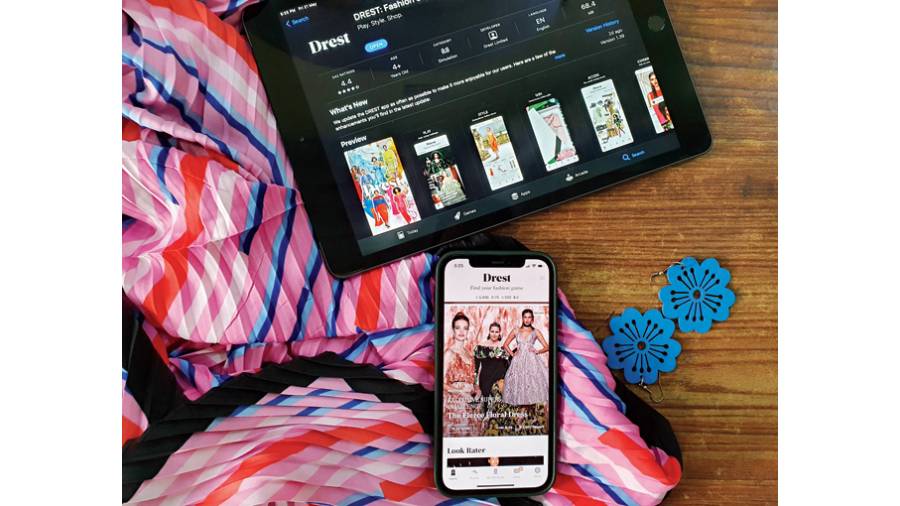 You can try out clothes and accessories from a number of fashion brands on Drest, which is available on iOS.
Picture: The Telegraph
---
Published 23.05.21, 12:08 AM
|
---
Grown-ups forget but to most children, dolls form a critical tool for processing emotions, be it excitement, fear, joy or anxiety. A battered teddy bear, a figure with an absurd haircut or a doctor Barbie, they can be an important tool for processing daily life. At the same time, some grown-ups overlook that they are doing the same while logging in to mobile fashion-styling gaming apps, like Drest where we find algorithm-fed models.
Anybody obsessed with fashion — and that includes Kate Moss! — is probably spending more time on the platform than on social media. It's like going window shopping anytime of the day (or night!)… well, almost. More of that later. Drest is, in fact, only the tip of the iceberg as fashion brands are turning to gaming and virtual interfaces to attract new audiences. Digital-only fashion is being bolstered by the pandemic. We are not talking of digital fashion shows, it's about bringing the latest (and greatest) before a fashion-obsessed crowd.
On one side are CGI version of models like Natalia Vodianova, Irina Shayk, Candice Huffine and Precious Lee who are part of Drest's interactive photoshoots. The other department involves brands like Gucci, Prada, Adidas, Bogner, Breitling… there are over 200 names that are trying to reach out to fashion-conscious customers. On Drest — an Apple-only app for the moment — users are taken through a gamified experience. Users begin with limited game currency. Choose a model and then make them try out the latest from fashion brands. As you go through the levels, things get complicated, like how you want to dress up your Barbie… only that here Barbie is a virtual avatar of a real-world model. When you think money is running low, why don't you get virtual currency by spending real moolah?! Users are spending hours preparing models turn in, say, an Audrey Hepburn look in 2021 or ensuring a perfect beach get up.
The platform showcases a nuanced understanding of fashion as its creator is Lucy Yeomans, former editor of Porter magazine, head of content at Net-a-Porter, and editor-in-chief of Harper's Bazaar (UK). Perhaps the biggest draw of Drest is the visibility it offers to a high-street brand as well as smaller brands.
Filters for the full body
There's more to the confluence of fashion and tech than Drest. Louis Vuitton partnered with Riot Games' League of Legends on prestige skins for 2019's League of Legends World Championship Finals. A few weeks ago, Riot announced a new collaboration with UNIQLO. There's more. Marc Jacobs and Valentino have their collections on Nintendo's Animal Crossing: New Horizon. Burberry has associated with the game B Surf.
The items featured on Drest can be purchased through the app, something that helps the crowd it is targeting. According to reports, 57 per cent of the platform's users are in the 21-39 age bracket, most of whom are women. Getting through to the 20-something crowd is important because they are the ones who will have a better command over the purse. Further, trying to navigate the gaming industry helps, which made $175b in 2020. A report from last year from the Entertainment Software Association found that women account for 41 per cent of all gamers in the US.
The fashion industry has managed to find its digital footing during the pandemic. Considering that designers so far have focused on offline sales, it's a pleasant surprise how they have innovated and have a clarity of vision when shows are continuing to get cancelled.
Not just mobile gaming, brands are moving quickly on the immersive front, like Balenciaga's retro video game Afterworld: The Age of Tomorrow, which was released to showcase the brand's fall 2021 collection. Also, consider the case of The Fabricant, a digital fashion house that saw the potential of bits and bytes when it sold the world's first digital couture garment, its 'Iridescence' dress, on blockchain for $9,500.
'Do you know' time. There are a number of people who buy clothes keeping social media in mind. Many of them return the same after their outing on Instagram, which according to a Barclaycard survey, nine per cent of Britons are guilty of. So buying virtual dresses are cool. The crowd for buying virtual clothes before opting for the real McCoy will always be there; it helps to see how you would look. What distinguishes, say, Drest is the way clothes can be tried on models of all sizes. On Snapchat, for example, it's mostly about using face filters, trying to look like a cute lion or a bunny open for elbow bending. Here, the sizes are real, the looks are real. It's more like having filters for the full body.
As the US and Europe begin to open up, people are buying again but what has changed is how they are trying on clothes before handing over the credit card. Websites like XR Couture, which launched in September 2020, and Dress-X will have a role to play in the coming days as they become sort of the new virtual trial rooms. But for fashion designers, life may have got slightly more complicated as they straddle a virtual-real existence. Virtual versions of models like Natalia Vodianova, Irina Shayk, Candice Huffine and Precious Lee are on the iOS app Drest, on whom you can try out clothes and accessories from over 200 brands.
Pictures: Agencies