ViewSonic XG2431 is a steal of a deal
The device is a very unassuming monitor on the surface but has plenty of tech chops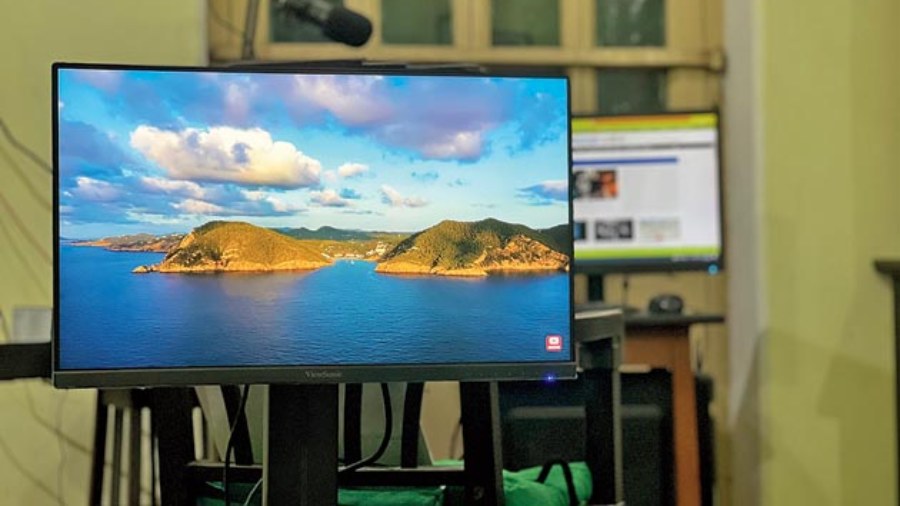 ViewSonic XG2431 is a gaming as well as day-to-day use monitor with good colour reproduction.
Pictures: The Telegraph
---
Published 20.07.22, 01:30 AM
|
---
No single monitor works best for everyone. Some want a monitor for gaming, some for photo and video editing and then there are those who want something that cuts across boundaries. Recently, I have had the opportunity to go through several monitors and one brand has offered surprisingly good value for money without failing on specs. Viewsonic is one of those brands that come up with excellent products that are not too expensive but in way of tech features, there are a plenty of things to look forward to.
For a few weeks, I reviewed ViewSonic XG2431, which is primarily a gaming monitor but I wouldn't mind using it beyond gaming. It's a very interesting option with its biggest selling points being pixel response time and motion clarity. XG2431 uses a 240Hz IPS panel. It's a monitor that's perfect for any game title which has a good deal of motion, like any third-person shooter. What we are looking at is how clearly motion comes through while playing an adrenalin-pumping title. It is achieved with fast pixel response time and you will be able to see what's in front of you instead of a blurry mess.
On running tests to check response time, the highest setting offers the least amount of ghosting. It utilises advanced backlight strobe technology to reduce motion blur, image ghosting and strobe crosstalk. In case you are wondering what backlight strobing is, here you go. This is a motion-blur reduction technique which is effective in reducing ghosting behind moving images. It shuts off the backlight between screen refreshes and the backlight is on only when the screen refresh is complete and not between transitions.
The technology gives the option to toggle its intensity across four different levels (light, normal, extreme, and ultra) and an optional Custom XP+ mode in which the users can tune the response times to as low as 0.1ms or achieve a brighter overall image with backlight strobe. The extreme mode is most effective and offers of the cleanest looking strobe images you will get on a gaming monitor.
Also, the panel is really fast and the tuning of strobing mode goes a long way. But there is a downside if you take the mode to the extreme — brightness, which takes a hit if you play games in a room with all the lights on and windows open; so, playing in a dim room helps when the mode is turned up all the way.
There is a software called ViewSonic Strobe Utility, which has features like strobe pulse width, which has to do with the degree of clarity of images. Then you have strobe pulse phase which is used to minimise crosstalk. Then you have overdrive gain which is basically overdrive but it is here you determine how much voltage you want to send to the pixels to eliminate as much blur as possible.
Good colour reproduction
The monitor obviously favours e-sports and there is no colour clipping here. Given the price point, it's a highly recommended monitor. If you are looking to upgrade to 240Hz, you get good IPS colours. Speaking of colour performance, colour temperature is spot on and at times slightly on the warmer side. But there is zero colour tint. Colour accuracy from the default mode is spot on. Even for regular day-to-day use, it will be comfortable. To get good colours — read: punchy — in gaming, leave vibrancy to at least 70 per cent.
The IPS panel offers good viewing angles and it doesn't have colour discoloration even if you look straight on. What the monitor provides is a decent balance between media consumption and extremely good gaming performance as well.
The monitor is so good that you can do sRGB colour works out of the box, even though it's not a monitor meant specifically for that purpose. There is no backlight bleed and no uniformity issues.
The only downside is the set of buttons to make all the adjustments. It's slightly old-fashioned and it takes a little time to move from one menu to the other. Otherwise, there is a solid adjustable stand that comes with the monitor and given the pricing, I wouldn't ask for anything more.
Should you buy it?
Definitely. In case you are into e-sports or want a decent monitor with colour accuracy, ViewSonic XG2431 delivers. It's a very unassuming monitor on the surface but has plenty of tech chops. It's a steal of a deal. At a glance
Device: ViewSonic XG2431
Price: Rs 29,999 (MOP)
High points
 Excellent motion clarity
 Offers good colour accuracy
 Easy to set up
Muffled notes
 The menu buttons take time getting used to