ViewSonic X100-4K+: home cinema LED-based projector
It stretches the canvas a lot more than many other options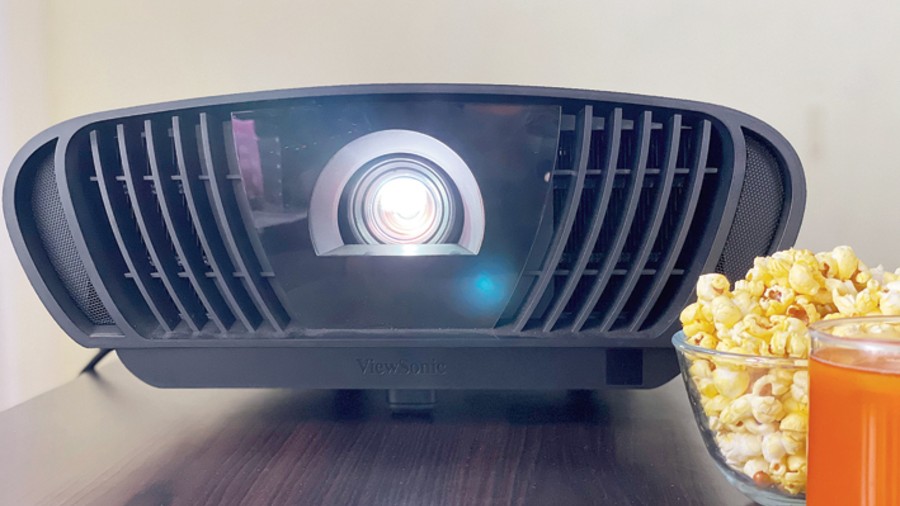 ---
Published 12.04.21, 02:07 AM
|
---
Why watch Fast & Furious on a teensy-weensy 43-inch TV when you can project it without having to experience a tricky installation process? In the last few years, projectors have evolved a lot from being small boxes that are difficult to install and probably not the best of solutions for homes. Having had the opportunity to review projectors over the years, I won't hesitate to say that binge-watching has never been more fun than in 2021. There is no limit to spending on a project but it's best to look at a model that's a storehouse of enough tech magic to last a decade, something the ViewSonic X100-4K+ offers in heaps.
Having used the projector for a couple of weeks, I can vouch that be it colour reproduction or sound, there is a lot to love about this model. With an off-white wall to spare, the X100-4K+ became more of an addiction over popcorn.
Setting it up is a breeze
Arriving in a huge box, the machine itself is not that big once it is placed in the correct spot or mounted. Being a review device, I went with a table set up, keeping the device around six feet away from the wall (throw distance can be between 1.06m and 6.37m). Setting up the project took hardly four or five minutes but colour calibration took more time, which we will talk about a little later.
On one side are all the connectivity options, which are in plenty. In way of input, there are four HDMI ports, 3.5 audio in, 3D VESA, two USB Type-A and RJ45 while output comes in the form of audio out, S/PDIF, speaker, 12V trigger and so on
Three aspects of the projector appealed to me. There's an automatic cover for the lens, which is a saviour in dusty conditions, especially when mounted close to a window. The shutter opens only when the projector is powered up. Second, motorised focus, which ensures the sharpest picture possible by just using the remote control. You really don't have to make countless adjustments to the lens unit.
Third, the projector simply fits into any environment because it has a wide lens shift range of +/- 25 per cent horizontally and +65 per cent vertically. In other words, you don't have to move a lot of furniture around to make this projector beam without a hitch.
Once powered up, in a few seconds, an image gets projected using second-generation LED technology. This is a 2,900 LED Lumens 4K UHD home cinema projector. It's important to have a high degree of brightness because it allows users not to close windows to watch a video. Yes, if the light is turned down or the windows shut, the picture gets a lot clearer.
Things get interesting once you reach for the remote control. Almost everything you can think of has been packed in. Smarts come in the form of Alexa and Google voice control for operations like changing input source or controlling the volume. The remote control feels great in the hand. In case you want to use the smartphone as an alternative remote control, just download the ViewSonic vCastSender app and make sure your phone and the projector are connected to the same Wi-Fi network.
A visual joy
There are quite a few presets when it comes to pictures. There is a lot to play around with but in case you are new to the projector game, take it easy and stick to presets. The ISF (Imaging Science Foundation) mode is best to play around with if you have enough info about colour calibration.
Coming to the picture, in most cases the default settings offer good colour reproduction. What you get is 4000000:1 contrast and with 'Movie' mode on, what you get is a very good play of dark and bright scenes while accuracy is quite good. In SDR, the control is amazingly good, offering a lot of contrast and skin tones are spot on. In HDR scenes, things are almost perfect with no major colour shifts while sharpness is in abundance. I had no problem sitting through a few titles in the Fast & Furious series as well as Die Hard titles and Kingsman: The Secret Service.
When it comes to gaming, the high brightness is a big plus because it allows one to spot things in dark areas.
There is obviously support for 4K UHD resolution and HDR10 but you have to wait for a firmware update to move into HLG HDR territory.
Complementing the visual experience is audio and two 20W Harman Kardon stereo speakers. The sound is rich enough to fill a biggish room while audio separation is up to scratch. In case you still want more audio, it's possible to connect the projector to a soundbar using Bluetooth.
Keeping temperatures under check are two fans that can hardly be heard. It's possibly the best set of fans I have seen on a projector. Turning on the projector, you may hear the fans for a few seconds but then the sound just disappears and it's expected to remain that way through the life of the LED — 30,000 hours. Four hours of playback should give you 20 years of service. It's a visual joy for most users. Among videophiles, there will always be room for nitpicking.
Should you buy it?
If you are looking for portability, this is obviously not the option but if it's crisp image you are looking to cover a giant screen with, the X100-4K+ is just perfect. There are options from BenQ, Epson and LG but this one offers a great mix of visuals, audio and connectivity options. Also, remember projectors versus OLED/QLED TVs entail different experiences. You have to understand what your needs are. Do you have a screen big enough to enjoy a projector and what will you watch using it? There are plenty of other points to consider while purchasing a projector. But if you are settled on buying a projector then ViewSonic X100-4K+ stretches the canvas a lot more than many other options and there is enough tech under the bonnet to keep you happy for years.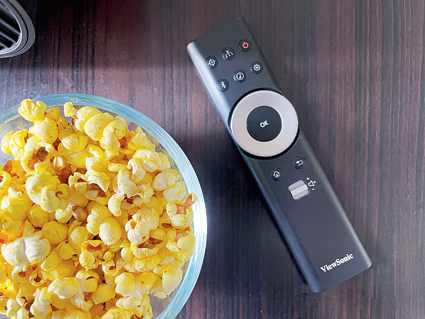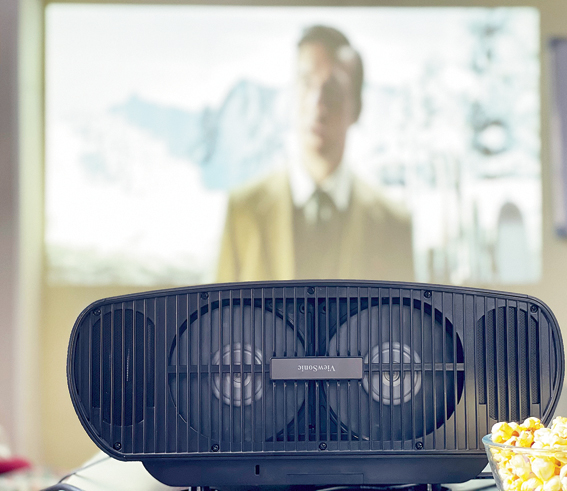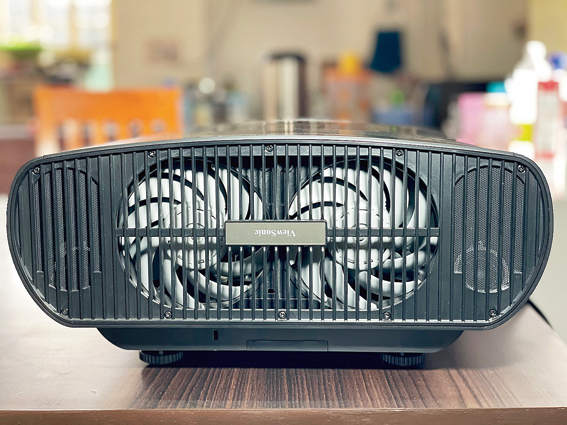 Device: ViewSonic X100-4K+
Price: Rs 385,000
High notes
• Easy to install
• Excellent sound
• Cooling fans can barely be heard
• Motorised focus helps to achieve picture sharpness
Muffled notes
• It takes time to calibrate colours
• Aptoide app store needs more options