Lately, many readers have asked about monitors, especially when it comes to working with photos and videos. There are plenty of options in the market, some of which are very expensive. We are looking at an option that's not over the top in way of pricing but at the same time will last you a long time and will take care of most tasks that you throw at it.
The monitor is from a company called ViewSonic and they have been delivering one knockout product after another for a long time. The monitor we have for review is the VP2756-4K UHD. It's a 27-inch 4K monitor that's meant for professionals. It features a factory-calibrated 4K IPS panel with 10-bit colour support. Plus, USB-C transmits power at 60W letting you charge all your devices right at your workstation.
It comes with a practical stand and offers height adjustment with spring assist. There is tilt, pan and rotation. The stand goes high enough to offer enough viewing comfort. It may not appear to be the best-looking stand in the market (I am not a fan of the glossy plastic that has been used in some places) but it does work well. The monitor comes with a vesa-compatible mount. I think the stock stand will be good enough for most people.
Let's talk about connectivity
All the controls are at the front, which may not look good but it's the most practical placement for buttons compared to under or behind the monitor. The bezels are relatively thin but the chin is a bit thick. The buttons are contextual, so their function will change depending on the action. I was really impressed with the degree to which you can adjust image and how many settings are on offer.
In way of inputs, there are two HDMI ports, one DisplayPort, one Type-C, one USB 3.2 host and two USB 3.2 ports, which is a very generous selection. HDMI and display port will be great for desktop computers while USB Type-C is useful for mobile devices.
Having two USB ports with a host connector adds a new dimension to the monitor. The Type-C port can be used for charging devices up to 60W, which is pretty good. It will also act as a hub with the two USB ports. So with a single USB-C cable you can charge your laptop, send a 4K video feed to the monitor and connect to peripherals using the monitor.
Display accuracy
Coming to the panel (3840x2160), some may say the 27-inch 4K option is too high a resolution, given the size. I think it works well and it's way sharper than a 32-inch panel. The text is very sharp and pixels are undistinguishable. It's an IPS panel which is great for colour reproduction and viewing angles.
If you dive into the menu, there are a bunch of view modes, which are tailored for specific applications, including video editing, photo editing and CAD. Colour reproduction is good and you get a 100 per cent of sRGB, 100 per cent coverage of REC709 and an 80 per cent coverage of DCI-P3. The company claims Delta E < 2 colour accuracy. It points to how closely the colours being displayed matches what the human eye receives. A lower Delta E value means higher colour accuracy.
Though the monitor is not for gaming, I didn't mind playing a few rounds. There is a lower input lag option in the settings menu which helps. As for brightness, 350nits is more or less perfect for most people.
When it comes to photo editing, the details are crisp and all the extra details in a photo or illustration can be seen without having to zoom in. It makes things easier for designers. The colours are very sharp and the brightness is easy on the eye. There is CAM/CAD mode for design and portrait mode for photography.
A feature that makes the monitor versatile is Split Screen. It involves running multiple windows side-by-side and switch between layouts to suit the task at hand. Split Screen helps you clean up your desktop and speed up your workflow. The feature is part of vDisplay Manager while the software is free to download.
Should you buy it?
It's a solid monitor for productivity. It doesn't have the flashiest of designs but it's acceptable for the price. It does allow for in-depth adjustment of the image. The included stand is good enough and you don't need a separate monitor arm. The only quibble I have are the two 2W speakers, which are average and there is no internal webcam, so you have to connect that separately. Apart from that this is a reasonable mid-tier monitor that delivers and is recommended for maximizing everyday work and play with, say, a MacBook Pro or Air (M2). The no-nonsense spec sheet makes the ViewSonic VP2756-4K an enticing mid-range productivity monitor.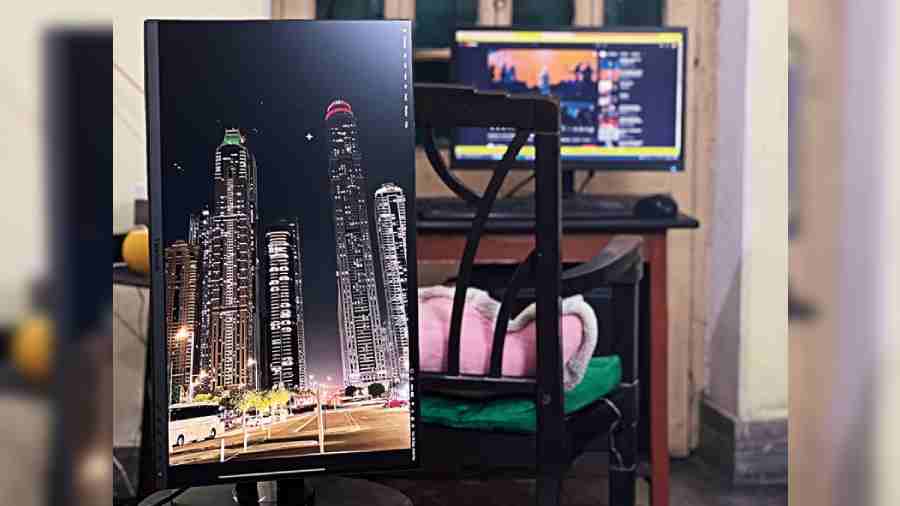 You can rotate the monitor to make photo editing easy
At a glance
Device: ViewSonic VP2756-4K
Price: Rs 45,900
High notes
Excellent colour accuracy
Support USB-C with 60W high-speed charging
Includes CAM/CAD mode for design
Good build
Comes with a full range of swivel, pivot, tilt, and height adjustments
Muffled note
There is no internal webcam