Two-finger swipe down feature will change how you work on iPad and iPhone
Third-party app developers should take advantage of the feature and you should seriously use it while selecting items in messages, mail, notes, and reminders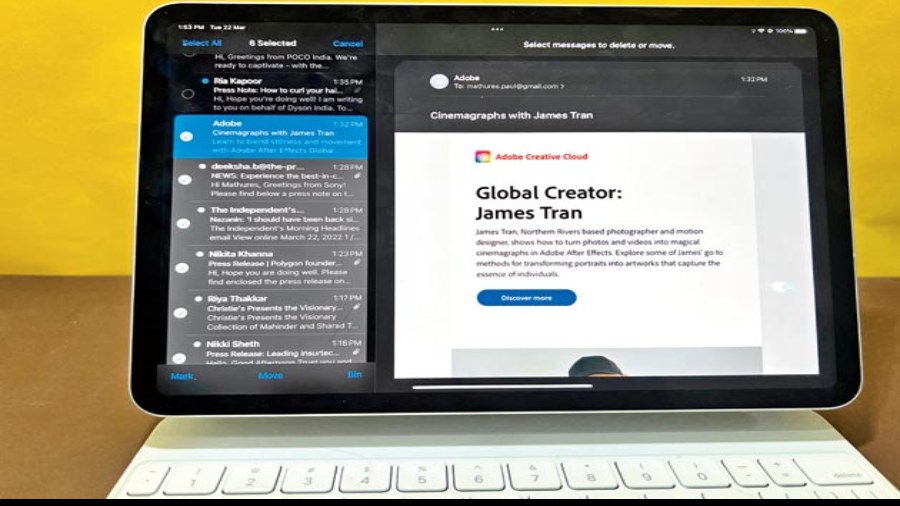 Use the two-finger swipe down shortcut to ease the workflow.
Picture: The Telegraph
---
Published 23.03.22, 05:26 AM
|
---
It was there all the time but not everybody had noticed it. You can use a two-finger swipe down through a list to choose multiple items on iOS and iPadOS. Yes, it's as simple as that but we had to wait for developer Jordan Morgan to show it to us.
The feature is available mainly in Apple's stock apps and in a tweet, Jordan Morgan is seen using it on Mail. Third-party app developers should take advantage of the feature and you should seriously use it while selecting items in Messages, Mail, Notes, and Reminders.
Instead of choosing Select mode and then ticking the circles that appear next to items, all you have to do is just swipe two fingers down a list to select every item on the list.
"Too many 3rd party apps sleep on this pan gesture to bulk select, which is a shame because it's a great way to quickly select stuff," Morgan has tweeted.
In fact, if you use iPad as your primary device, do go through the feature set on the Apple website because there are tonnes of gestures to make working easy. How you drag the cursor around makes a big difference and then try the three-finger gesture — you can "pick up", say, text, which is like copy, twice to cut and then a three-finger plop to paste. With three fingers, you can undo and redo. Right, there is a four-finger gesture. More about it another day.