Apple AirPods Pro
Apple started a trend and continues to lead from the front. When the company introduced them in 2016, critics laughed but in 2020 every other brand wants to come up with a pair of AirPods killer. The active noise cancellation scores full marks and doesn't create a sense of pressure, which happens when air gets stuck because of the silicone seal. There is a vent on the outside that equalises the pressure. The other biggie is the pressure-detecting surface on the stalks. By squeezing the stalks different functions can be accessed. And these wireless earpods are great for outdoor use. By turning on transparency mode, you can hear cars honking while crossing the street and it helps to remain attentive in not-so-safe neighbourhoods. Sound? Nothing sounds forced on the AirPods Pro. The only issue is the two-three years of lifespan.
Winning points: Excellent noise cancellation, unique controls and offers the best software integration with iOS.
Price: Rs 24,900 (lower on Amazon.in)

Sennheiser Momentum True Wireless 2
Somewhat of a gold standard in the audio world, the Sennheiser Momentum True Wireless 2 is a formidable member in the truly wireless earphone space. There is always a section of people who want to hear the rumble of the bass. It doesn't happen here. The sound you get on these audio cans is how the producer of a track wants it to be heard. Even when the volume is maxed out, there are zero rumbles or distortion. The digital processing of sounds stands improved, offering mids that are natural, the bass is just enough while the treble has a good body. At the same time, the sound is pretty open and with noise-cancelling on, there is none of the stuck-in-a-vacuum feel.
One area where the earbuds win in a big way is while listening to podcasts during which hosts come across clear but, at the same time, the listener gets a fair idea of the sound quality on each of the microphones the hosts use. It's definitely not about having one flat sound. The quality of calls is also superior to most. Where the MTW2 loses out is the absence of wireless charging on the case and pricing.
Winning points: Excellent noise cancelling and crisp sound.
Price: 24,990

OnePlus Buds
The stem design may remind the user of another brand. But if the design proves functional, then why not?! It is one of those few brands that offers a cool colour option — besides black and white there is zingy teal. There are three microphones on each bud, so it can pick up your voice very well, offering the person at the other end of a call no room for complaint. Does it match Apple AirPods Pro? If you consider the pricing of the two, this one is quite good. Coming with Dirac Audio Tuner and 13.4mm dynamic drivers, there is enough bass, which consumers want. There is no room to grumble about audio quality. Sadly, one can't use a single earbud at a time.
Winning points: It has enough charge (buds+case) to last much longer than a full day and it sounds like an expensive pair of earbuds without being one.
Price: Rs 4,990

Sony WF-1000XM3
It's an absolutely close race between the Sony WF-1000XM3 and Sennheiser Momentum True Wireless 2. Sony's DSEE HX system brings life back to highly compressed tracks and upscales the sound. Even though LDAC and aptX are missing, DSEE HX makes a big difference. Each instrument can be heard and there is warmth in the vocals and the bass frequencies get a good deal of bump. As good as its expansive sound stage is noise cancellation. Turn it on and all sounds on the road are drowned out... much thanks to the QN1e processor.
Equally impressive is the new Bluetooth chipset inside. Each of the earbuds can be used separately, meaning, one of them can be in the charging case while you can rely on the other for listening to music or making voice calls. Since the earbuds are not dependant on each other, there is zero audio lag and zero lip-sync delay while streaming. What the earbuds lack are sweat/water resistance and wireless charging.
Winning points: Noise cancellation is among the best, a wide sound stage across genres and strong battery life.
Price: 19,990

Jabra Elite 75t
The Jabra Elite 75t can be paired with two devices simultaneously. It means, you can connect it to, for example, the phone and the laptop; when a call comes in take the call and then maybe switch back to the movie you are watching. On these truly wireless earbuds you can enjoy a lot of bass and pop songs come through punchy, so turn up that Jay Z or Cardi B track. It can get boom-y without flutters. Jabra is known to offer good microphones and this too doesn't disappoint; it can even tackle noisy and windy environments pretty well. Where the 75t stutters is the absence of active noise cancellation but if you get the right fit, it does an impressive job at blocking outside sounds.
Winning point: You can pair the earbuds with two devices simultaneously.
Price: Rs 15,999 (Amazon.in has a better offer)

Creative Outlier Air
Creative has been around for decades, delivering some fantastic sound cards. The Creative Outlier Air fits and looks good. With the ear tips being small, it can go deeper into the ear canal, allowing better isolation of sound. You can easily cover most of a big living space without the signal cracking. There were no syncing issues when it came to video streaming on any platform, which is usually the problem with many of the devices in the market. The earbuds come with Qualcomm aptX and AAC, two outstanding codecs that usually come with high-end products. With aptX, you get great transfer rates, helping preserve more data to make audio sound great. Good audio separation and vocals come across crystal clear. The only problem is that there are no touch-sensitive buttons on this pair of in-ear headphones, so one really has to mash the buttons to trigger the extra functions.
Winning points: Amazing bass and equally amazing battery life.
Price: Rs 6,999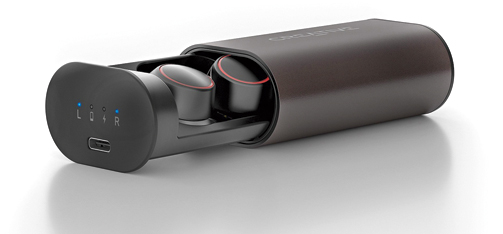 Creative Outlier Air Sourced by the Telegraph
Decode the codec
SBC: Every Bluetooth audio device has support for SBC as a back-up; it offers low-quality audio over Bluetooth.
aptX: It has been adopted by hundreds of leading audio brands but it is not a new codec. Since it has low latency, there is a better sync between sound and video.
aptX HD: It can handle HD files with very little background noise and retains more details of the music being played. You will find it in more expensive Android smartphones.
AAC: iPhones support AAC. Anything encoded with AAC should sound the same no matter the medium — Bluetooth or wire.
LDAC: Developed by Sony, it offers high resolution audio.
LHDC: It provides three times the data transmission allowed by SBC, which means top-quality sound.
LC3: It's coming to the forefront and is the most compact Bluetooth codec used in consumer audio at the moment.