TikTok: Capturing the imagination of a generation
The app has 500 million users globally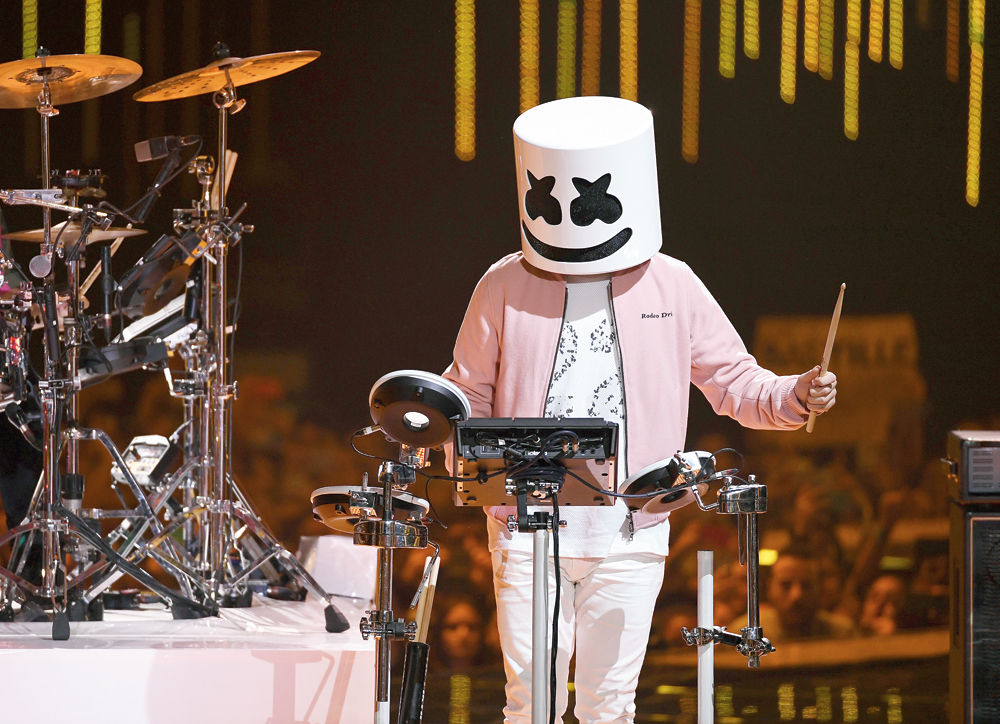 Marshmello has 5.5 million
Source: TikTok
---
Published 22.06.19, 02:50 PM
|
---
When you open TikTok, the content will hit you like a colourful blaze of song-and-dance videos. Teenagers bouncing around, effect of quick glue on water, dosa making… all playing out to thumping music and zany sound effects. You don't even have to turn the phone around as the app takes advantage of the vertical-screen format. What started as a social network for Generation Z has in no time found a range of audience in millions across the US, the UK and India. Owned by the Chinese company ByteDance, one of the most valued start-ups in the world, TikTok has 16-year-olds as well as celebrities lip-syncing. It is also home to some of the Internet's most popular memes.
What has fetched the app 200 million users in India and 500 million globally, even after hitting a few speed breakers? t2oS finds out from Sachin Sharma, director, sales and partnerships, TikTok India.
What is TikTok?
TikTok is a short-video platform that enables users to create fun and quirky 15-second videos, showcasing their creativity and innovation. Some of TikTok's popular creators — like Geet and Awal — are using the platform to share information with users and educate them. What sets it apart is that everyone on TikTok is making every second count. Our 200-plus million users are either riffing on the trending challenges or creating one of their own. The more you are having fun creating your post, the better.
We have worked with some of Bollywood's finest celebrities, like Shahid Kapoor, Jacqueline Fernandez, Neha Kakkar, Badshah and Arjun Kanungo, and we have also partnered with popular movies like Jagga Jasoos, Race 3 and Zero. Also, since its launch in India in 2016, TikTok has become one of the most popular apps and has already been crowned as one of the country's most entertaining apps by Google Play Awards 2018. We recently regained the top spot as the number one top free app on the Google Play Store. These milestones are a testament to TikTok's success and popularity in India and the potential we had preempted for the market.
India vs the World
India has the most diverse set of Internet users and comprises a wide pool of talent from across regions, cultures and communities. While India is one of the biggest markets for any content-sharing platform, however, we believe that TikTok filled the gap by bringing people from across the deepest pockets of the country online and giving them a platform to express themselves creatively.
Talent and creative expression don't have boundaries and that's what defines what TikTok truly believes in — giving its users an opportunity to share their special moments and showcase their talent to a global audience. Moreover, the growth in the consumption of short-video content in the country, coupled with TikTok's diversified and multi-format content, makes it a natural fit for India.
Average user profile
The app offers a vibrant buzzing atmosphere that celebrates trends and embraces diversity — as a global platform which is available in 10 languages in India. As the world embraces the smartphone era, bringing about shorter attention spans and a change in behaviour of creating and consuming content, TikTok becomes the preferred platform for expression, especially among Gen Z (16-24) audience. What's interesting is that Indians get busy with TikTok on weekends and what we discovered was that they are most active from 11pm to 1am.
Personalisation
Some of the most interesting hashtag challenges that take the world by storm come from TikTok India. The most trending hashtags in India include #MeriMaa with almost 880 million views (creators celebrated their mothers on International Mothers' Day) and #desifood challenge, which garnered a whopping four billion views. India is a country where people worship cricket and to tap this opportunity, TikTok partnered with ICC for #CricketWorldCup, an ongoing in-app challenge.
We recently launched our campaign #MyTikTokStory, which showcases creators who serve as ambassadors of change and actively share their knowledge with the community at large. Through this campaign, TikTok is empowering users to establish their identity by showcasing their unique talent in front of a global audience.
Edge over YouTube and Facebook
At TikTok, we are focused on generating relevant and local content while incorporating global trends with a localised flavour. We are enabling people from every corner of the country with a global platform that gives them unlimited opportunity to capture and share their creativity, which makes TikTok unique. The uniqueness can also be seen in the exciting content and challenges created by our users that have the local flavour.
Use of artificial intelligence
TikTok offers a window to the world of intelligent discovery process, powered by machine learning technology and local operations teams with a deep understanding of cultural trends and nuances. Because of TikTok's intelligent content discovery process that surfaces videos which constantly surprise users, creators get many opportunities to reach a wider audience and attract followers.
AI research is applied into the content-discovery process as well as in the creation of tools, including special effects and cool features, besides stickers and other video-editing tools, empowering users to create truly innovative content directly from their mobile phones.
The app offers users an effortless, compelling and personalised viewing experience along with the 'For You' feed. The feed offers a curation of video recommendations, personalised to each user based on their viewing preferences. With this feed, TikTok is opening the door for more users to find success in being a creator on the platform and reaching a new, global audience.
Freedom of speech
Users have the freedom to choose from hundreds of on-going challenges and thousands of effects, stickers and filters to make their videos innovative and stand out. However, we would like to share that TikTok in no way endorses or promotes content that is a violation of the community guidelines. We have several measures in place to protect users against misuse of the content they share on the platform, including giving users the choice to make their account private, blocking another user, reporting an account or content on the app, disabling the ability to receive messages among others.
Temporary takedown in India
We would first like to clarify that it was not a ban, but an interim takedown from the app stores for new downloads. Our existing 200 million users continued to use the app and create and share content. At TikTok, safety of our users on the platform is a priority for us. We are committed towards maintaining a safe and positive in-app environment for our users to showcase their creativity and talent along with abiding by and complying with local laws.
India is a priority market for us and we are bullish on the next 200-400 million new Internet users, who might experience TikTok as their first content platform for creative expression.
We will continue to focus on localising our content strategy for India which has made TikTok popular not only in Tier I, II and III cities but also beyond. We continue to strive to make relevant and interesting content for our growing community of users and are optimistic about TikTok's future in India.
Advice for young creators
For those who are just starting out on TikTok, participating in trending challenges works. It allows new users to join ongoing conversations by creating their own content or just engaging with others. These challenges give users a feeling of being a part of the TikTok community, enabling them to find common ground while expressing themselves.