RIP, the terror of errors
The Typewise keyboard app is a solution to all your typos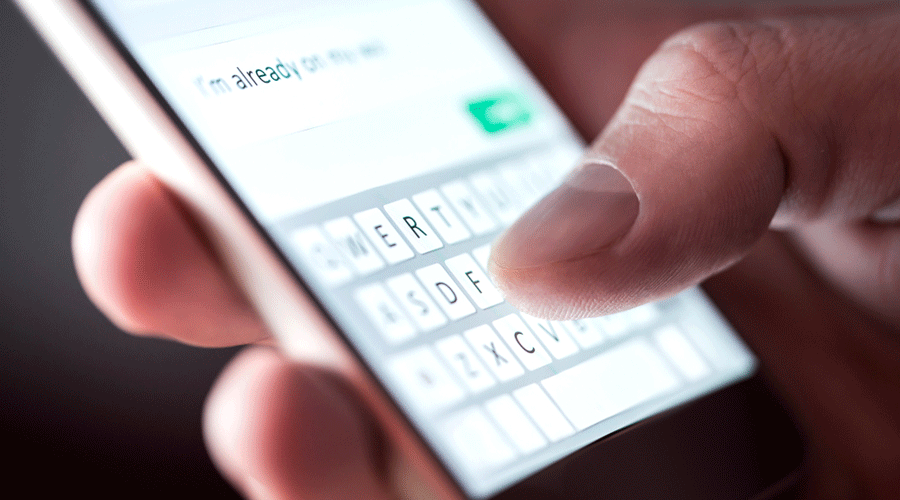 At first, you will be stunned because it is nothing like the keyboards you have seen before.
Shutterstock
---
Published 27.07.20, 01:36 AM
|
---
Are you "all thumbs" as the saying goes? Typewise, a new keyboard for mobiles may help put your thumbs to better use. But be prepared for a surprise. It has reinvented the whole orientation of letters.
The problem
First, small keyboards on mobile phones lead to many typos. Typos, compounded with autocorrect, often result in gibberish.
Second, the keyboard that you use was actually meant for typing with 10 fingers. It is the keyboard of the 19th-century typewriter which had been nicknamed the "Remington Bang-method". You cannot simply "bang" out a message on the mobile keyboard because the keys are too close together. According to a study by the University of Cambridge, UK, one out of every five words you type out contains a typo.
A third, and most dangerous problem, is privacy. Keyboards can record everything you write. Most keyboard apps use artificial intelligence to make them more efficient. These rely on the Internet to train their central algorithms or supply their business models with user data. Keyboard apps such as Go Keyboard, Kika Keyboard, Touchpal Keyboard, Wave Keyboard or Cheetah Keyboard are notorious for collecting user data.
 The solution
The Typewise keyboard app, available on both Apple's App Store and in Google Play, is made in Switzerland by David Eberle and Janis Berneker. There is a free version and a paid version. The premium version with more features works out to as little as Rs 20.75 a month if you pay Rs 249 for the whole year.
How to install
After downloading the app, open it and follow the directions. On an iPhone, go to Settings—General—Keyboards. Tap on Keyboards on the top and Add New Keyboard. Tap on Typewise which will be under third-party keyboards. When you want to type a message, long-press the globe icon and choose Typewise.
On my Samsung phone running Android 10, I found it easier to instal and did not need to open Settings separately. You can switch the keyboard to Typewise by tapping the keyboard icon on the bottom right. On some Android phones, you have to go to Settings to change the keyboard.
 What it looks like 
At first, you will be stunned because it is nothing like the keyboards you have seen before. It is still QWERTY but the alignment is different due to the hexagonal design. The keys are bigger and more accessible with your thumb though you can type with one finger too. There are two space bars represented by blank hexagons on two sides so that both your thumbs can access them. To use backspace, swipe from right to the left. Tap the blank key twice for a full stop. Flick up on a letter to get an uppercase. Press on a blank and then move your finger around to shift the cursor anywhere you want.
You must practise how to access punctuation symbols, numbers and special characters. If you want the conventional keyboard, tap the keyboard icon to the upper left above the keyboard. Tap it again to return to the hexagonal keyboard.
The hexagonal orientation helped me reduce typos drastically. Algorithms analyse where individual keys are pressed exactly and thus eliminate systematic errors. The two space buttons allow the most frequently used keys to be reached easily. Unacquainted with an actual typewriter, there is no reason why most smartphone users should not get used to the keyboard easily. A smart tutorial and games within the app help you master the new keyboard.
Privacy issues
Typewise runs locally on your device. Everything you type remains on it and your data is not transmitted to the cloud. Its artificial intelligence can run offline, thereby maximising privacy. Other keyboards require dozens of permissions to access your calendar, contacts, files or GPS location. Typewise does not require suspicious permissions nor does it need "Full Access".
Hinglish Vinglish
Typewise gives support to Hinglish which means you can now type in your vernacular using the English script and autocorrect will not change it to something else. Additionally, backtick (è) has been added to special characters as well as more custom accents like a.
Typewise is a great innovation. Just spend a week on it and watch how your typing improves. The only thing missing is support for Indian languages. Hopefully, this will come with time.