The tech that turns kabadiwallas into entrepreneurs
Veena Sahajwalla is leading a war on electronic waste that might also improve the life of kabadiwallas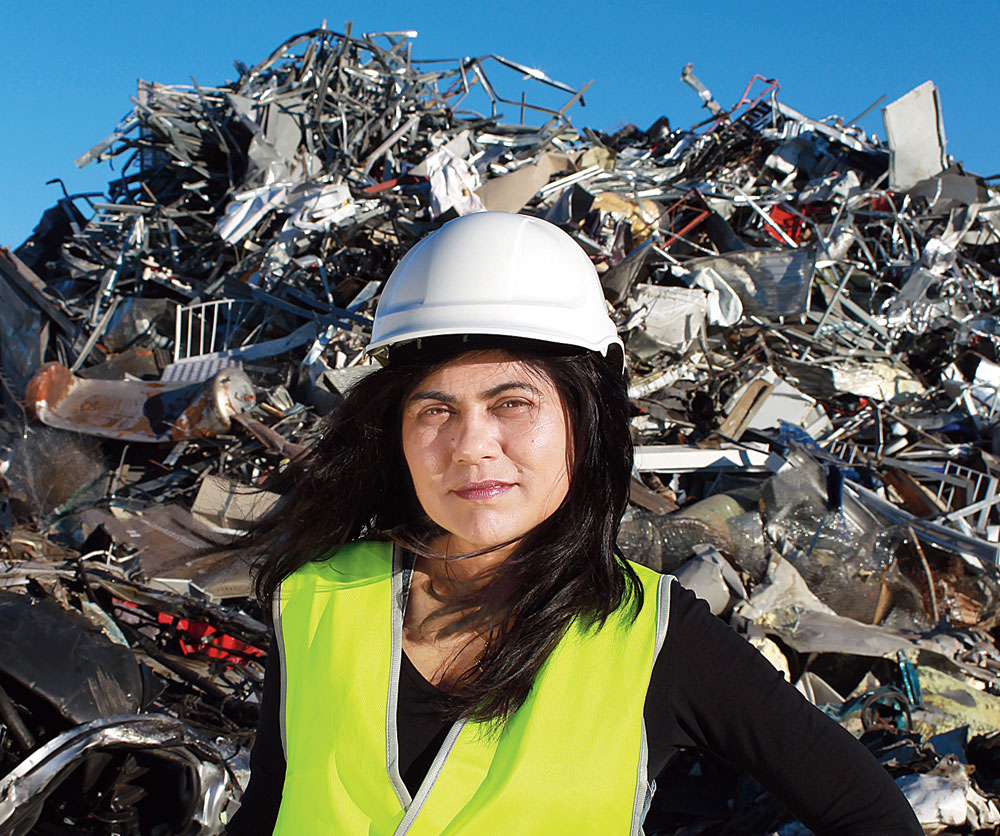 ---
---
She calls it a microfactory — a novel technological solution that can transform the components from electronic waste (e-waste) such as discarded smartphones, computers, laptops and printers into valuable materials for the manufacturing industry.
Veena Sahajwalla, a materials scientist and engineer, is trying to revolutionise the science of recycling and unlock valuable resources in landfills. As the director of the Centre for Sustainable Materials Research and Technology (SMaRT) at the University of New South Wales in Sydney, Australia, she launched the world's first e-waste microfactory last year. She also presented the concept at the Falling Walls Conference in Berlin, Germany, recently.
What exactly is a microfactory? "It is a series of small machines and devices that uses patented technology to reform waste items into high-value materials for use again in manufacturing processes," she explains. Unlike a regular sprawling, smoke-spewing factory, Sahajwalla's microfactory is a small and efficient reclamation system that can be set up at the community level anywhere across the globe.
Such as in Mumbai, the city Sahajwalla grew up in. Her interest in recycling and waste goes back to childhood when she would see "enormous piles of rubbish being sorted by the city's poorest communities". Her interest in engineering was sparked by sights she saw in Mumbai too. "The city, the industrial heart of India, was full of factories along highways and my interest in engineering began to develop when I saw them," she says. Sahajwalla joined IIT Kanpur for a BTech degree but her interest in and empathy for the kabadiwallas (ragpickers) of Mumbai, who worked under horrifying conditions, did not diminish. She says, "They work relentlessly but rarely get their dues." Sahajwalla often ruminated whether their lot could be improved and if there was some way to utilise the waste other than manually sorting through it.
Ever since she joined the University of New South Wales as a materials scientist, she has been looking for ways to recycle waste materials. One of her greatest inventions is "green steel" — an environment friendly technology for recycling end-of-life rubber tyres to replace coal and coke in steelmaking. The Polymer Injection Technology innovated by her controls the injection of granulated waste tyres in electric arc furnaces (EAF) — used to make steel — instead of non-renewable coke. Green steel is not only cheaper than steel produced the traditional way but also reduces the environmental footprint of the industry. So far, it has recycled more than two million tyres that would have otherwise ended up in landfills. Using more discarded tyres for green steel will also prevent the burning of tyres at garbage dumps, which spews enormous amounts of toxins into the atmosphere.
According to an estimate, 50 million tonnes of electronic waste was generated worldwide in 2018. The top e-waste producing countries were the US, China, Japan, Germany and India. A majority was discarded personal devices such as smartphones, computers, tablets and TVs. The rest was household appliances such as refrigerators, air-conditioners and washing machines. Only 20 per cent of the e-waste is recycled while the rest — about 40 million tonnes — is dumped in landfills, burnt or improperly dismantled, creating health hazards for those who handle it.
With electronic devices, the recycling process is quite complicated because many different types of materials make up a phone or computer. "There isn't just one type of material, there are many individual components, materials and parts that can be recycled into high-value outputs. Traditional recycling cannot deal with that complexity and results in low-value output," Sahajwalla explains.
E-waste contains precious metals such as gold, platinum, silver, copper and palladium, as well as rare earth elements such as yttrium, lanthanum and neodymium. It also contains glass and plastic. While the amounts of metals may seem minuscule — there is only 0.035g of gold in a smartphone — they can add up when you consider the amount of e-waste generated. A United Nation Environmental Programme estimates that about 40 million tonnes of e-waste has been produced every year since 2014.
In Sahajwalla's microfactory, pre-programmed robots are used to pick out components such as circuit boards from a pile of discarded computers or laptops. She explains, "These boards can be broken down in small furnaces which use controlled temperatures to extract the valuable resources, such as copper alloys. The glass and plastic can also be combined in our microrecycler capable of operating at high temperatures to produce silicon carbide nanoparticles [which have a wide range of industrial applications including in rubber tyres and integrated circuits for electronic goods]." The microfactory is also able to extract rare earth oxides from hard drives and CDs, which are otherwise difficult to extract or refine.
The best aspect of the microfactory is that it can operate "on a site as small as 50 square metres, about the size of a triple-car garage, and can be located wherever waste is stockpiled". She adds, "They involve relatively lower operational and maintenance costs compared to conventional processes, which depend on resources that might be obtained from suppliers located far away or even overseas."
These microfactories are a perfect fit alongside the systems already working in India. She says, "The ideal would be working with the waste warriors, the kabadiwallas so that new recycling methods provide a way to lift the quality of life for these people in low socio-economic groups." She envisages a situation in which these garbage collectors can be trained to be recyclers, manufacturers and even entrepreneurs, earning much more than they do now.
Who knew that recycling could potentially change lives?