For many customers of the iPhone 4S, it was the best still camera they have ever had. It was also the best phone video camera they have had. For decades technologists have teased the world with the dream of talking to a device and it would do things for us.
"What we wanted to do is just talk to our device. Ask a simple question like what the weather would be like today and get a response. In fact, we don't want to be told how to talk to a device. Talk anyway you like…. The phone needs to figure out what you want and help you. It's a feature that the iPhone 4S calls Siri. Siri is your intelligent assistant that helps you get things done just by asking," said Philip Schiller, who is now an Apple Fellow after a storied career that began in 1987, while introducing Siri on stage in 2013.
What followed was an amazing demo. All one had to do is hold down the home button on the iPhone 4S. First Siri was asked the weather. The exact words of the question were unimportant but Siri could understand the meaning behind the words. Siri could understand conceptual questions right from day one, like "Do I need a raincoat today?" Siri checked the weather and replied.
We have come a long way since just checking the weather. Nearly everything in many homes — including air-conditioners and lights — can be connected to the Internet and controlled via a smart speaker or a smartphone.
Arrival in India
India became a big market for these smart speakers when Amazon announced its Alexa assistant, along with the Echo, Echo Plus, and Echo Dot devices, in 2017. Nobody knew who Alexa was and how she would operate through Echo speakers. It was a novelty. It was unbelievable for most of us. It was as if a voice had entered a speaker magically and could answer almost any question, however silly. People were willing to pay Rs 9,999 for the Echo speaker, Rs 14,999 for Echo Plus and Rs 4,499 for Echo Dot. Expensive? Not expensive enough for a novelty product. Echo disappeared from stock like freshly-prepared katoris of puri and sabzi. Google quickly got into the act and in a few months we had Google Home Mini and much more.
But like all novelty-driven devices, the smart speakers started losing. People got tired of hearing: "I am having a glitch" or "I am afraid I don't know." Children were tired playing games like musical chairs. Adults could take only that much of Bom diggy diggy and O saathi.
Amazon took the lead again and revived interest in the speakers by making Alexa speak Hindi and Hinglish. In fact, a lot of the success behind Alexa goes to one person — Rohit Prasad, vice-president and head scientist, Alexa AI, Amazon. He grew up in Ranchi and now lives in the US. Now in his 40s, the man spent his childhood years glued to the TV watching Star Trek episodes, mesmerised by the way computers and humans communicated on the show.
Since then, not much has happened other than more devices from Amazon and Google coming our way, some with screens, some so tiny that the sound was worse than listening to music on a mobile phone. With the pandemic on, the focus has shifted back to smart speakers and this year we have had a fair amount of launches, including Apple's HomePod. With options available from Amazon, Google, Apple and Xiaomi, it's time to check out what's available or coming up.
Google's booming sound
Though it looks a bit like a loaf of ciabatta, the new Google smart speaker — Nest Audio — sounds crystal clear. Not the cheapest option in the market but it certainly has a bigger and better sound to offer than, say, the Xiaomi Mi Smart Speaker. It has 75 per cent more volume than the original Google Home that first appeared in 2016 and is being made of 70 per cent recycled plastic.
The biggest concern one may have is the fabric covering. It doesn't gather too much dust and it's easy to clean. There is a cat at home but she can't shed fast enough to cover the Nest. The controls are all hidden under the fabric. Touch the left top edge to decrease volume, a tap on the right top edge increases volume while a gentle tap on the middle of the top portion pauses the music.
Since the years have rolled by, there are three Google speakers around the house. All of them can be controlled simultaneously with the Google Home app on which the coolest function is 'broadcast'. It's highly useful if you want to send a voice message to all the rooms having a Google speaker.
Why choose Google Nest Audio?
When it comes to searching for information, nobody can beat Google
In case you have a premium YouTube Audio account, stream using Nest
The sound is pretty clear Mi Smart Speaker Telegraph picture
Xiaomi, the new kid on the smart block
Xiaomi has been having a smart speaker in China for long and we don't know what took the speaker so long to arrive in India. Highly competitively priced, Mi Smart Speaker supports Google Assistant. One can primarily do all the things that can be done on a Google speaker but the main difference lies in the sound.
It offers booming sounds and has enough bass but it's when something like a Beach Boys album is played that one misses Google Nest. Not all the sounds on the Pet Sound album get correctly reproduced. The same goes for Beethoven's Symphony No. 5 or Johann Strauss Jr.'s The Blue Danube. It's best suited for casual listening, like blaring out Ariana Grande's 7 Rings or when you want to enjoy Spotify for 15-20 minutes at a stretch.
Why choose Xiaomi Mi Smart Speaker?
It's inexpensive
It offers booming bass
Since India has a lot of Xiaomi phone users, it makes sense to have a Xiaomi smart speaker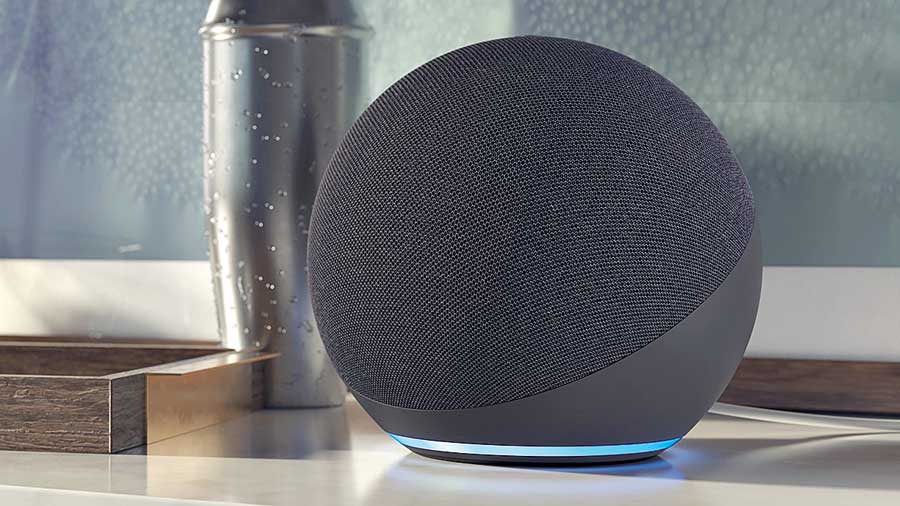 Amazon Echo Telegraph picture
Echo's spherical move
The best thing about the Amazon smart speakers is that it's easy to buy. Order one and then one more and then one more. You know, it's easily available on the company's website. Also, the sound is absolutely comparable to that of Google's efforts. Finally, there are a lot of "skills" Alexa can show-off using Echo. Skills are third-party capabilities that mainly go towards supporting smart home hub.
It's time for an upgrade. This year, Amazon made a great effort at changing its look of the smart speakers, besides making them sound better.
The Echo line of devices major revamp comes in the way of making the largely cylindrical design move towards a spherical one. There is a three-inch subwoofer and two speakers inside while the ring that used to glow when Alexa listens has moved to the bottom of the Echo. The new smart speaker comes with adaptive sound, which allows the device to understand how the audio is flowing inside a room and helping it to make adjustments to present the best possible sound. Matching the improvements in sound is an internal upgrade in the form of AZ1 processor that enables faster speech processing and faster responses from Alexa.
Since there is now a combination of aspects from previous Echo and Echo Plus, there are more smart home features, like a built-in home hub so you can connect smart home lights and other gadgets to it (these need to use Zigbee, Amazon Sidewalk or Bluetooth Low Energy). Though wider than the current Echo, it is just six-inches high while the colours — charcoal, glacier white and twilight blue — blend in with most home decor. All the new Echo devices are built with 100 per cent post-consumer recycled fabric and 100 per cent recycled die-cast aluminum, and post-consumer recycled plastic.
Why choose Amazon Echo?
Echo products are easily available and equally easy to set-up
It has a growing library of skills, making one's smart hub dream come true
Echo products work with Apple and Android devices. Apple HomePod Mini Telegraph picture
Apple's 'Mini' gift
Earlier this year, Apple enthusiasts in India rejoiced because of the arrival of the HomePod. Yes, it's very late to the game. And yes, it's a very good speaker.
The original speaker made no compromises but the price tag doesn't suit everyone in in India. The new HomePod Mini, which was announced a few days ago, fits in well. No, it's not the cheapest in the market but it definitely is well-designed and offers high-quality sound to fill a room. According to some reports, the output of the HomePod Mini is so powerful that it needs something to isolate any vibrations, so the speaker has a suspension system built in to overcome the issue.
During the keynote demo, Apple showed that bringing the iPhone close to the Mini, transfer of music takes place. Also, if a track chosen by another family member is playing, you can see what's playing by bringing your iPhone close. Powering the device is the S5, which has an immense processing power and is also energy efficient.
Yet, the HomePod needs to do a lot of catching up. Market-research firm Strategy Analytics has estimated that in the fourth quarter of 2019, Apple had less than five per cent of the global market share for smart speakers, well below the 28 per cent share for Amazon and 25 per cent share for Google.
Why choose Apple HomePod Mini?
It is the best designed smart speaker on the block
The sound promises to fill the entire room
At its heart is an extremely powerful processor, which makes audio processing better
If you have an iPhone, don't look beyond the Apple universe. It's brilliant
Apple always has your privacy secured Bluetooth speakers are about portability while smart speakers are about offering information and then some other things. Telegraph picture
Bluetooth speaker vs Smart speaker
Even three years ago, Bluetooth speakers ruled the market. Now, it's mainly used during picnics or outdoor parties. A Bluetooth speaker is a basic way to play music — stream whatever sound is coming from your phone, tablet, computer, or other portable audio device. Just pair your phone and play whatever you want. Bluetooth speakers have good battery life.
A smart speaker needs to remain connected to a power source. It is also a microphone-enabled smart speaker, which means, privacy is a concern and there have been breaches in the past. Besides a power source, you need to have a Wi-Fi network. But it can play music from all kinds of sources and provide you a variety of information.
Bluetooth speakers are about portability while smart speakers are about offering information and then some other things. Google, Amazon and Apple have each been rolling out their own settings to lower safety risks for users. Telegraph picture
Privacy is a concern
When it comes to privacy, Alexa has been in controversy in the past and the company has since taken a lot of positive steps. A microphone button is there on all devices to ensure that Alexa, Siri or Google Assistant is not listening to you.
According to Kaspersky, "Smart speakers can be used to control many 'smart' parts of your home just by speaking. As users install smart home security and other devices, this introduces an easy target for hacking." Criminals who are well-versed in technology can try to pry on your home security devices, your smart speaker, wireless router, and even your refrigerator — all of which can be points of weakness for hackers.
According to the cyber-security firm, dive into your device's app to explore your options. Google, Amazon and Apple have each been rolling out their own settings to lower safety risks for users. Mute the microphone when you'd like to not be heard. Some devices have a physical switch, while others can be deactivated by voice command. This can prevent misfired wake phrases. Kaspersky also says it makes sense to "delete your command history to erase local and cloud storage of past recordings."
And remember to opt-out of data sharing for "improving" voice services or "personalising" your experience.