The Index Patient
Veterinary microbiologists had warned five years ago that India should be prepared for Nipah outbreaks. G.S. Mudur chronicles the recent one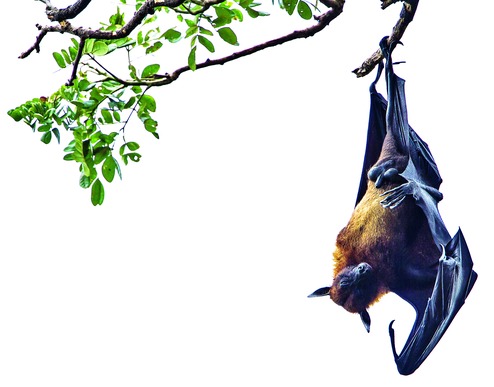 ---
---
The genesis of India's third outbreak of the rare but deadly Nipah virus is likely to remain a mystery forever. But disease detectives suspect it involved a 26-year-old plumber in Kerala's Sooppikkada village - a two-hour drive north of Kozhikode - who liked birds and animals and kept ducks and rabbits for pets.
Scientists, probing the outbreak that has claimed 15 lives over the past one month, believe the plumber was likely the "index patient" - the first person to have picked up the Nipah virus in Kerala from a fruitbat. This species of fruitbat, called Pteropus giganteus, is found across the Indian subcontinent and elsewhere.
Sooppikkada is nestled in a terrain marked by a dense canopy of trees, including mango and guava. Outbreak investigators speculate that the plumber somehow came into contact with a baby fruitbat and inhaled microscopic particles of either bat saliva or bat excreta contaminated with the Nipah virus.
"It was a chance event. Adult bats avoid humans. He possibly had a close encounter with a baby bat with a high viral load," Govindakaranavar Arunkumar, professor and head of the Manipal Centre for Virus Research told KnowHow. Arunkumar is one of the investigators who visited the plumber's home and quizzed his family members about his activities during the days before he fell sick on May 2 - with high fever, headache, and disorientation - and died on May 5.
Health authorities believe each one of the 17 subsequent patients in Kozhikode and Mallapuram confirmed positive for Nipah, acquired the infection from the plumber - most likely through exposure to virus-contaminated droplets shed by the patient during the last stage of his disease.
His brother, father, an aunt and a nurse who cared for him are among those who have died from the Nipah infection. Of the 17 patients in Kerala confirmed as infected by Nipah up to May 31, 15 have died - a mortality rate of over 88 per cent, reinforcing a tag on Nipah as among the deadliest viruses ever known.
The lethality of the virus as well as Kerala's rapid response to the outbreak underscore the need for a perpetual state of high-preparedness across the country to detect and control such outbreaks, say disease control specialists.
Veterinary microbiologists had warned about five years ago that India should be prepared for outbreaks of Nipah, a virus first isolated only in 1999 after outbreaks in Malaysia and Singapore. Since 2000, the virus caused multiple outbreaks in Bangladesh and two in India - in Siliguri in 2001 and Nadia in 2007.
In a research report in the Indian Journal of Virology in 2013, Diwakar Dattatray Kulkarni, principal scientist at the High Security Animal Disease Laboratory in Bhopal, and his colleagues had cautioned, "India cannot sit idle." The study called for enhanced surveillance and a state of readiness.
Others have also highlighted India's vulnerability to Nipah. Benjamin Satterfield, a scientist at the University of Texas Medical Branch in the US, had cautioned in the journal Vaccine two years ago that the number of people potentially at risk of Nipah in Bangladesh and Bengal - taking into account the distribution of carrier fruitbats - might be over 250 million.
"No one can predict when the virus will slip from fruitbats to humans," Arunkumar says. Bats picked up from near the plumber's home in Sooppikkada have tested negative for the Nipah virus. But virologists say that is not surprising because surveillance studies have shown that only a tiny proportion of fruitbats carry the virus at any given time. The viral load in the fruitbats also needs to be large enough for transmission through saliva or excreta. "It is a rare event, but when it happens, the key to stamp out the infection lies in early detection and rigorous measures to prevent its spread," he says.
Kerala, fortunately, had in place the mechanisms and people ready to respond, say epidemiologists.
When the brother and aunt of the index case reported to Baby Memorial Hospital in Kozhikode, critical care specialist Anoop Kumar sensed an infection that spread fast and killed quickly. A communication channel existed between the hospital and local public health officers. The state's health department had over the years built a strong relationship with Arunkumar's lab where they would send samples for testing.
"As soon as the lab detected Nipah, we strengthened infection control measures and began tracing people who had close contact with the patients," says Keshvenra Kumar, health mission director in Kerala who also oversees disease surveillance activities in the state.
Health experts say it is unclear whether other states have established the capacity to respond similarly. India's Integrated Disease Surveillance Programme (IDSP), a nationwide effort to track on a weekly basis spikes in diseases that can spread - chickenpox, diarrhoea, viral hepatitis, measles, dengue or food poisoning, among others - has improved significantly over the past decade. The number of outbreaks documented by the IDSP every year has increased from 799 in 2009 to 1,935 in 2015. Scientists at the National Centre for Disease Control in New Delhi, who maintain a weekly database of outbreaks, say on average about 30 outbreaks are reported and documented each week by the IDSP.
But some epidemiologists caution that effective surveillance will hinge on the flow of information from private doctors into the IDSP. "Many patients are likely to first turn to private practitioners whose priorities lie in treating patients - they need to be trained to recognise spikes and report them to authorities," a virologist says.
"Kerala had an advantage - everything happened quickly, and someone thought it important to test for Nipah," says Pradeep Seth, a senior virologist and former head of virology at the All India Institute of Medical Sciences in New Delhi. "The real test will be when an outbreak occurs in northern or eastern states of the country."
Kerala has passed the test. But will Bengal?