The Curd Maestro refrigerator promises some dahi-licious moments
Curd Maestro is the world's first refrigerator that can prepare food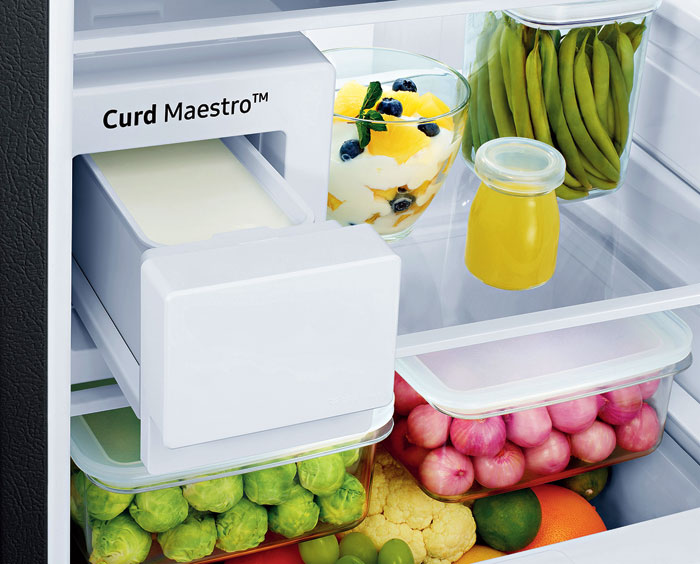 ---
---
Yogurta be kidding' will come to mind when you come across Samsung's Curd Maestro refrigerator. Curd is something that's eaten across India and so the South Korean company has decided to innovate under its 'Make for India' initiative. How does it work? The Telegraph found out from Raju Pullan, senior vice-president, consumer electronics business, Samsung India.
A refrigerator that also helps prepare curd. How did the company come up with the idea?
Curd Maestro is the world's first refrigerator that can prepare food. It has been conceptualised after gathering consumer insights from across India. Curd is something that's consumed all over the country. There is curd rice, kadhi and Bengal's mishti doi. When it comes to storing milk, refrigerators are required and that's where the innovation took off. Keeping focus on our 'Make for India' initiative, we launched the product. In three easy steps you can prepare curd and every time, it will have the right consistency and taste. After the user takes care of the first two steps — boiling and then cooling the milk, followed by mixing the curd culture, Curd Maestro takes care of the fermentation process and there is storage space too. Within five to six hours you get the perfect curd. National Dairy Research Institute (NDRI) has recommended the process of curd making on the Curd Maestro.
Since refrigerators are rarely replaced every five-odd years, is future-proofing a big ask in this category? Also, what's the scope for growth?
Since the penetration of refrigerators in India is only 33 per cent, as a category leader we have to create excitement. It needs to drive convenience and not just store and cool products. Also, the product has to enhance the ambience. We see a consumer horizon of eight to 10 years for refrigerators. It's necessary to make a consumer's life easier when he or she upgrades. With My Samsung My EMI service, some of these refrigerators are available for Rs 990 (per month) onwards, making things easy on the pocket.
Samsung has been the leader in television, microwaves and has been the fastest-growing washing machine brand in 2019. Through consumer-centric innovations we have been upsizing the Indian consumer and in H2 2019 (H2 is second half) we have had a market share (for refrigerators) of 33.9 per cent, which makes us the number one player. In the frost-free category we have a market share of 42.6 per cent. We want to take this to — by the end of H2 — to 45 per cent.
The other refrigerator comes with the new five-star-rated digital inverter technology. How does it work?
It's a solution to long periods of power cuts as the model comes with digital inverter technology allowing the refrigerator to run on a home inverter as well as solar energy with reduced power consumption. We have also enhanced the capacity from 192 to 198 litres. Also, the design of the door has changed to give it a curved, smarter look. We had a vertical and a knob-like handle earlier; it has been changed to horizontal, end-to-end handle.
The other innovation involves storage space for non-perishable items.
In the frost-free range we are adding a base stand, which is below the refrigerator… below the appliance. Pull it out and you get a tray to store non-perishable items in a hygienic manner. This is another insight from India.
Any other insight from your India research?
There is one interesting design element. In south and east India consumers prefer products with floral designs and patterns while in other parts, people want solid designs like metallic colours.
What has the company done on the aftersales service front?
We have 3,300 service network points across the country. It's important to reach the hinterlands where the penetration is low. We have got 525 service vans across the country to reassure consumers.