Bored with a fitness tracker but wouldn't like to go over the top with the wallet on a smartwatch. In February, Strategy Analytics report estimated that Apple shipped nearly 31 million units of its smartwatch in 2019 while the Swiss watch industry only shipped an estimated 21.1 million units of watches. While we can only guess where Apple Watch would go next, there is a bigger picture at play here — younger consumers increasingly want digital wristwear. This means, most smartphone brands are out to grab a share of a pie that's still baking. In fact, the kids' smartwatch market is even more lucrative. More of that in the coming weeks.
If you're new to the smartwatch market, you've probably considered buying an Apple Watch or a Samsung Galaxy Watch. But there's a contender in the fray that deserves a good look — Amazfit from the Xiaomi-backed wearables maker Huami. It's not just about pricing, Amazfit does a good job providing enough features, value and decent battery life. For the last 10-odd days we have been trying out Amazfit T-Rex, which has reportedly passed 12 regulations of military standard (MIL-STD-810) quality test.
High on durability
First to catch one's eye is how big it looks compared to other smartwatches because it comes with a generous amount of bezels, yet the watch doesn't weigh as much as you would expect. Only 58g (with strap). This could be because of the plastic chassis, which is also hardy. The silicon strap is durable. At the heart is a 1.3-inch AMOLED screen (360x360) around which are four buttons for navigation.
There is zero chance of mistaking what each of the buttons do. The up and down buttons are on the left while the select and back buttons are to the right, which complements the touchscreen well. In the middle of a workout it's easier to navigate using the buttons than through touch.
Coming to the screen, it's bright enough to impress under bright light but does it outdo an Apple or a Samsung? Well, one obviously is not paying that much! The company hasn't cringed in terms of protection as it comes with Corning Gorilla Glass 3 and anti-fingerprint coating. There is no chance of the screen cracking if your wrist thumps a hard surface!
Staying on with the durability quotient, the MIL-STD-810 rating ensures the watch functions under harsh weather conditions and extreme temperature changes as well as damp.
Precision monitoring
Let's look at the spec sheet box and keep one box unticked. The watch can't store music files (but it can control the music streaming app on your phone), there is no microphone and obviously you can't add apps to the device. Sounds bad? It really isn't. There is a sizeable crowd of fitness enthusiasts who are looking for a watch and not an MP3 player on their wrist.
For many it's about finding a device which offers an accurate heart rate monitor and an accurate GPS for outdoor runs. The T-Rex comes with GPS and GLONASS module, ensuring that tracking is spot on. And there is Bluetooth 5.0, which offers improved speed and greater range than older versions, besides it provides better connectivity.
The T-Rex can automatically spot 14 forms of workouts, which is great. But it's the watch's advanced low power-consumption chip, which impresses the most. Huami's self-developed PPG bio-tracking optical sensor offers precision heart rate monitoring. Combined with a 390mAh battery, which Amazfit says offers a 20-day battery life (normal usage), it's a watch that promises a few important things and delivers them all. As for the long battery life, after 10 days of use we had around 35 per cent charge left, probably because we left the heart-monitoring option on as well as the always-on feature, things that drain the battery. One other feature which won us over is durability as it is waterproof to 5ATM. You can easily wear it while swimming.
What we would have liked to see is some improvements in the Amazfit app, which is beautiful to look at but it would be great if the displayed graphs are easily understandable to the user. Also, the watch can track light and deep sleep and how much time you spend awake during the night. Though no complains with the results but it's too rugged a watch to take to bed.
Who is it for?
Frankly, youngsters would wear the watch for its looks, for the heart rate monitor and to get a sense of one's daily calorie burn. Armed with good battery life, the Amazfit T-Rex scores far better than its competition in the around Rs 10,000 price range. It's rugged. It's big. It's a robust, affordable fitness companion.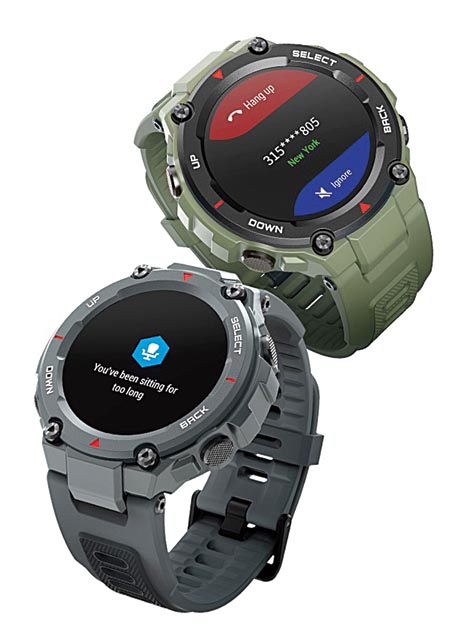 T-Rex has passed 12 regulations of military standard (MIL-STD-810) quality test. The Telegraph
At a glance
Device: Amazfit T-Rex
Dimensions: 47.7 X 47.7 X
13.5mm
Weight: 58g (with strap)
Waterproofing: 5ATM, supports swimming
Screen: 1.3"AMOLED,
Resolution 360 x 360
Positioning: GPS + GLONASS
Battery: 390mAh LiPo (minimum value)
Supported devices: Android 5.0 or iOS 10.0 and above