Tech To Purify Water
Arsenic contamination of groundwater is a major problem and scientists have been working on making cheap and easy-to-use products that will remove arsenic and make it safe for drinking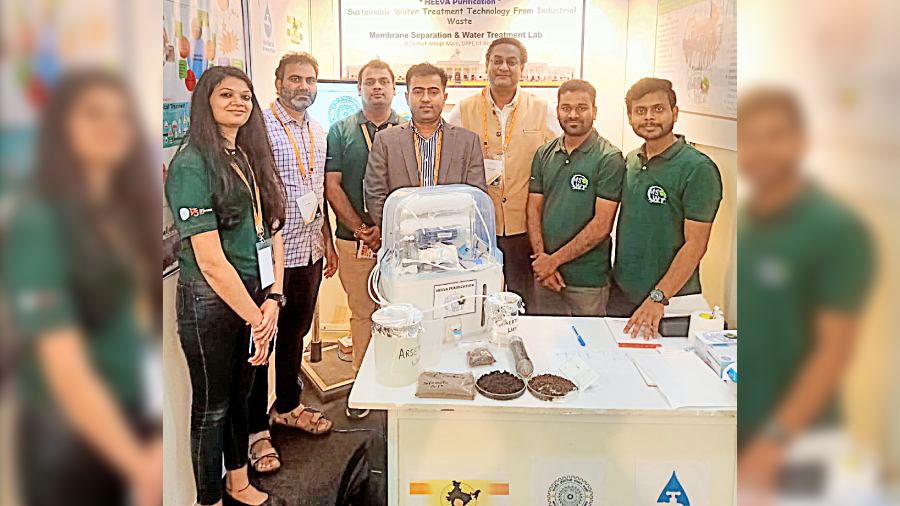 ---
Published 01.11.22, 03:32 AM
|
---
Researchers at the Indian Institute of Technology, Rourkee, have come up with an affordable novel material that can remove arsenic as well as other heavy materials from water. Arsenic contamination of groundwater is a major problem in West Bengal as well as in other parts of the country, and scientists have long been working on making cheap and easy-to-use products that will remove arsenic from water and make it safe for drinking.
The new product, developed by Professor Abhijit Maiti of the department of polymer and process engineering along with Anil Kumar and Nishant Jain, ticks all the boxes. It is made from ferromanganese slag, an industrial waste product, and an economical natural rock that is abundantly available, which makes it cheap, sustainable and environment friendly. The material can adsorb the most hazardous varieties of arsenic and it can be easily integrated into existing water purification systems in households as well as in large domestic systems.
"Cheap raw materials, minimal use of chemicals and easy scalability of the removal process are the three pillars of this invention. This innovation has also taken into consideration environmental sustainability. That is why ferromanganese slag, which is an industrial waste and has little commercial value, was used," Maiti pointed out. A regular water processing setup tricked out with the new material will last for a good many years in a standard household with 4-5 family members.
The innovation was showcased at IInvenTiv, the two-day research and development fair involving all 23 IITs, which was organised last month to commemorate 75 years of independent India and held on the IIT Delhi campus.
Prototype grant
Continuing their relentless efforts to convert innovative ideas into path-breaking products, IIT Kanpur's technology business incubator Startup Incubation and Innovation Centre (SIIC) has partnered with the the Union ministry of micro, small and medium enterprises (MSME) to facilitate the MSME Design Innovative Scheme. This scheme provides grants to final-year undergraduate and postgraduate students engaged in design development as well as to MSMEs working in the design domain. The grant for students is up to Rs 1.5 lakh while it ranges between Rs 15 and 40 lakh for MSMEs. The funds are awarded for one year for the development of prototypes.
Grants have been provided to seven enterprises to develop select prototypes. The products being developed include a drone for a drone light show, a machine to mix, grind and stuff paste into food products such as kachoris, a portable jaggery maker that can be set up near the fields to juice sugar cane and prepare jaggery, a low-cost weather and insect monitoring system also aimed at farmers and a seed coated by a super-absorbent polymer that reduces the need for initial watering.
The focus of SIIC has been to bridge the gap between innovators, start-ups and government bodies. It is currently facilitating over 155 start-ups and MSMEs.