OnePlus 8T is about consistency
The company has even given its OxygenOS a leg-up to make things appear smoother, and easier to use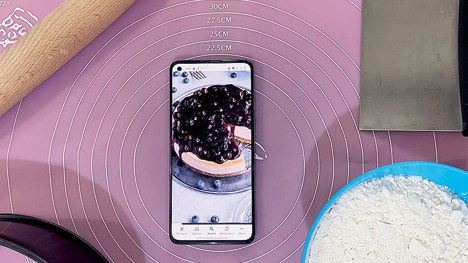 OnePlus has always offered phones with consistent performance and the 8T is not an exception.
---
Published 18.11.20, 04:15 AM
|
---
We keep hearing about how an iPhone makes a person look successful. A Samsung Galaxy device highlights a level of all-roundedness. A Pixel would be about being niche. What about OnePlus? Tech is no longer about chips and numbers, it's about being an extension of one's self-expression. A smartphone can very well tell the world the kind of person you would like to be seen as. I would like to believe that OnePlus is about being practical. Did I stick to my belief after using OnePlus 8T?
Power play
Instead of the usual used-for-seven-days impressions, I decided to mull over OnePlus 8T for double the period just to see if my idea of the brand still holds true. Let's strike out one item from my list of demands from a phone — lag-free experience. The 8T offers that in oodles and it didn't fail me at all. But then, most phones offer this nowadays. The company has even given its OxygenOS a leg-up to make things appear smoother, and easier to use.
The last few years have seen OnePlus throw a lot of numbers at its users — a shake-up in the camera specs, processor, RAM, screen refresh rate and, of course, charging. In fact, it's the last mentioned item that really sets the phone apart. Its Warp Charge 65W charging can juice up the battery from zero to full in 39 minutes straight. I like to keep the phone on while charging, so a couple of minutes extra. Working in favour of the smartphone brand is the charger that also supports up to 45W PD charging, which helps to power up laptops and tablets. What I fail to comprehend is why wireless charging has been left out. For a phone that doesn't exactly come cheap, wireless charging makes sense. Also, it's a helpful feature to have. On a brighter note, the charging brick is on a quinoa diet! Earlier, one would have had a tough time connecting two or three devices to a switchboard if one of them was OnePlus.
Bright days, cool nights and video ahoy!
Coming to the camera, things haven't changed much in the past few months. In the same breath, OnePlus is obviously not aiming to sell the phone to those who use OnePlus 8 Pro or someone who bought OnePlus Nord a few months ago. The idea is to decrease the pool size of Samsung and keep Xiaomi in check. In case you have been using the OnePlus 6T or even 7T, yes, there is something for you here. The main camera is a 48MP shooter, keeping it company is a 16MP ultra-wide angle lens, a 5MP macro lens and 2MP monochrome lens.
The main and ultra-wide snappers work perfectly during daytime, capturing the hues of a blue autumn sky well. After pixel binning, you get a 12MP shot but there is an option to shoot at 48MP.
What I didn't understand is the double 'M' logic — macro and monochrome. First, macro lens makes no sense because the same shot can be taken otherwise. And what exactly is a monochrome shooter? It doesn't take photos directly but instead uses data from a sensor to fill in shades of monochrome in shots that have been taken using the primary sensor. Instead, had OnePlus gone with a telephoto lens, things would have been much better.
The night mode on the camera is slightly better than what one finds on the Samsung Galaxy S20 FE but the new iPhone 12 Mini is miles ahead.
What I liked more about the 8T is its video capabilities. Besides the usual 4K video at 30/60fps, try the video portrait mode as well as nightscape. Both work well and offer respectable results, allowing bloggers to add neat tricks to their efforts.
The little joys
Looking at any Android phone from the front won't offer a distinguishing feature but the rear panel of the 8T is good looking. The matte finish ensures fewer fingerprints.
The bigger effort has gone towards Oxygen OS 11 based on Android 11. Agreed, this can't be something that would make you want to buy any OnePlus device, but it surely is something that will make you stay in the OnePlus universe. The new design uses the colour combination of red and white, which looks good. Also, the built-in apps have been reworked for one-handed use, winning a brownie point among users.
There's nothing new to be said of the Snapdragon 865 processor, which runs the show. You can pretty much run any game on the highest setting. Helping along is the 120Hz screen refresh rate but if you coming from a 90Hz refresh rate phone, little would be noticeable.
Where does it fit in?
We like how OnePlus continues to evolve. Unlike most brands, OnePlus is not telling us to remain glued to the phone. Its popular Zen Mode is still around and the always-on display offers almost all kinds of info you would want to see, making you turn on the phone fewer times, which indirectly means fewer occasions to mindlessly scroll through social media feeds. At the same time, the battery is enough for more than a day's use while the charging speed is cheetah-solid! Yes, the camera doesn't compare with the new iPhones, but it's decent. The phone offers a solid upgrade to those who haven't bought a device in the last two years and at the same time would try to pull in customers from other brands. Looking at a half-filled glass, one can always be an optimist or pessimist but there's no denying that the water will quench one's thirst. Let's come back to the kind of customers who wouldn't mind OnePlus phones. OnePlus 8T is about consistency and only with consistency can a brand evolve. At a glance
Device: OnePlus 8T
Weight: 188g
Display: 6.55-inch 120 Hz Fluid AMOLED
Camera: Rear — 48MP+16MP+5MP (macro)+2MP (monochrome); front — 16MP
Processor: Qualcomm Snapdragon 865
RAM: 8GB/12GB
Storage: 128GB/256GB UFS 3.1 2-LANE
Battery: 4,500mAh
Charging: Warp Charge 65
OS: OxygenOS based on Android 11
Price: Upwards of Rs 42,999
OnePlus 8T flies because…
It has a 120Hz screen refresh rate
The 65W charger juices up the phone in less than 40 minutes
OxygenOS 11 looks good
Snapdragon 865 processor allows years of usage OnePlus 8T could have flown higher if…
It allowed wireless charging
Night mode was better
The monochrome and macro shooters were traded in for telephoto