AirOK VISTAR 550i Smoke Stop makes life a little easy
An air purifier can help you breathe easy but it's not a substitute to cleaning your den thoroughly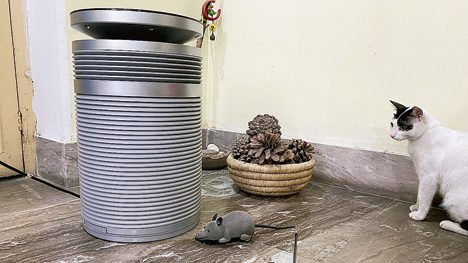 AirOK VISTAR 550i Smoke Stop fits in a living room as well as a conference room.
The Telegraph
---
Published 16.11.20, 08:30 PM
|
---
Do air purifiers really work? Does it make sense to have it in a biggish apartment? Who would it benefit?Too many questions but few answers are available out there. A good point to start involves the difference between air conditioners and air purifiers. An air conditioner can't do the job of an air purifier. ACs only cool the air; it doesn't clean it. There are impurities in the air outside your house as well as on the inside. Even till a few months ago, we spent 12-odd hours in the house and the rest outside. With work-from-home looking to continue for quite some time, it's important to check the quality of air at home.
We recently came across the AirOK VISTAR 550i Smoke Stop. The product from the Delhi-HQed company is not lightweight in all sense of the word.
Trying to be different
It's not easy to review an air purifier because creating a leak-proof see-through rig filled with smoke and dust is not something one can do at home. What we can tell you is what the air purifier offers and what it promises to tackle. More importantly, what you should do to improve the quality of air in the house.
The distinguishing factor of AirOK Technologies is its solution, which is called EGAPA, which reduces high levels of PM2.5, PM10 (up to PM 0.3) and smoke while Smoke Stop handles some volatile organic compounds (VOC), odours and other toxic chemicals. What we generally find in the market are HEPA (high-efficiency particulate air) filters. The idea with HEPA-driven machines is simple. It usually consists of a fan and a dense filter. When air is drawn through that filter by the fan, almost all the particles in the air get captured. However, these purifiers can't purify everything.
Yes, HEPA filters can tackle smog, which is basically soot and other particles. Besides that, there are volatile organic compounds, which HEPA air purifiers are not always good at. It can tackle pollens, which are around 10 microns in size. Yes to most of the dust in the house. As for cigarette smoke, yes but it's not good at VOCs.
What we see here in action is EGAPA technology, which the company says can tackle cigar smoke, formaldehyde, VOCs and other toxic gases. The filtration process involves smoke and dust passing through "a network of interlaced fibres that are twisted and turned to form a fibrous maze".
Does it work?
Frankly, there are few trials to compare one with the other. And to get a true feel of an air purifier, one needs to have it up and running around the year. When we started up the air purifier, the readings showed "moderate" pollution level which went down a notch after one hour of use.
The control is pretty simple. Just plug in the device and tap once on the centre of the control panel. To move between manual and auto modes, another tap would do. To up the fan, rotate finger clockwise on the control panel.
But remember, however many air purifiers you may have, it's not going to tackle Covid-19. So don't get the machine for this. But if you (or any household member) are asthmatic, yes the machine will make it easier to breathe. Also, a lot depends on the size of the household. It fits well inside the living room, bedroom, conference room or the meeting hall. Mine is an old place with high ceilings, so things get complicated.
Otherwise, the filter is good for eight to 10 months and should be able to filtrate up to PM 0.3 micron, which is fair enough. But the advice is to clean your houses as often as possible. Pet hair and cigarette ash settle quickly on carpets, which you need to tackle with a vacuum cleaner. What AirOK VISTAR 550i Smoke Stop does is make life a little easy and helps you breathe easier.
At a glance
Device: AirOK VISTAR 550i Smoke Stop
Filter type: Ultra dense EPA with PET as an outer layer supported by carbon filter
Filter life: Eight to 10 months
Filter type: Polypropylene
Claims: Can filtrate up to PM 0.3 micron
Price: 29,990