Smarter TV
The Samsung smart TV gets smarter with five new features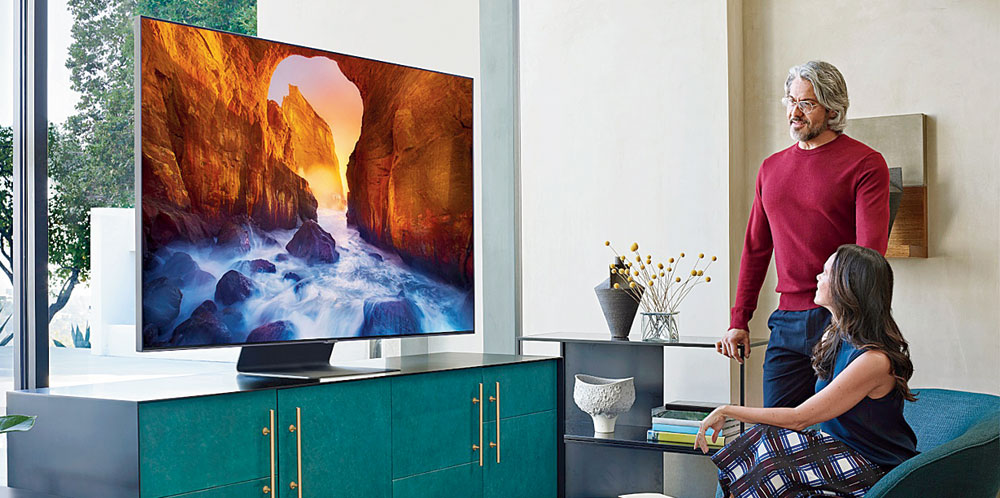 Smart TV from Samsung
Picture: Samsung Electronics
---
Published 16.04.19, 01:12 PM
|
---
Earlier this year, Apple announced that iTunes films will be available on Samsung smart TVs, signaling a wider opening up of the Apple ecosystem. The big news has been followed by another a few days ago — Samsung India has announced its latest smart TVs with industry-first benefits such as personal computer, music system, home Cloud, live cast and two-way sharing, which means the television will go beyond broadcasting content.
The new range of smart TVs start from a 32-inch model priced at Rs 24,900 and is available across screen sizes up to 82-inch.
The Telegraph spoke to Raju Pullan, senior vice-president, consumer electronics at Samsung India, to find out more.
In what ways has the smart TV become smarter?
From now on, the entire range of smart TVs will have five smart benefits which arise from the consumer insights that we have gathered. For example, you can use your smart TV like a personal computer or a music system. All of this is coming from our R&D centre in India. One figure that has come out of our consumer research is that because of low price of data in India — meaning more Internet consumption — people are looking for smarter televisions.
What about the present range of televisions?
Currently, most televisions appear like black slates when it's switched off. The viewing time is usually towards the evening and that too much lower than the smartphone. This is because TVs are content driven. What we have launched goes beyond just content; it is about benefits. The smartphone allows users to watch content on the go; it also allows users to watch content based on personal preference. On the smart television it is largely about viewing pleasure. That's what we are looking at.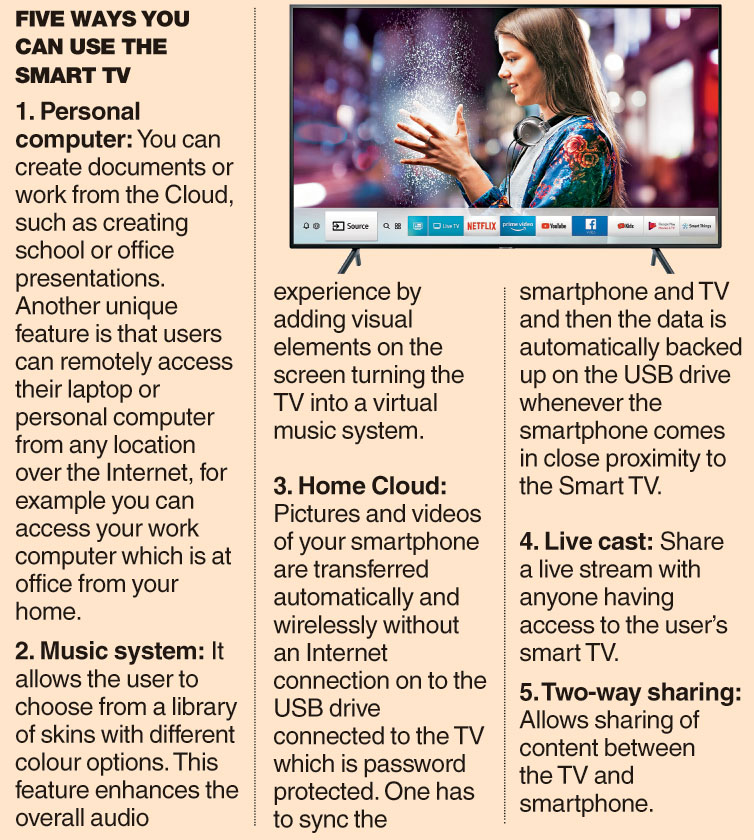 What's the big demand from smart TVs?
People are opting for bigger screen sizes, so the 40-inch and above is the fastest growing segment. Also, it is not just about providing a big screen; it's about giving people certain functions to choose from.
What's working better for you at the moment — offline or online sales?
We are a full-range player, present across price brands. I would call Samsung a benefit warrior, a price warrior and a size warrior. Over the last 13 years we have been number one in the TV category and with the launch of these new TVs, we will widen the gap. When it comes to choosing between online and offline buying, it is about dealing with convenience versus experience. Consumer expectation in every channel is different and we will deliver.
Has the interface become smarter?
The Samsung Smart Hub interface allows access to multi-level types of content, so you can seamlessly scroll from your normal live TV to applications to Netflix and Amazon Prime Video. You can also move to different sources, like you can connect a Blu-ray player or your smartphone. There is an auto-detection system that can help toggle between content. There is also the SmartThings application, which is a one-stop convergence across Samsung devices... it is the future of IoT (Internet of Things). You can control it through your TV as well.
Any thoughts on iTunes coming to Samsung smart TVs?
Besides the five features, we are working hard to give all kinds of content to our consumers. There is already a host of players available on Samsung smart TVs. With iTunes coming to the Smart Hub, the customer experience just got better.
What's your long-term strategy?
We are not restricting these features to a few TVs but across our range of smart TVs. Our long-term strategy is to create a seamless ecosystem across various Samsung devices.