Samsung's C-Lab is nurturing innovations ideas from its employees
Founder of TagHive, Pankaj Agarwal's efforts stem from his time at C-Labs, a well thought out initiative that has given birth to several cutting-edge solutions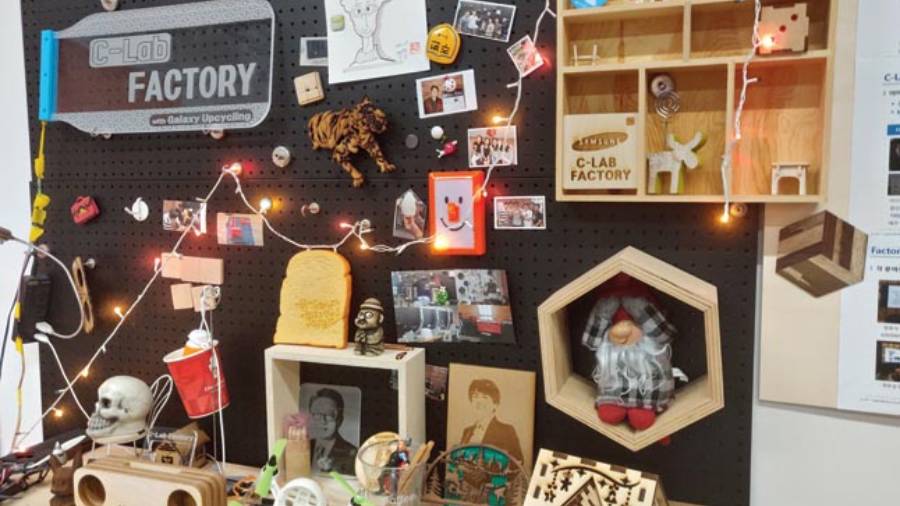 In the past 10 years, over 1,507 employees have participated in 365 C-Lab projects. File picture from an earlier visit to C-Lab in South Korea.
Picture: The Telegraph
---
Published 20.06.22, 02:52 AM
|
---
India has over 10 lakh government schools, attended by millions and millions of students. The problem is, every year a few million students drop out once Class VIII is over. Many students don't finish primary education and end up with low-income jobs.
Can technology help? "In government schools, infrastructure is not always the best. Teacher to student ratio is not great either. Further, parents don't always have an involvement in the child's learning journey," says Pankaj Agarwal, founder of TagHive. His start-up was incorporated in 2017 and one of its most sought after solutions is Class Saathi, which is a unique AI-based clicker solution that encourages better student participation and student-teacher interactions.
Pankaj's efforts stem from his time at C-Labs, a well thought out Samsung initiative that has given birth to several cutting-edge solutions. After undergraduate studies at IIT Kanpur, Pankaj was hired by Samsung to work in South Korea in 2004. Back then the only idea he had of the company involved the Samsung TV set that was at home. Soon after he reached South Korea, he got an opportunity to do his masters, followed by four years of work as engineer. In 2010, the company offered him an opportunity to do his MBA at Harvard Business School and then came four years in the marketing section at the electronics company.
Now the interesting bit. He had an idea to make the world better using technology. So he enrolled his idea with C-Lab that many don't know about. Class Saathi is a solution that continues to find takers.
There are two components to Pankaj's solution — inside and outside the classroom. Inside the classroom, students use a clicker to answer questions. And there is a mobile smartphone application that runs on the teacher's smartphone. "We are the world's first company to build a remote control that works on a smartphone app. We provide a bag to schools containing clickers through the government or foundations. The platform can work in any language or grade. After a teacher puts forward a concept, it's about the response of students. Every student in a class can respond because each one has a clicker. As a teacher you can view the performance data of the entire class at one go. Further, the data goes to higher authorities and if parents have smartphones, it goes there," says Pankaj.
Enter C-Lab
Towards the end of 2012, C-Lab was established to encourage creative thinking throughout the company. Ideas cannot come from top executives of the company alone; it can reside with any employee. If an employee has an idea and it's worthy of exploration, it can become a part of C-Lab or Creative Lab. The Samsung-operated programme is designed to transform creative ideas into business opportunities. Think of it as an incubation hub.
Once an idea is approved, the person becomes the creative leader of his or her idea and doesn't have to worry about working on the usual tasks at Samsung. Instead, the person gets paid while developing the idea. "C Lab members can decide where to work and when to work. They make their rules and schedules. They come up with a budget. They recruit people to work for the team," says Mark Sohn of Creativity and Innovation Centre, Samsung Electronics.
Plenty of ideas have been a part of C-Labs. For example, Nemonic from Mangoslab. It is a compact smart printer that prints memos from a mobile device or PC as sticky notes without using ink or toner. Users can compose, edit and print information such as digitally handwritten memos, text, images, or tables using preset templates on the Nemonic app.
It does't stop there. C-Lab began as an in-house programme which was expanded externally as C-Lab Outside in 2018. On the one hand, C-Lab Inside projects with significant market potential are given opportunities to launch start-ups (C-Lab Spin-off), which Samsung supports through seed money investment and business consulting to accelerate growth while C-Lab Outside is a start-up acceleration programme for prospective entrepreneurs outside Samsung Electronics.
In the past 10 years, over 1,507 employees have participated in 365 C-Lab projects, and of these, 128 projects have been transferred to in-house Samsung divisions. The C-Lab Inside programme has also resulted in numerous innovations being deployed within the company itself, such as Galaxy upcycling, eco-packaging, lifestyle TV The Sero, and new features for mobile cameras and Samsung Pay.
Spin-offs that have become popular include Linkflow, which was established by four employees to offer wearable 360-degree cameras. It was conceived as a way to capture beautiful scenery, it has proven particularly useful for security and remote medical treatment, allowing doctors to see patients in faraway locations. Linkflow has raised 29 billion won and is valued over 79 billion won. Another good example is Salted, which is generating stable sales in the golf sports industry for its innovative fitness tracking and coaching solution that uses smart insoles to analyse weight shifting, swing data, balance data, and posture data. The start-up is currently maintaining steady growth in the global market by signing supply contracts in the US and Europe.
"C-Lab members can get customer response through introducing prototypes at place like CES (which is held annually in Las Vegas), MWC (in Barcelona) and South by Southwest (held in Texas)," says Mark.
Besides Samsung, a few other global companies too have in-house incubator programmes but the South Korean company saw the opportunity before most. No wonder, it is one of the world's most successful incubator hubs that puts employees first. Nurturing ideas
Some large companies encourage employees to come up with unique ideas with financial backing. A few popular names are....
Area 120: Formed by Google, it is where Googlers spend 100 per cent of their time on 20 per cent projects. Several good ideas have come from this project.
1886Ventures: It was founded in 2007 as the Mercedes-Benz innovation unit. Since then it has executed over 100 innovation projects, founded 13 new business units and 22 start-ups.
Ford X: It unites entrepreneurs, designers and engineers to come up with new mobility ventures and business models focussed on transportation.