Samsung's new television tech looks promising
From solar-powered remote controls to upping the fitness quotient, the company has a lot on offer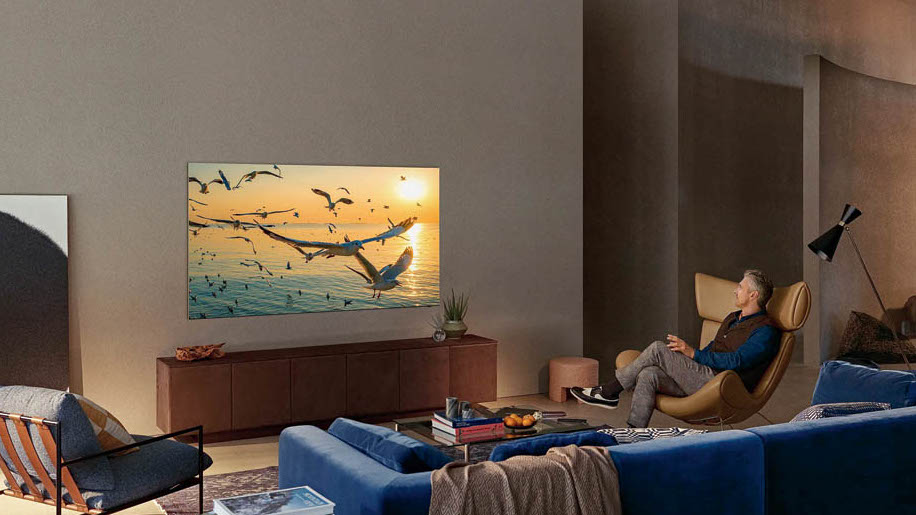 Samsung is introducing a new display technology, Neo QLED, to its flagship 8K (QN900A) and 4K (QN90A) models.
Samsung
---
Published 08.01.21, 05:58 AM
|
---
During the lockdown, technology didn't take a backseat. And more than smartphones, the demand for TVs and other household gadgets picked up. Playing to its strength, Samsung, which has an upper hand globally when it comes to display technology, has unveiled offerings — at a virtual event — which will dictate trends in the television industry in the coming months and years. Snapshots of what we like about the new arrivals.
Let there be light
At a glance, it looks like any other TV remote control from Samsung but the tech magic lies on the back of the clicker. Flip it around and you will find a long panel of solar cells that can charge the battery powering the clicker, which itself is made from 31 grams of plastic of which 28 per cent comes "from recycled polyethylene terephthalate".
The idea is to "prevent waste from a projected 99 million AAA batteries over seven years" and last two years on a single charge. The remote can be charged by indoor as well as outdoor light and if you in a place where an immediate top-up is necessary, there's a USB-C port on the bottom for a quick charge. Overall, the internal rechargeable battery is designed to last for around seven years, or the average life cycle of a single TV.
The move towards environment-friendly tech comes months after Apple announced that chargers will not be included with the iPhone 12 in a bid to reduce tech waste. The rumour is that the upcoming Samsung Galaxy S21 will take a similar path.
Besides the remote control, Samsung is also pushing eco-packaging efforts. "By eliminating oil-based ink and expanding eco-friendly packaging to all Lifestyle and QLED TV models, Samsung offers a sustainable solution that can upcycle up to 200,000 tons of boxes a year and turn them into pieces of home decor." The cardboard boxes can be repurposed to come up with some neat craft items.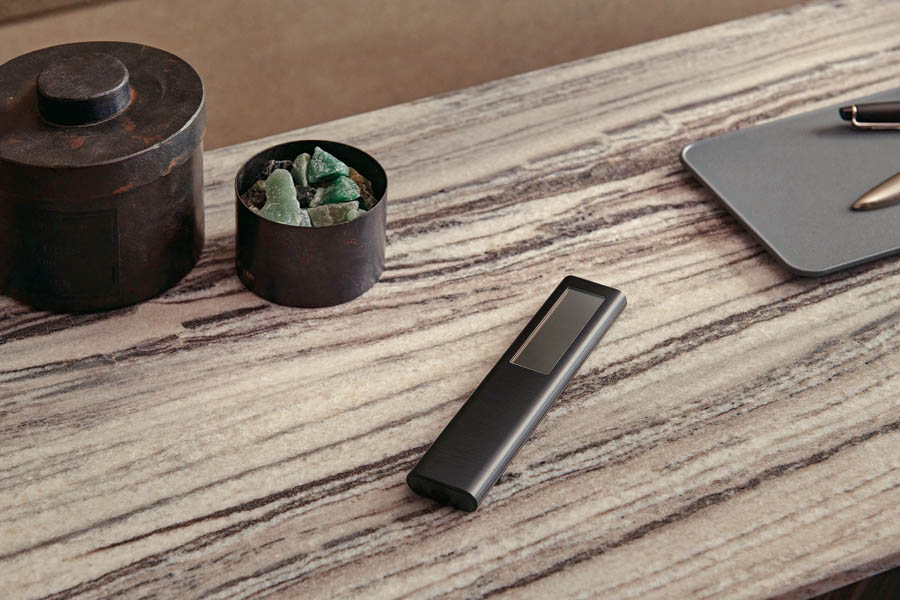 Brighter picture, bigger sound
There is not many display technologies there offering better viewing pleasure than MicroLED but it's Samsung's QLED TVs that are more accessible in way of pricing. This year, the South Korean company has something called Neo QLED, which aims to take on OLED TVs from the likes of LG and Sony.
With an LED or QLED TV, there is a layer of backlighting that goes through filters to create the image. With Neo QLED, the South Korean company is swapping traditional LED backlighting panels for Quantum Mini LEDs. Quantum Mini LED has incredibly thin micro layers filled with many more LEDs. It increases the luminance scale to 12-bit with 4,096 steps; this helps make dark areas darker and bright areas brighter, resulting in a more precise and immersive HDR experience. The Neo Quantum Processor can optimise picture quality to 4K and 8K picture output regardless of the input quality.
The smaller LEDs also make it possible to have a slimmer chassis design, so Neo QLED sets will have a thinner build with the company's bezel-less Infinity Edge screens. For top-of-the-line models, there's also a new OneConnect box that allows the display to be as slim as possible, with nothing but the display panel and speakers in the TV, and the video processing and various HDMI and USB inputs offloaded to a separate box, connected with a single cable.
Sound, which often gets compromised when bezels get slimmer, promises to be better on the South Korean company's new TVs for the year. With Object Tracking Sound, TVs can analyse scenes and try to make it seem like sound is coming directly from the source on screen — and moving with it. The 'SpaceFit Sound' feature uses a built-in mic on the TV to analyse a room's acoustics and automatically apply the best audio settings.
Samsung's new QLED TVs have something for gamers who recently purchased an Xbox Series X/S or PlayStation 5. The new 'game bar' has quick access to settings like refresh rate, aspect ratio, and so on. All of the HDMI 2.1 functionality— 4K at 120Hz, variable refresh rate, auto low latency mode, and eARC — are supported.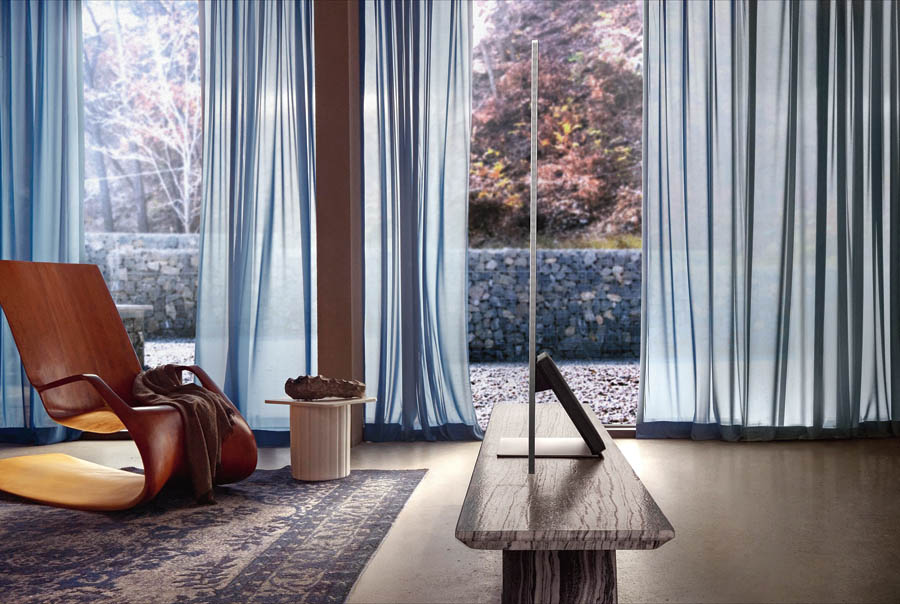 Better accessibility
The company's efforts on making technology accessible for people with low vision or hearing issues continue with the new range of television. The 2021 line adds new features such as Caption Moving, Sign Language Zoom and Multi-Output Audio to move captions to avoid blocking other text on a video and the ability zoom in on a sign language window to see it better. By 2022, the company has committed to expand its Voice Guide feature — which provides audio guidance for people with the deaf and people with low vision. During a virtual event on Wednesday, Samsung showed off the ability to invert colours on a menu. It leaves the video as it is but makes it easier for people who are low vision to see the menu options.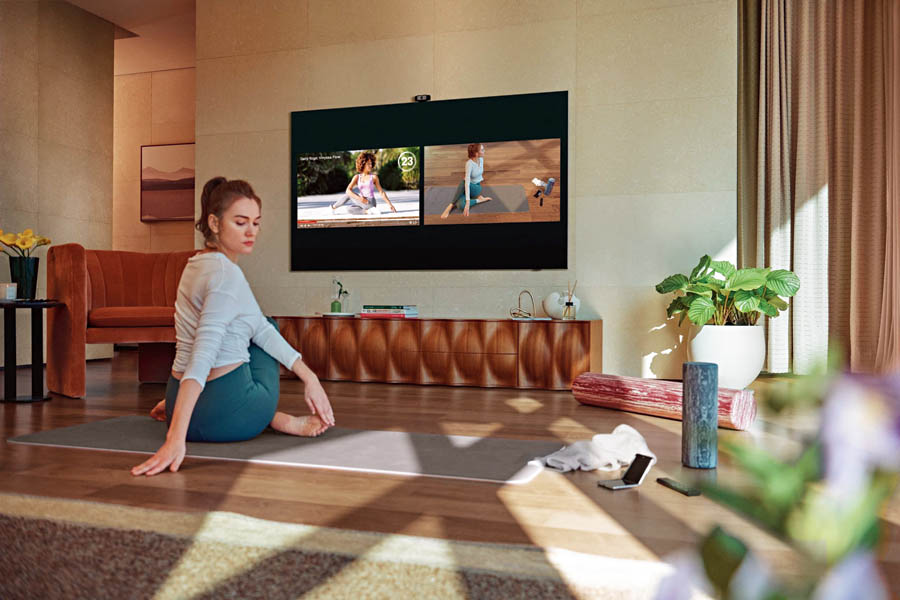 Fitness quotient
In December, Apple introduced Apple Fitness+ (yet to come to India), a fitness experience built around Apple Watch. The idea is to offer studio-style workouts to iPhone, iPad, and Apple TV. Samsung too has something offer. Its latest TVs can be paired with a video camera for a new 'Smart Trainer' feature that tracks you through an interactive fitness class. According to the company, "The Smart Trainer displays an AI trainer on the left screen, and an image of yourself on the right screen, allowing you to check your posture, count your reps, and receive real-time feedback on how you're doing — just as if you were at an in-person workout class."