Samsung Galaxy Z Flip3 5G: Embrace the crease
A fashion must-have and a gadget to cut down on screen time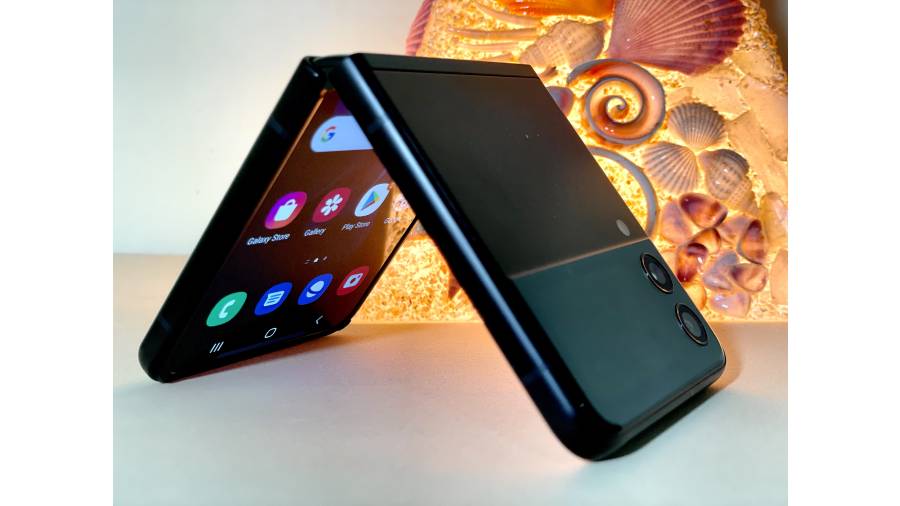 Samsung Galaxy Z Flip3 5G opens up to look like the smartphone we are used to.
Pictures: The Telegraph
---
Published 06.09.21, 12:13 AM
|
---
Fun. Fashionable. Fantastic. With the Galaxy Z Flip3 5G, Samsung has sprung a pleasant surprise. It's like flipping open a love story that has been patiently waiting in the wings for a decade. In fact, this will be for most of us the first smartphone that folds. It's packed with the latest tech, plus overflowing with smartness.
Let's get a few things out of the way, namely figures because Flip3 is about maximising your fashion quotient. It's a full-size smartphone that folds into half or 4.2-inches, which is literally a pocket-friendly size. Flip it open and you get an Infinity Flex 120Hz display that's 6.7-inches with Dynamic AMOLED 2X tech. Powering it is a powerful Snapdragon 888 processor while you have either 128GB or 256GB to play around with. Now, forget about figures because it's all good. The biggest advantage of using the Flip3 is keeping screen time on check. Consider this: You pick up the phone, it unlocks, you check a message from, say, the boss saying that a meeting is scheduled for 2pm, which is 1.5 hours away. Instead of putting away the phone, you thumb through social media feeds, pose for a few selfies, add to the irrelevant barrage of comments on Twitter, buy a few things from Amazon, maybe finish another round of car racing, check if a new podcast episode has been uploaded, yadda yadda yadda. Boom, it's 2pm. With the Flip3, you can check important notifications on the small 1.9-inch outer screen (up from 1.1-inches). Helping the cause is the fact that it's tough to open the phone with a flick, so you wouldn't put in that extra effort into wasting time… or would ya! Second, to take photographs there is no need to flip open the phone. No sirree! Double tap on the power button when the phone is in a folded state and swipe on the outer screen to choose photo/video mode or to switch between lenses. Composing the photos is not that difficult either. In case you don't like the composition on the outer screen, simply flip open the phone and the main screen will automatically begin where you left off on the outer display. When it comes to quality of photos, I think most Android brands should take cue from the Flip3 and offer just the main and wide snappers; it's more than enough. Pictures are crisp and contrast-y and meets the standards set by Galaxy S21.
Third, once you get used to making video calls on the Flip3, it's tough to move to another device. You can keep the phone in Flex mode or half open, so it sits on a flat surface. Chat away. Or when you watch a short video, do the same. In case you like to watch it full screen, sure, go ahead and keep the device on landscape mode but ever so slightly folded, enough to make it balance on the table.
Fourth, you can keep the phone anywhere, especially when it is in Flex mode — on your lap or the dashboard of the car. Flex mode ensures the camera bumps don't affect balance while the base is wide enough to offer a good grip.
Fifth, there is IP water resistance, like on any flagship phone. Take it out in the rain, don't worry about coffee spills or the phone falling into a pool. It will survive. I tried giving it a wash for the amusement of my cat.
Not enough? Samsung has even introduced a range of accessories to make the already striking options available even more colourful to suit every wardrobe need.
What I like most about the phone is that Samsung is not trying to make people shift away from "normal" phones to something on the likes of tablets, which is the case with Galaxy Z Fold3. There will always be a crowd that would like to have a phone which has a roughly 6.7-inch screen. All you have to do is open the phone to enjoy that screen size.
I see a lot of people using this phone in the near future. You will see it in cafes. At parks. On the transit system. In offices. It's the new everyday-phone.
At a glance Device: Samsung Galaxy Z Flip3 5G
Price: Upwards of Rs 84,999 (128GB+8GB)
High notes
• It costs the same as any good flagship phone
• It folds into half and opens up to become a normal-size smartphone
• The screen is as good as any flagship display
• It's water resistant
• Excellent design
• For the fashionable crowd
Muffled notes
• Cover screen can be slightly bigger
• Dust-resistance rating will be helpful