Samsung all set to challenge conventional smartphones
Hardware and software security features or updates, the tech giant leads the way for the Android ecosystem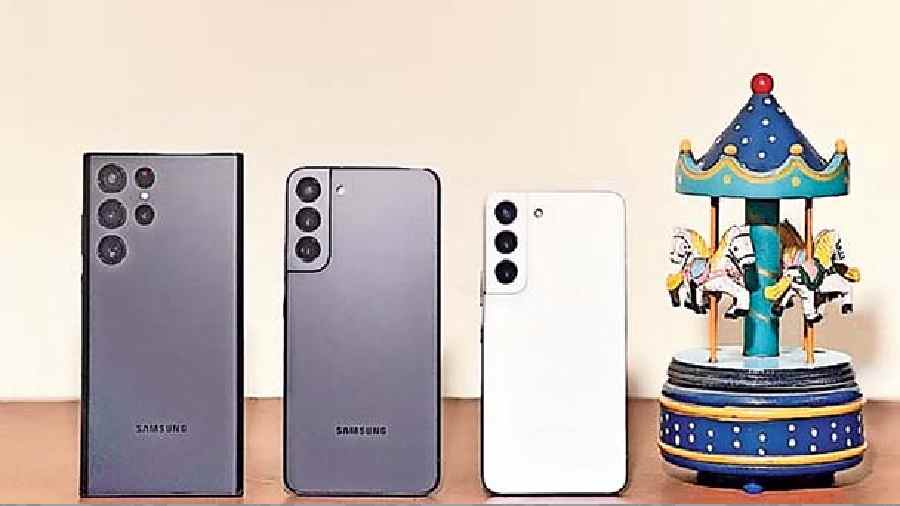 (Left to right) File picture of Samsung Galaxy S22 Ultra, Galaxy S22+ and Galaxy S22.
Picture: The Telegraph
---
Published 09.08.22, 01:45 AM
|
---
On August 10, Samsung will unveil new phones that will challenge the very form factor of conventional smartphones. Expected to be the new Galaxy Z Fold4 and Galaxy Z Flip4, folding phones have opened up a world of possibilities. Yet, Samsung continues to work within the parameters of the open-source software stack of Android. There are, of course, several Android brands but when it comes to peace of mind, Samsung has top-of-the-mind recall value. And a large part of it has to do with the security features that get delivered by Samsung's Knox platform.
Apple's strategy around privacy is very different from that of Samsung, which has an open-system to work with. And the two new incoming phones are expected to make good use of Knox. Recently, we had a chance to interact with the privacy and security team at Samsung and during a virtual roundtable conference, some of the features guiding the mobile experience in the Galaxy ecosystem were discussed, like how users enjoy end-to-end protection. This means that Samsung has control over all kinds of manufacturing processes on a Galaxy product. Each new device coming your way is "carefully investigated for possible security vulnerability". If vulnerabilities are detected, it's patched. Further, if there is any kind of possible misuse, Samsung can detect it. Second, privacy should come with a user-friendly interface to showcase issues and Samsung does it well. And there is the discussion about openness and collaboration. Galaxy and Android offer an open ecosystem. Samsung has a partnership with Google and Microsoft, and some of the security vendors. "For example, if there is some security vulnerability of the Chrome browser, definitely we will share this information with Google without any delay. Likewise, Google and Microsoft will also share information about threats that may affect us. This improves our security ecosystem and also empowers a powerful security architecture."
By offering Samsung Knox, the company continuously designs high-security hardware. So if someone tries to intrude a Galaxy product, there are multiple layers of protection systems. Plus, there is data encryption. All kinds of data get encrypted and the user generates the key. "No vendor, including us, cannot access user data."
'Customers can have a tailored experience'
It was also an opportunity to hear from Seungwon Shin, VP and head of security, Samsung Electronic, about some of the top security features the company has deployed. Samsung doesn't distinguish between enterprise customers and the B2C crowd when it comes to offering Knox-focussed features. "Basically we provide the same level of security and a same assortment of security features for our enterprise customers as well as B2C customers. However, for our enterprise customers, we offer a variety of monitoring as well as management features and also we allow them to use our solutions in a more versatile manner by offering them with more options and more choices. And also we ensure that our enterprise customers can have a tailored experience. By offering that with customisation features and we allow them to actually configure the different solutions and features according to their needs and also for our enterprise solutions, we do offer more variety of solutions," said Shin.
The great thing about Knox is that it keeps running in the background while the user doesn't have to worry about intruders. With people continuing to work from home, devices are always vulnerable, so companies like Samsung always have to step up their game. "Due to Covid, more people have been working from home and this led to an increasing number of attacks targeting laptops and mobile phones containing personal information and sensitive information and also over the past few years we've seen a rise in the number of banking Trojan attacks. As for threats on the Android landscape, I would say once again we have seen an increase in the number of attacks for financial reasons such as those using bank Trojans and also we saw a rise in the number of personal information thefts."
Of course, the company has solutions built into the device and the software to protect you. And it's working at a very fundamental level. "We have what's called Knox Principle, which covers both hardware and software of all of the devices that we design and develop, and we apply the same security principle of Knox in designing and developing all of the models under our umbrella. I would say that one of our biggest differentiations is Knox Bolt, which has been certified with EAL5+ and this allows us to really provide a differentiated level of security in the ecosystem."
A few years ago, people would have laughed if companies were asked about the duration of security updates that's offered on smartphones. That it can be a distinguishing feature and a selling point, nobody thought about it as recently as 2019. At the moment, Samsung has the best security roll out system in Android (besides Pixel phones). "We provide four years of security update for our older models and we provide five years of security update for our latest models. We have a large number of models under our coverage and we offer minimum of five years of update for billions of devices. So that is the default number of years that we provide our security update for. However, if there are any significant OS or security updates. Then we could offer them beyond the five years period as well," said Shin.
Coming up next is a password-less future. Apple has been speaking a lot about Passkeys that allow you to login with biometric authentication instead of having passwords, which are extremely vulnerable. There is something called the Fido Alliance, which is working towards a password-less future. "We incorporate various biometric authenticators launched by Fido in order to protect our devices against all levels of threats and also to replace a password. We announced our framework to support the Passkey in May and we are basically doing our best to become an early adopter, introduce the latest vital technologies in our devices as early as possible because one of the core values of Samsung is to democratise innovation."
All this brings us back to the new devices that we are sure will have enough of Knox features and security checks. You can watch the livestream of Samsung's Unpacked event on August 10, 6.30pm onwards.
It will soon be time for....
• What and when: Samsung's next folding phones — probably called Galaxy Z Fold4 5G and Flip4 5G — will debut on August 10.
• Pre-book: The next Galaxy smartphones can be pre-booked by paying a token amount of Rs 1,999 on Samsung.com and Samsung exclusive stores. Customers who pre-reserve will get additional benefit worth Rs 5,000 after delivery of the devices.
• Watch it: The event will be live-streamed at 6.30 pm IST on August 10. Samsung has officially started to roll out its One UI5 open beta to Galaxy S22 owners, bringing a slew of new customisation, security and accessibility features. At the moment, the roll out is restricted to the US, Germany and South Korea.
Updates include new notification settings that require app developers to ask for your permission before sending you notifications, users can more seamlessly capture high-quality photos and video with a new icon in Pro and Pro Video mode that offers useful tips and tricks on how to use the various lenses, features and controls.
There is also a new dashboard that lets users view the security status of their phone, shows whether there are security issues and recommends ways to fix them. The update also brings more accessibility options to make it easier for users to interact with their devices.
And for the first time, Galaxy users can also tailor their preferred language for their different apps. Whether they're multilingual or just learning a new language, users can easily select which language will be used for each app in settings.