ViewSonic CPB701-4K: fantastic option if you spend hours watching films and want a flexible solution
You can run the projector with a few lights switched on in the living room, yet get clear visuals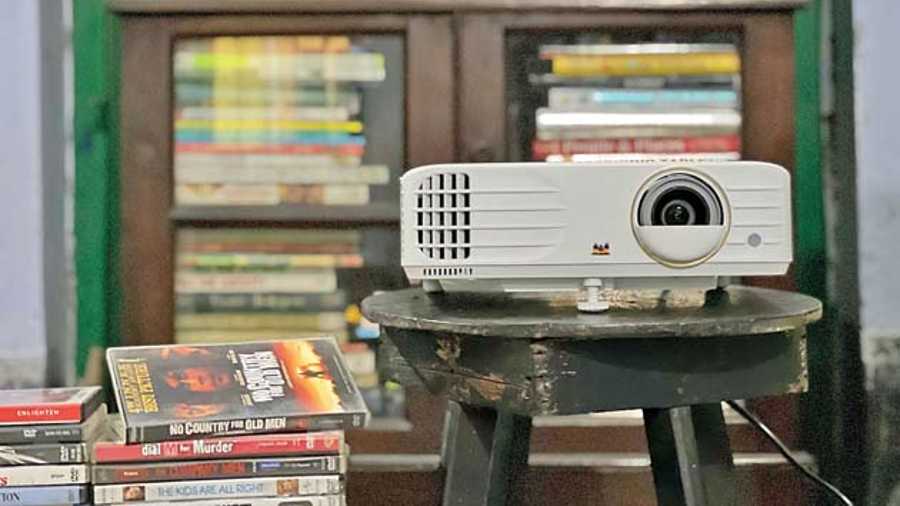 ViewSonic CPB701-4K is easily portable and pictures can be projected up to 300 inches.
Pictures: The Telegraph
---
Published 24.01.22, 12:14 AM
|
---
To give the home entertainment system a cinematic twist, get a projector, which can transform movie watching as well as gaming experience for the long run. And the spectacle of beaming something on the wall or a screen can be magical as well as inexpensive in case you are planning to go upwards of a screen size of roughly 60 inches on a traditional black slab. More than anything, it's the flexibility factor of a projector that impresses the most. Plus, a few other things on the ViewSonic CPB701-4K projector.
Consider something like the 65-inch Sony Bravia XR-65A80J, which roughly comes for Rs 2.56 lakh, depending on available offers. Or Samsung's 55-inch ultra-HD smart Neo QLED TV, which is priced around Rs 1.75 lakh. On the opposite side of the ring is the CPB701-4K, which is small, can be easily moved from one room to the other and it can project up to 300 inches on any surface. Of course, most of us don't have enough space to project up to 300 inches but something like 100-120 inches is quite doable. Or, go as low as 40 inches, if that's all the space you can give this projector.
Sharp visuals, zero blurring
Out of the box, it's among the easiest projectors to install in any room, easily portable and all you need is a power socket and a video source. While trying out, we had three entertainment sources — a Blu-ray disc player, Amazon Fire TV Stick and PlayStation 4.
Keeping the projector 11-12 feet from the wall, allowed around 100 inches of projection, or covering almost the entire wall. The further you move away, the bigger the size. Ultra-short throw projectors work differently and can be kept closer to the wall but those are costly.
Rated at 3,500 lumens, we found the projector ideal for the living room. Even with some of the curtains open or a couple of lights on in the room, you will still get a very clear picture, which is absolutely brilliant. Over a week, dinners were had with a new movie showing every evening at a wall near me.
The controls are very simple and getting a sharp picture is as easy as rotating a dial on the lens. The lamp is good enough for a massive 20,000 hours, which means years of enjoyment. There are a few things to remember while buying the CPB701-4K. It supports up to 240Hz refresh rate and 4.2ms ultra-fast input, which are excellent when it comes to gaming. There is support for HDR10 as well as HLG format but not Dolby Vision.
Being a reasonably priced projector you will most probably fall back on an Amazon Fire TV Stick (or Apple TV) to keep things running as there is no Android TV based streaming features. But the quality of visuals is stunning. I don't have a projection screen and the wall is off-white, yet movies (on Blu-Ray as well as DVD) like No Country For Old Men, The Amazing Spider-Man 2 and Creed played out with respectable clarity. Sharp visuals and excellent colour reproduction. The expenditure is worthwhile when you consider the high-quality content, matching the quality of a good television and pulling ahead of competition with the flexibility factor. It's a great choice when it comes to moving content, such as in Spider-Man with almost no blurring. There is a reasonably good degree of control over brightness, contrast and colour settings, besides the pre-set modes. Most of the time, Movie mode works best.
The area that you need to check out before buying is sound. The onboard 10W speaker is good, clear and deep but not loud enough for biggish rooms. All the thumps and bangs in a movie will improve if you attach a soundbar to the machine. Look, you will need a soundbar no matter how expensive a television you purchase because screens are getting thinner and the speakers, smaller. Chances are that you will have a soundbar in the house, so hook it up to the projector.
Should you buy it?
It all depends on whether you want it larger than life. There are those who are happy with 50-inch TV screens and don't want anything fancy to watch news on or movies in low-res. Sure, a TV works fine. Then there are those who consume news on the mobile phone but want to watch films on large TV screens. Once you decide you want a large TV screen, consider the size-to-cost factor. That's when old thoughts and habits require an update. You will probably end up siding with a projector. ViewSonic CPB701-4K is a fantastic option if you spend hours watching films and want a flexible solution.
At a glance Device: ViewSonic CPB701-4K
Price: Rs 199,000
High notes
• Excellent projection quality
• Easy to install
• Enough video input sources
• High refresh rate
Muffled notes
• Audio could have been louder