The Apple Watch Series 6 is a wrist rocket like no other
Apple considers customers as more than just shoppers; it begins the process of a lifetime relationship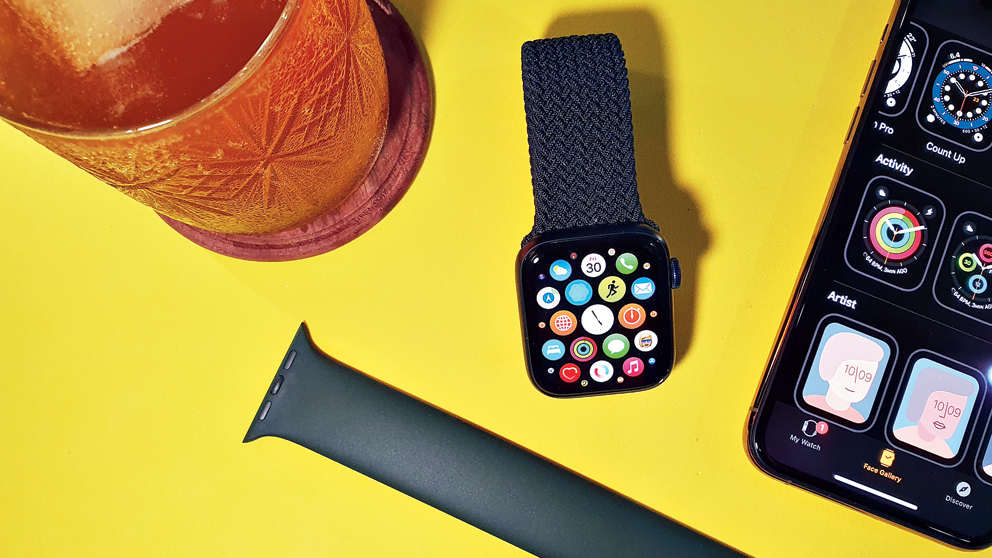 ---
---
An upside to the pandemic has been our review process. It has become simpler. Now it's more about 'does a service help me or my family' over 'does it make me look successful'. Now it's more about 'will a device help me accurately for the long haul' over 'does a device look flashier than the one last year'. Some things in life have more than a transactional value. The new Apple Watch Series 6 gets this spot on.
The company is not suggesting that the new Watch would improve your wardrobe neither does it put up a flashing neon signage showing how much more powerful it is than its competition. Apple considers customers as more than just shoppers; it begins the process of a lifetime relationship (of course, some relationships can make one feel dependant). The new Watch is sort of saying, "We got your back in these strange times." Yes, a price needs to be paid. To some the price could be high while to others it's the price of meaningfulness.
While reviewing the new Apple Watch, we looked at it two ways — what does it hold for someone who has never had an Apple Watch and what it offers a long-time Apple customer.
Things that matter
Barring a couple of brands — like Garmin, which some triathletes prefer — there is very little in way of focus when it comes to the smartwatch segment. Brands keep pushing brighter screens, shaving off a few microseconds in processing time and, of course, peddling looks.
Apple has something niche to offer — the user's commitment. Getting an Apple Watch makes one feel committed to a gym routine, health, sleep pattern and so on. Spending a substantial amount means the user would like to wring out every penny's worth.
A few days ago, we heard of how 61-year-old Indore resident R. Rajhans' life was saved because of timely alerts on the Apple Watch he had been gifted by his son. He ultimately underwent a mitral valve replacement surgery. Of course, this has more to do with the ECG feature on the Apple Watch, which is not new. The big feature is once again there.
On top of the electrocardiogram sensor from the Series 5, the Series 6 comes with a new sensor to measure oxygen saturation of your blood, known as SpO2. Apple is not the first company to have this feature on a smartwatch. What Apple does better than others is putting its neck out and saying that the feature works well.
This is Series 6, which means a reputable company like Apple continues to build a track record in an area where change can be an arduous process — medical field. Usually one simply clips an oximeter on to the finger, turns it on and waits for a few seconds to produce a reading. Apple's technology is slightly different. Oximeters calculate transmittance of light with a receiver on the other side of the finger, the Watch uses reflectance against the wrist.
Is it accurate? Should you trust it? First, the user needs to have the Watch snugly attached to the wrist. Keep the hand horizontal and don't make sudden movements for 15 seconds. A sensor transmits some light under your skin to determine its colour and thus a reading. When done correctly, the reading is almost always correct, matching that of an oximeter. The sensor can also be asked to make such readings in the background, say, while sleeping, which means the body may not be steady. Don't be worried if the readings are slightly off in such a situation.
Coming to the questions, no the Apple Watch Series 6 is not an early Covid-19 detector. Being a wellness device, it can take the user in the right direction. If you are feeling symptoms beyond what the Watch is telling you, get yourself checked.
The other big feature is the native sleep tracking app. I usually don't wear a watch to the bed because I let my wife count the hours I sleep through a constant stream of gentle rumblings. (She usually calls it a night when I wake up.) Ah well, but I did wear the Apple Watch for a few days and the data is quite interesting. Since the lockdown was announced, I was under the impression that I managed to sleep for five-six hours. I don't. It's usually four hours. The Sleep App offers just about enough information; it doesn't send me into a tizzy with info overload.
Speaking of sleep, the best feature on the new Watch is the alarm. Waking up to a rude alarm — even if it is that of birds chirping! — or the vibration of a mobile phone is obviously irritating. The Apple Watch "taps" on your wrist. The haptic mechanism springs into action to mimic gentle taps.
Things that may matter
In case you already use the Apple Watch Series 5, you need to look at the new offering differently. First, ask yourself whether you need the SpO2 feature, which you can literally have at the tip of your finger by buying an oximeter for a couple of thousand bucks.
The processor is nimble and probably the most powerful out there. It can be seen in the way animations work and how quickly apps load. We didn't face any lag or freezing. Further, the screen is brighter and crisper. All these are important for a person new to Apple Watch because it's the first interaction with a brand that matters. For users of Watch 5, these are not big winning features.
Even the battery life is ever so slightly better and a full charge takes fewer minutes, like zero to full in around 90-odd minutes. With the always-on display in action, you should be able to get a full day from the device. Going to sleep with around 20 per cent charge means the battery would be nearly drained out in the morning, which is the best time for charging.
Should it matter to you?
Just for context, the iOS store makes the iPhone brilliant and the iPadOS has made the iPad a true winner with a variety of apps. WatchOS 7 does the same for the new Apple Watch. It ensures that you always have a great selection of apps and watch faces a few taps away.
In case you use Apple Series Watch 5, upgrade only if your heart tells you to. In case you are looking for a new smartwatch, the Watch 6 is a very sensible investment. It's not about buying a smartwatch for only SPo2 or just the ECG feature. It's about having a device that you can trust to point you in the right path in health-related matters. The rivalry between the Apple Watch and luxury watchmakers is an old topic. Now, Apple's rapidly advancing wellness apps and technology make one realise that the Watch is coming into its own. No doubt, the Apple Watch 6 is a wrist rocket like no other.
Dilemma: Watch Series 6 or Watch SE?
Yes, there is also the new Apple Watch SE (starts at Rs 29,900), which is cheaper than the Watch Series 6. It's like buying an iPhone SE — you get a cheaper Apple product with a few compromises. The Watch SE has many of the features found on Watch Series 6, including fall detection and calling emergency services automatically. Both have equally capable microphones and both have always-on altimeter, an efficient barometer and they both accommodate Apple's newest watch bands.
The main differences include the processor. The Watch Series 6 runs on S6 SiP, which is based on the chip inside the iPhone 11. The Watch SE runs on the S5 processor, which is also fast. In way of features, the Watch SE lacks an always-on display, blood oxygen measurement and ECG, things that are not always necessary for all users.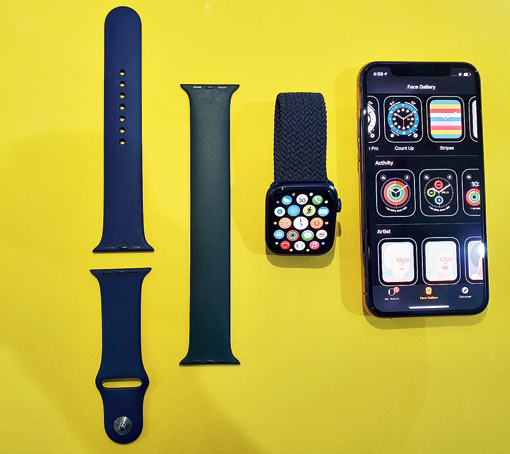 At a glance
Device: Apple Watch Series 6
Case size: 44mm or 40mm
Display: Always-on retina display (LTPO OLED)
Processor: Dual-core S6 SiP
Connectivity: GPS + Cellular / GPS
Swim proof: 50m
Functions: ECG app and blood oxygen app, fall detection, always-on alitmeter, compass, high and low heart rate notifications, irregular heart rhythm notification and more
Colours (aluminium): Silver, space grey, gold, blue, red
Price: Upwards of Rs 40,900