Amazon Echo Show 10 has the smartest display
It can rotate almost 360 degrees using a smart algorithm driven by the device's pea-sized camera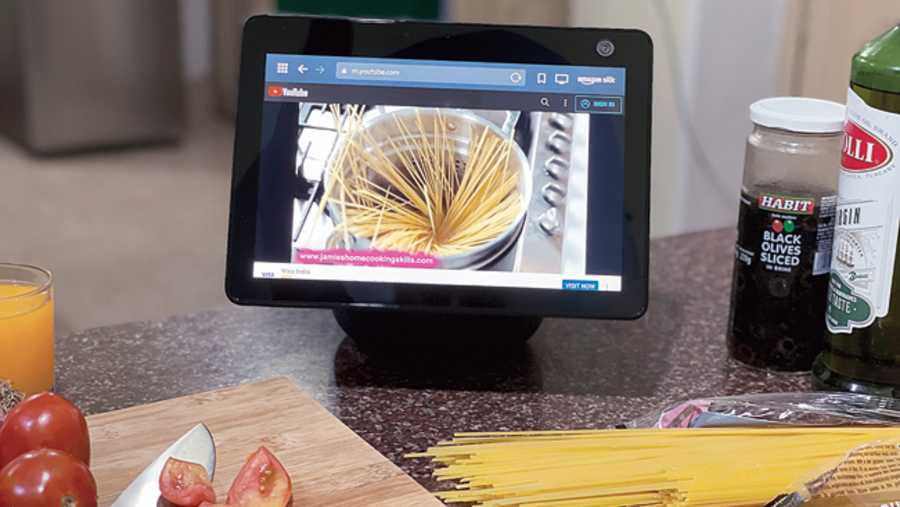 Amazon Echo Show 10 comes with motion sensing which can be disabled via voice or touch controls, ensuring you have privacy all the time.
The Telegraph
---
Published 14.07.21, 09:58 PM
|
---
Last weekend, while preparing the usual marinara sauce for a spaghetti dinner, I decided to experiment a little by revisiting a few tips that Gennaro Contaldo has on YouTube. Usually something like this involves leaving everything at the kitchen counter and then spending 30-odd minutes at the dinner table, streaming a few videos. Not this time. The Amazon Echo Show 10 is on the counter, near the chopping board. With just a command, Gennaro with his ever-smiling face appeared. While watching the videos on the Echo device screen, I had to move around the counter, to fetch this and that. The screen rotated with every move I made, allowing me to concentrate on all of Contaldo's steps.
The screen can rotate almost 360 degrees using a smart algorithm driven by the device's pea-sized camera. But before you can say "creepy", here's something that makes Echo Show 10 better than previous generations — more control over privacy. Nobody likes a camera sweeping the room but this time, Amazon is giving the user a lot of control to restrict the device's gaze.
Not wheels but a motorised base
Echo Show 10 can follow doesn't mean it's a robot that can walk around the house (though I would definitely like to see that in future generations of Echo devices). There are two parts to the system. A speaker with a motorised base and a screen attached to the speaker.
While setting up the device, you can tell Amazon where you are going to place the speaker — an island or say a corner… the amount of rotation depends on where the device is kept. Since mine is the kitchen counter, it can spin 360 degrees… well, almost.
First, 'motion' can be turned off from the drop-down menu or via voice command. Second, 'motion' can be restricted, which works well if privacy is a concern. Choose when you would like the screen to move with you — during all activities (listening to music, asking questions, watching videos), during select activities (only when using call or multimedia, such as watching videos or displaying recipes) or on request ("Alexa, follow me"). Third, and very importantly, there is a physical shutter on the camera that can stop it from working.
A bigger question is whether 'motion' tech really works. It does and very well. The company is positioning the Echo Show 10 as a game-changer for its category and it has implemented the technology quite efficiently. There is a 13MP wide-angle camera that reads the subject correctly. While moving around the room, the screen may take less than a second to move but camera tracking is spot on. Even when an extra person enters the frame, the technology works fine. Only when the user deliberately tries to make the Echo gadget go off its rockers, there is some fun. My daughter and I tried to suddenly hide in different places in the kitchen and the Echo Show 10 made some quick spins to get a reading.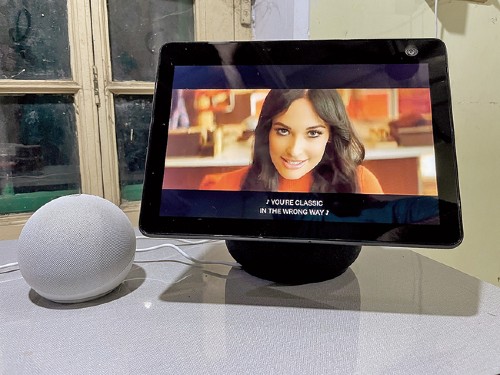 Not just while cooking, the power of motion can be felt if you are calling somebody (who has the Alexa app enabled) on video, it's a nifty feature to have. There is also an option to tilt the screen manually. The feature also helps when you are streaming a film or YouTube content on the Echo Show 10 and suddenly decide to switch to a new spot in the room.
It's important to note that all the processing happens locally on the device and none of the images, videos or audio associated with motion tracking are sent to the Cloud.
Sound fills up the room
Personally, I have had issues with most early generations of smart assistant speakers because of the sound quality. Streaming music is fine but making The Beatles sound like 'The Bottles' is not funny, especially for children who are discovering new music.
With Echo Show 10, audio quality is not an issue; it's the best you can get from a smart speaker. The system comes with two one-inch tweeters and a three-inch woofer. I live in a place with high ceilings but turning up the volume to 50 per cent is enough to fill my room. There is no distortion and it makes previous generation Echo speakers sound tiny.
Using Echo Show 10, you can stream songs from Amazon Prime Music, Spotify, JioSaavn, Gaana and Apple Music, which ensures plenty of options. Even the four microphones onboard are powerful, picking up every command even though you can be far away.
Should you buy it?
In the first couple of days, the idea of a rotating screen in the kitchen was slightly unnerving but after a week, the Echo Show 10 has started making a lot of sense. After years of experiencing Echo, I can finally say this one has more use than being a digital photo-frame. Earlier, children asked Alexa the silliest of questions but she has been patiently answering them. Now, children can make the silliest of faces while running around to see how Echo Show 10 reacts. In fact, with children locked in for over a year because of the pandemic, this can become a good device to have around the house.
Some may argue, it's one more screen out there trying to grab our attention but we are living in times when every screen is helping us stay connected to the world outside. Echo Show 10 has put a good spin on smart display, making it the most capable from Amazon thus far. And there's good control over privacy.
More about it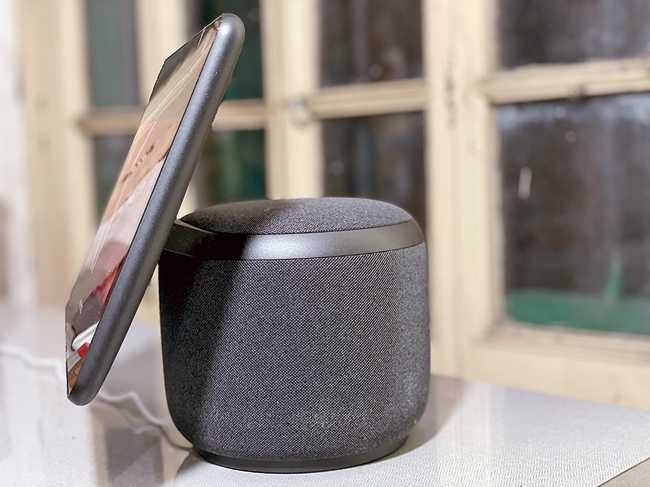 Device: Amazon Echo Show 10
Price: Rs 24,999
Available on: Amazon.in
High notes
• The 13MP wide-angle camera is very capable
• Excellent sound quality, enough to fill a large room
• Physical shutters and options to turn off motion. Good for privacy
• Motorised base is silent
• The angle/tilt of the screen can be adjusted
Muffled notes
• You have t to find a good spot for the device, so that it can rotate easily
Use cases
• It is for those who want Alexa to come with an immersive screen that's right for any setting
• Can be used as a music streaming device in the house
• A perfect companion during cooking when you are moving around the kitchen counter while reading a recipe or watching it on the screen
• When using Alexa to call people, the screen can follow the caller around the room
• Good for accessing information pertaining to current affairs, scores and weather
• Alexa has enough smarts to play mini games with children