Realme Pad: a good festive season gift for your children
When it comes to purchase decision, it's a no-brainier option for students and there are enough chops to help the virtual office-goer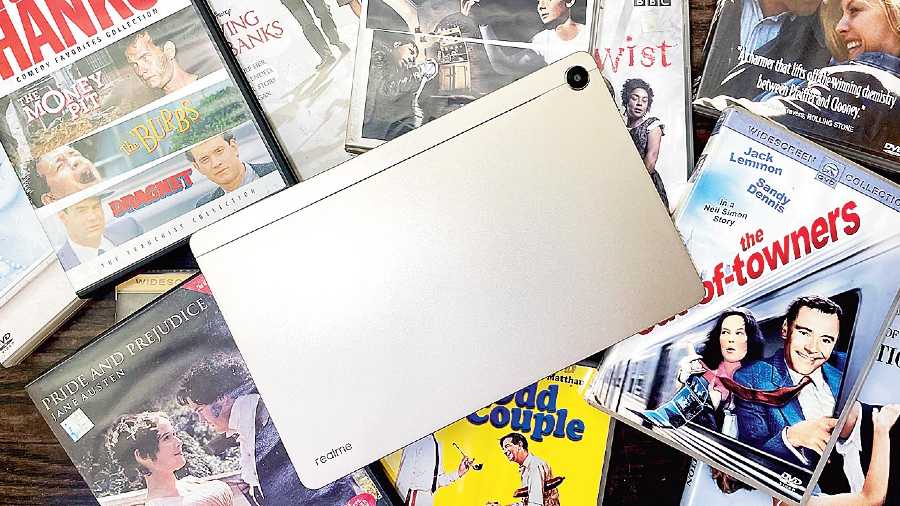 ---
Published 24.09.21, 05:05 AM
|
---
Android users have had a tough run with tablets because of Google's lack of focus on the segment and less-than-desired software experience. Obviously, choices are limited and available options are either too expensive or underwhelming. Realme has made a clever decision by eyeing the tablet market and it comes at the back of its laptop release. Given its pace of growth, Realme appears to be taking every segment seriously and the brand should manage to offer more variations among tablets. To give you a feel of the young brand's popularity, here's a figure: Realme has been named the sixth-largest brand in the global smartphone market in the second quarter of 2021, according to data from Counterpoint.
In for review is the Realme Pad (gold variant), a device that does a few things very well. Target groups for the Pad are students and those who like to consume a lot of media. There are quite a few productivity tasks that are handled effortlessly by the machine but nothing too complicated, like video editing. That's not Realme's intention. Consider this to be a good festive season gift for your children who are attending a slew of classes via video conferences or for the work-from-crowd doing the same. To help their cause, the company has done three things. First, the front camera is placed in the middle of the longer right bezel, just like on recent Samsung tablets. It may look like a small design change but the results are useful. During video conferences one has keep looking sideways which obviously is uncomfortable. Here you look straight at the camera.
Second, instead of the usual two speakers, there are four of them, meaning the sound is loud enough to fill the room even without using a Bluetooth speaker. What you get is stereo sound, something all brands should aim for on its tablets. It's equally helpful when you are streaming movies or shows. Third, the 3.5mm headphone jack has been retained and how. The position of the headphone jack is quite innovative — at the bottom right corner, which I found helpful after 10 days of usage.
Fourth, the 10.4-inch WUXGA+ screen is a great size to have. You can easily carry the tablet in one hand, helping the cause is the slightly thick bezels that offer enough room for your fingers. It's not the brightest of displays but I had no problem reading on the tablet in full sunshine. Colours are on the punchier side and visuals are sharp enough for day-to-day usage. Can I get a better screen? Of course, but at a premium.
Where some critics may have a problem with is the Helio G80 processor, which certainly is not the fastest. Realme's intention is not to position this as a gaming tablet. Sure, you can play tap-tap games seamlessly but don't expect a shooter title using the highest frame rate. If you are talking about using the browser or switching between apps, those happen without any issues.
There is not much sense getting into the rear camera because tablets are rarely used to click pictures while the front-facing 8MP snapper is just about fine for video conferences. Dual-mic technology ensures crystal clear sound delivery. Far more important is the 7,100mAh battery… massive enough to last a few days of usage. There is an 18W quick charger in the box but here quick means a few hours, which I have no issues with because one ends up charging a tablet before hitting the sack.
Where the tablet can make an improvement is in the software department. Then again, Android plays an important role here. When it comes to Instagram or Twitter, the way those get displayed are headache inducing. Samsung has done a good job with handling this issue with its own software and maybe Realme should look at doing the same in future upgrades.
From Realme, one would like to see a stylus to go with the tablet, a keyboard folio and a tablet kickstand. These accessories will only improve the value of the tablet and make the brand come through as being serious about the category.
When it comes to purchase decision, it's a no-brainier option for students and there are enough chops to help the virtual office-goer. Like I said, the Realme Pad has got a few things spot on. Realme Pad is another way for the young brand to show that it wants to be an all-rounder.
At a glance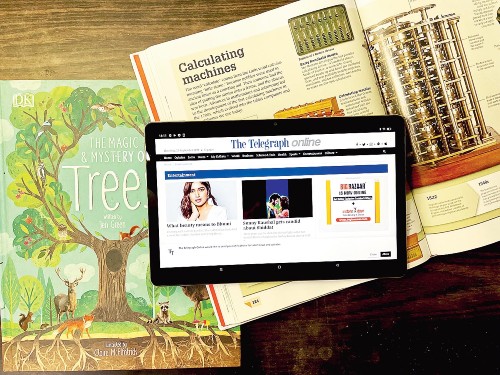 Device: Realme Pad
Price: Upwards of Rs 15,999 (LTE, 3GB+32GB; supports expandable memory)
High notes
• Versatile enough for educational needs
• The camera placement makes videoconferencing easy
• Has a four-speaker set up
• Good build
Muffled notes
• Absence of stylus
• Realme should consider having a kickstand and a keyboard folio