Portronics Kronos X4: Where fashion meets fitness
Supported on Android 9.0 or above, iOS 11.0 or above and Bluetooth 3.0 and 5.0; with BT calling/Heart Rate and SPO2 monitor/100+ watch faces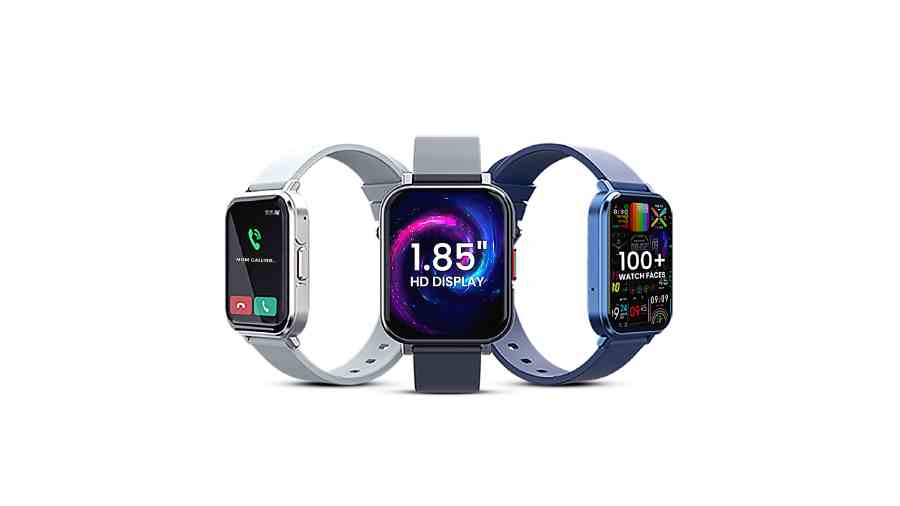 ---
Published 02.01.23, 07:32 AM
|
---
GADGET: Portronics Kronos X4
TECH SPECS: Supported on Android 9.0 or above, iOS 11.0 or above and Bluetooth 3.0 and 5.0;  with BT calling/Heart Rate and SPO2 monitor/100+ watch faces
BEST FOR: Bluetooth calling and tracking sports, fitness and health status
The latest smartwatch from Portronics seems quite a game-changer. This brand new wearable comes with a smart calling feature, which enables the user to dial or receive calls directly through the beautiful 1.85-inch display, without even taking out your phone from your pocket. Launched recently, the tagline "where fashion meets fitness" seems apt as it supports over 100 watch faces to let you customise its appearance with your attire. Furthermore, one can choose the watch in three colour variants — black, blue and grey.
The watch is encased in a square metal body and paired with soft silicone straps. These straps are one of the reasons I chose it because it's comfortable and skin-friendly (read, "itch free").
Bluetooth calling, health monitoring and a variety of sports modes are some of the features. I feel the smart calling feature is good for receiving calls when you are on the go, but I'd still prefer to use my phone's keypad to make calls.
Other than the smart calling feature, it also comes with a unique customised sports measurement feature which varies from running, walking, cycling and even climbing to name a few. Although the touch interface could have been a little more user-friendly, the speakers of this smartwatch are quite loud, which makes it good for listening to music or for making calls. Although this watch is IP68 dust and water-resistant, it is still not advisable to go for swimming adventures. That aside, the device reminds you to take at least 250 steps every hour.
At 10 minutes to the hour, every hour, the smartwatch buzzes to remind you to get up and move around. It's a little irritating to be jolted out of whatever you were doing but it's necessary — you are never too busy for a short walk, whether you are in the office or at home. Once you achieve your target of 250 steps, a stick figure congratulates you on the watch screen. This watch constantly tracks major vital functions of the user such as heart rate, stress, blood pressure, blood oxygen (SPO2) and even sleep. Based on the hours and quality, it gives a sleep score to the user. It also comes with an "anti-lost feature" which keeps alerting the user when the Bluetooth is disconnected from the phone. Menstrual reminder tracking for women is also a good feature which helps female users to track their cycles. Next, we come to another interesting feature, which is the Remote Camera feature, on which the user can control the phone camera from the watch, which can be used to take pictures remotely.
This wearable works with the SMART-TIME PRO App, which is available on the Apple App Store and Google Play Store, supporting only on operating systems of iOS 11.0 and Android 9.0 or above. Although the list price (MRP) is Rs 5,999, it's available at a heavy discount (Rs 2,999) on e-commerce platforms such as Amazon and Flipkart, and on the Portronics website.