Pop an app
When the mind wanders or can cope no more, there's a calming-down session that's just a click away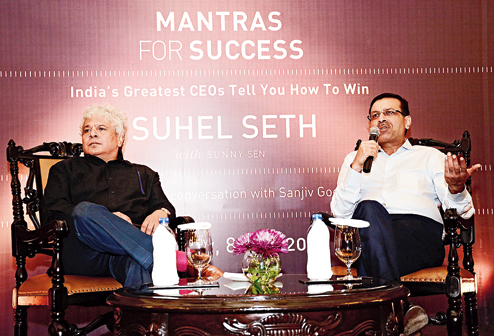 ---
---
Here's a real-life story. A 42-year-old techie in Bangalore was having one of the many panic attacks she had been experiencing for almost six months. She had been going to a psychiatrist who took her calls at odd hours, but his response usually didn't go beyond "Have a strong cup of black tea with a few spoons of sugar and meet me next week".
The techie always kept her appointments and took her medicines on time, but panic attacks seemed to have become her second shadow. That's when a colleague in the US advised her to try an app like Calm.
The app didn't end her visits to the psychiatrist but it did give her an option to deal with anxiety. Once hooked to the app, she started exploring other options — Headspace, Clementine, Buddhify… it's a long list.
Mental health and wellness apps are becoming popular at a time when psychological services are also witnessing increased demands. But many are tired of long waiting lists to meet an expert, and then there is the question of having enough "experts" with expertise.
A few years ago, in a research published in the journal Evidence-Based Mental Health, a team from the University of Liverpool found that many mental health apps and online programmes had a lack of "an underlying evidence base, a lack of scientific credibility and limited clinical effectiveness".
Yet, the meditation app Calm raised $27 million this year in a new financing round that values it at $250 million, while another similar app, Headspace, raised $37 million in 2017 to create more content and for expansion. And then there is Clementine, one of the newer apps to have made a lot of noise already, which was born out of its founder Kim Palmer's life-changing experiences.
INSPIRED BY LIFE
Whatever research says, it's undeniable that some of these apps may at least make users feel good and some of the people behind these apps have a motivational story to tell.
"I spent most of my adult life striving for perfection and happiness in all the wrong places. One of those places was work. I put too much pressure on myself to climb the corporate ladder and I became obsessed about getting promoted to a marketing director position, while pregnant with my first child. Consequently, I didn't look after my mental well-being," Kim Palmer, the founder of Clementine, wrote in an email to t2oS.
"I had a lot of negative thoughts shooting around in my head, telling me I wasn't 'good enough'. When trying to get that promotion, during pregnancy, I ended up having a panic attack during a work meeting — in front of my colleagues and one of our agencies. And after this, I spiralled into a very difficult cycle of social anxiety and panic attacks," she added.
Palmer's next step was turning to a friend for advice, a person who "had the most amazing experience using hypnotherapy to help her push further forward with her career". "The hypnotherapy sessions really helped me build my confidence back up again, and I also noticed that I was sleeping better and worrying less," said Palmer.
The experience inspired her to found Clementine, an app dedicated to women, to develop which she used the services of a US-based company called Tenrocket, which helps small businesses build prototype apps very quickly. They found her a developer/designer who was based in Romania and they worked on the app together. "But I've since transferred it over to a UK app company. The people who really helped me turn my vision into a brand proposition was a brand agency called Lawless, and (now) my co-founder, Annie Ridout."
The sessions in the app are based on hypnotherapy. "I interviewed loads of women face-to-face to get an idea of what their needs were — in terms of coping with big issues, as well as the daily grind. And we then built the sessions around these moments," wrote Palmer.
The co-founders of meditation app Calm have an inspiring story too. Michael Acton Smith is known for creating the online interactive game Moshi Monsters. The game from Mind Candy grew in popularity, and with that Smith's stress. "The way Mind Candy grew and the challenges when it started to come down were very stressful. I had a time when I was not sleeping well, I was exhausted all the time and I had headaches, so I was open to trying new things," Smith told The Guardian last October.
He took a break, during which he went on long runs, played tennis and read a lot on a subject that he kept hearing about — mindfulness. "I discovered that guided meditations helped enormously and the more I practised the more I managed to tame my mind. I began to discover the many benefits that flow from having a strong, focused, calm mind. I felt like I'd stumbled across a secret power. Calming the mind is not about switching off and retreating from the bustle of life. It's a superpower that rewires our brains, changes the way we see the world and helps to unlock our true potential," his bio reads.
Smith met serial entrepreneur Alex Tew, who, as a teenager, explored different ways to develop his memory, generate ideas and focus his attention. Tew became the Calm co-founder.
MINDFUL USE OF TECHNOLOGY
One obvious question that pops in the mind is: Isn't it ironic that we are taking the support of wellness apps, which run on mobile phones to which we have become slaves?
"Smartphones are extraordinary tools, but spending too much time scrolling or looking at screens can have an unsettling impact on our mental and physical health. At Calm, we're committed to helping people to shift their relationship with technology," Christi-an Slomka, community manager at Calm, wrote to t2oS in an email.
"We even created a Calm masterclass on social media and screen addiction. The mindful use of technology invites us to use devices with intention and reclaim a big chunk of time that we unwittingly give away each day. A consistent meditation practice helps us develop the awareness we need to make healthier decisions about how we use our phones. It reminds us that we're in charge, not technology," added Slomka.
This is a point that Andy Puddicombe, the monk-turned-entrepreneur behind the guided meditation platform Headspace — founded with entrepreneur Richard Pierson — addressed on a TV appearance last year: "For most of us, the phone is the most stressful thing in our life — and I love the paradox in that, the irony. The phone's a piece of plastic, a piece of metal, a piece of glass. It's not good or bad.... We define the relationship with the phone. I love the idea that the phone can actually serve up something really good, that's good for our health."
Headspace, like Calm, offers daily guided-meditations (of various durations) that aim to increase mindfulness and has helped many users develop a regular meditation practice.
According to Los Angeles Times, Headspace counts Hollywood stars Gwyneth Paltrow, Emma Watson and Zach Braff among its fans. And Deadpool star Ryan Reynolds told The New York Times in an interview that he uses Headspace to deal with anxiety.
Determining how effective mental health apps are will take more user interface. Simon Leigh, co-author of the University of Liverpool study, has told Wired: "If you go through the process of downloading and using an app and there are no benefits, it can compound your anxiety about your mental health problems…. But apps that actually are good can play a really great role in terms of waiting lists. They can act as a triage for less serious mental health problems and can be the perfect remedy in some cases. Apps can be beneficial, but we need to ensure that with wider usage we also invest in further research to ensure that they're robust."
In other words, mental health and wellness apps will perhaps not replace in-person therapy, but they will definitely feature more and more in our future as life becomes busier and more stressful.