OPPO F19 Pro+5G: Unleashes a new era of smartphone videography
Leveraging the AI Highlight Portrait Video feature of this smartphone you can actually 'Flaunt Your Nights' like you never did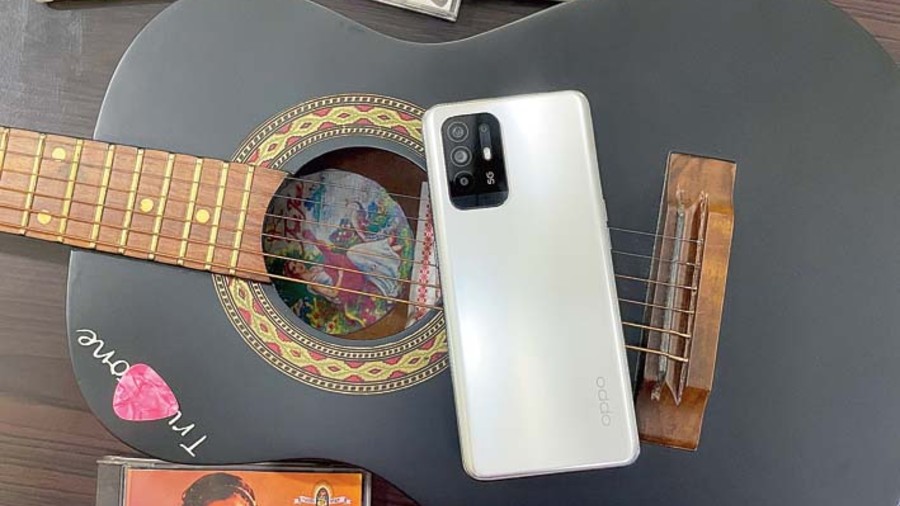 OPPO F19 Pro+ 5G shines in the video department, especially when the lighting is uneven
Pictures: The Telegraph
---
Published 11.03.21, 12:23 AM
|
---
At night, whip out your two-year-old smartphone and capture a short video of the scene outside the window. One doesn't have to be a Stanley Kubrick. Take a stable horizontal shot. Chances of spotting a lot of noise in the video are high. Two years is a long time in the world of smartphone cameras, which has made a lot of progress, especially on the video front.
When OPPO F19 Pro+ 5G arrived for review, the question that needed to be addressed is "What's special about this?" A lot, if you are an OPPO phone user. In case you use a Samsung or an iPhone, the upgrade will probably be from the same brand because users tend to become used to the interface and how things function on a phone.
Time to get the video game rolling
The good news is that OPPO is offering ColorOS 11.1 based on Android 11 out of the box, which at once translates into superior user experience. There is an upgrade to Android every year, bringing in a substantial range of new features as well as privacy updates. Sadly, the latest version of Android doesn't get pushed to most Android phones as soon as it arrives. Many phones in the market are still coming with Android 10 out of the box, which is a shame. The situation is unlike on iOS where every upgrade is pushed to phones globally within a couple of days.
Experience is also good in the one department OPPO cares about — camera. Like we have seen on many recent phones, there is a 48MP main sensor, an 8MP wide-angle shooter and two 2MP offerings in the form of a mono lens and a macro lens. Yes, it reads a bit like the Realme Narzo 30 Pro 5G spec sheet but there are some substantial differences.
What I enjoyed most about the camera is its nimbleness, capturing moments quickly. Also, the focus is reliable in both good and uneven lighting. The shutter speed is fast enough to get those important moments recorded, which is something lacking in many phones on the market. There's little to get excited about daytime shots because it's all good — colours are not oversaturated. What I find to be a missed opportunity is the ultra-wide camera, which is decent but it's as good as Android Brand A or Android Brand B. Except for OnePlus, not many have delivered anything extra.
Where the F19 Pro+ shines is in the video department, which is something the brand is promoting. A few interesting elements here. First, when you are shooting a video at night, turn on the AI Highlight option. Dimly-lit scenes get a shot of light, making videos stand out. The phone optimises video portrait performance by automatically detecting and adjusting for light. Be it low light night scenes or brightly-lit scenarios, the phone adjusts the final results accordingly, ensuring skin tones are retained. When the mode is turned on, the phone automatically detects and employs Ultra Night Video and HDR Video algorithms. Adding spark to night-time videos doesn't mean the resulting video is excessively bright.
Second, there is a dual-view video mode which allows videos to be shot on the front and back cameras simultaneously. It's a nifty tool for vloggers.
And the other things…
Then there are the other things, some good and some could have better. First, the processor, which is a MediaTek Dimensity 800U chipset that works fairly well but it's also there on Realme Narzo 30 Pro 5G. Also present on both the phones is 5G capabilities but that shouldn't be the reason for buying a new phone at the moment.
Where OPPO scores over Realme is the AMOLED display, which can get bright. Some critics may complain about the screen 60Hz refresh rate but that shouldn't be a problem. The iPhone display has 60Hz refresh rate and it's great! The 6.43-inch full HD+ screen is quite good and colours are reproduced well.
One area where OPPO can improve things is the design of the camera module. It's great that there are no textured patterns on the rear panel and the bezels around the screen are just perfect but the bump on the rear camera module is a bit too much.
There is also no room to complain about the battery, which, at 4,310mAh, may look small but the processor is power efficient enough to make the phone tick for one and a half days. Plus, there is support for 50W fast-charging, allowing the user to fill the tank in less than an hour.
Should it be your new friend?
If you are an OPPO loyalist, this is a great choice. What you get is a sturdy phone with good video capabilities (allows up to 4K@30FPS on the rear camera). But the phone has rivals like the Xiaomi Mi10i or the Samsung M51. The question is how important is video to you? Or how important is AMOLED for you? And how important is having the latest Android version? Because these are a few things the brand is delivering very well. The OPPO F19 Pro+ 5G (open for pre-orders; sale starts March 17) is a video star, night and day.
Device: Oppo F19 Pro+ 5G (upwards of Rs 25,990) High notes
• Excellent video capabilities at night
• AMOLED display makes streaming easy on the eye
• 50W fast-charging
Muffled notes
• The rear camera bump is substantial
• Mono speaker