Neil Young's decision to take his music off Spotify highlights bigger issues
The podcast company has a responsibility to mitigate the spread of misinformation on its platform, says the music sensation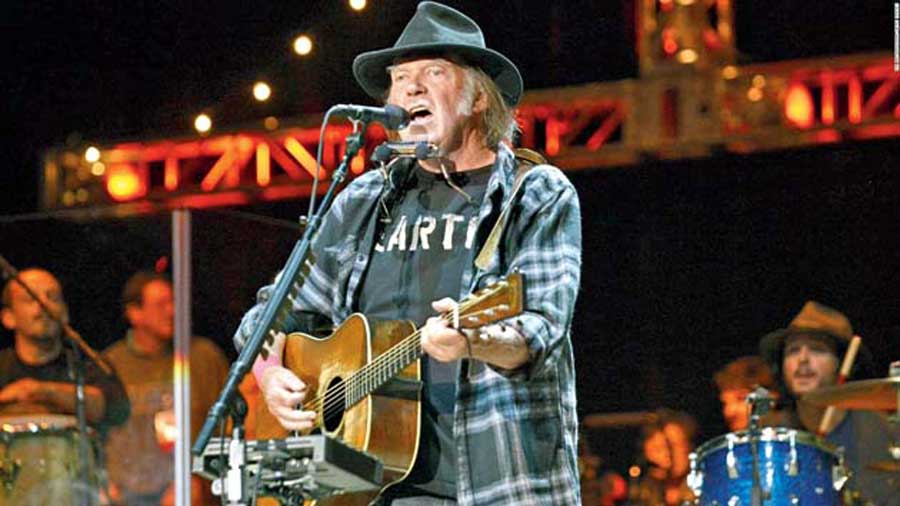 They (Spotify) can have Rogan or Young. Not both — Neil Young
The Telegraph
---
Published 28.01.22, 12:46 AM
|
---
The streaming revolution has done wonders for the music industry, first rescuing it from piracy (Napster days), then from plummeting CD sales and then from the pandemic when live concerts dried up. But it comes with a unique problem, like in the case of movie streaming — artistes can take their catalogues off a music service, like it just happened with Neil Young.
What happened?
A few days ago, the Harvest Moon singer wrote an open letter (now deleted) to his manager and label asking them to remove his music from Spotify, saying that it is spreading fake information about Covid-19 vaccines through Joe Rogan's podcast — The Joe Rogan Experience — which is Spotify's most popular and in 2020, Rogan signed a $100m deal that gave the streaming giant exclusive rights to his show.
Young wrote: "With an estimated 11 million listeners per episode, [The Joe Rogan Experience], which is hosted exclusively on Spotify, is the world's largest podcast and has tremendous influence. Spotify has a responsibility to mitigate the spread of misinformation on its platform, though the company presently has no misinformation policy…. I want you to let Spotify know immediately TODAY that I want all my music off their platform … They can have Rogan or Young. Not both."
Those are strong words. And Spotify obliged and is in the process of removing Young's music. A spokesperson for the streaming service has told Hollywood Reporter: "We want all the world's music and audio content to be available to Spotify users. With that comes great responsibility in balancing both safety for listeners and freedom for creators. We have detailed content policies in place and we've removed over 20,000 podcast episodes related to Covid since the start of the pandemic. We regret Neil's decision to remove his music from Spotify, but hope to welcome him back soon." A bigger issue
It's a tough call for the music streaming giant — maintain focus on Spotify's podcast strategy or give in to a veteran musician. Before his music was removed, the legendary singer had 2.4 million followers and over six million monthly listeners on Spotify.
But it also highlights a bigger issue — what happens to those who want to listen to, say, Neil Young. The options are to move to an alternate music streaming service (that means, paying for that service), like Apple Music and Amazon Music, or bring out the collection of CDs, cassettes and LPs, most of which have been discarded globally. According to the BBC, Spotify has more than 300m monthly listeners, including over 170m who pay for a subscription to the service. And musicians can call the shots.
It has happened before and it will happen again. Taylor Swift, for example, removed her music from Spotify in 2014 (protesting the ad-funded free tier) while writing a hard-hitting op-ed piece in The Wall Street Journal. Or take the example of the lucrative Beatles catalogue which came to streaming services only in 2015. And that same year, Young had removed his music from streaming services while complaining about the quality of sound (his catalogue was brought back soon after).
It's about monthly listeners and…
There is another side to the story: It's about followers and downloads. According to the BBC, Rogan's podcast is reportedly downloaded almost 200 million times a month. TV presenter Emma Kenny hasn't minced her words on Twitter: "How to fall out of love with Neil Young…..who is clearly suffering from delusions of grandeur! @joerogan @Spotify isn't going anywhere."
Complicating things is the way how some iconic musicians are selling their publishing rights and/or catalogues, like Bob Dylan, Bruce Springsteen and Paul Simon. In fact, last year, music investment firm Hipgnosis Songs Fund Ltd. announced a deal to purchase a 50 per cent stake in Neil Young's songwriting catalogue and the sale may have fetched a price between $40 million and $50 million. Whether the tussle with Spotify gets complicated because of the sale is another story, which has to take into account how publishing rights work.