Music streaming can help reinvent the radio
Apple Music has announced two new live global radio offerings available to fans in 165 countries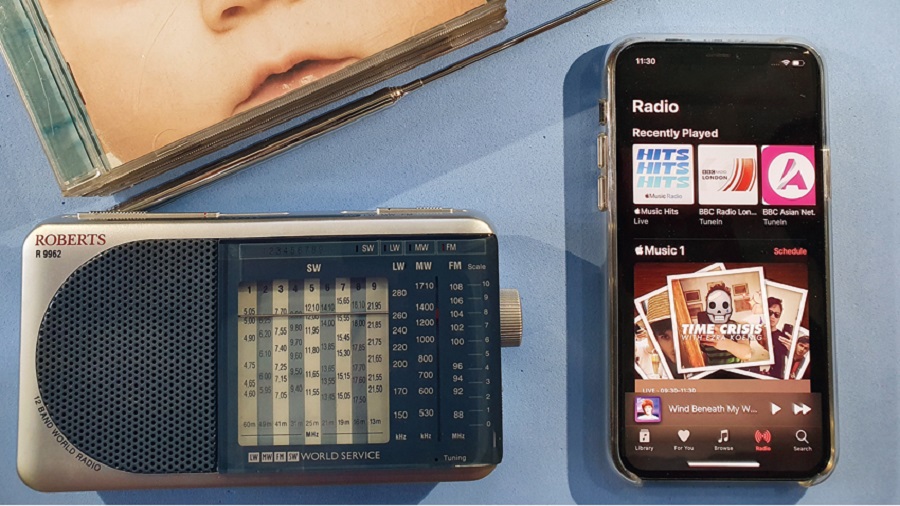 Listen to the three new radio stations on the music streaming service Apple Music and rediscover a life beyond cold algorithms.
The Telegraph
---
Published 20.08.20, 09:37 PM
|
---
Life at a local radio station in Midwest America: The station head adds a few more songs to his 20,000-song digital music library, which he has built over 20 years. The songs in his library are the ones that would capture the hearts of the local people. The handful of RJs at the station can deftly mix genres and throw in interesting nuggets from time to time. It's a culture that's vanishing, being replaced by algorithms of streaming services.
So it's interesting that Apple — the first US company to reach $2 trillion in value — has come up with an initiative which somewhat goes against the tide. The company has announced two new live global radio offerings on Apple Music, available to fans in 165 countries. Besides Beats 1, which is now known as Apple Music 1, the two new stations are Apple Music Hits, which celebrates our favourite songs from the '80s, '90s and 2000s, and Apple Music Country.
Why does Apple still care about radio? Simply because it's an interesting way to discover music. Be it Apple or Spotify, both services have millions of tracks on its catalogue, cutting across genres. On Apple Music, over 60 million subscribers (according to an interview Apple services chief Eddy Cue gave in June last year) are listening to over 60 million songs.
Focus on discovery rather than just trending
Typically, on a music streaming service, there is a complex algorithm at play, deciding on the track that would play next. This can cut both ways. Leaving out the "paradox of choice" helps listeners move from one song to another even at the cost of letting ennui set in or not enjoying what's being played. On the other hand, human intervention means an element of relatability. It's a good way to strengthen a music platform and an important element to balance algorithms.
There was a time when local DJs and hosts were nothing less than superstars, shaping what cities and towns would listen to. They connected with their personalities as well as showcase a strong understanding of music. Apple is investing a lot on human resource.
Apple Music 1, which was Beats 1 earlier, has studios in Los Angeles, New York, Nashville and London. It's the place for artistes from around the world to release music and speak to fans. Some of the presenters on the station — like Zane Lowe, Matt Wilkinson and Dotty — have followers by the million and keeping their shows company is a line-up from some of the biggest names in music, including Elton John, Billie Eilish, Lil Wayne, Frank Ocean and The Weeknd.
Celebrity-hosted radio shows may not be something new but it always feels good to know that they can also make the same commute as we do to our workplace, the big difference being that they are just voices on the radio. At the same time, Apple has said that it will be working on more shows with emerging artistes, which highlights the company's focus on discovery rather than just trending.
"For the past five years, if ever there was a meaningful moment in music culture, Beats 1 was there bringing human curation to the forefront and drawing in listeners with exclusive shows from some of the most innovative, respected, and beloved people in music.... We will continue to invest in live radio and create opportunities for listeners around the world to connect with the music they love," said Oliver Schusser, vice-president of Apple Music, Beats, and international content.
Even if country music is something we don't pay much attention to in India, there is great content out there, far beyond the outlaw twang in some of the voices. Besides on-air hosts, there are exclusive shows from artistes like Luke Bryan and Carrie Underwood. Exclusive shows on Apple Music Hits are from artistes like Backstreet Boys, Ciara, Huey Lewis, Alanis Morissette  and Shania Twain.
If you dive deeper, some of these celebrity-driven radio shows appear like podcasts, with more conversation than usual. It's in a way an evolution of talk radio. The onslaught of Spotify with a focus on podcasting is making Apple innovate. What remains to be seen is how far it can take music curation. Also, it needs to look at shows inspired by listening habits in India or other South Asian countries.
Apple has lately worked hard on its accessories division and services. The company, founded in 1976 by Steve Jobs and Steve Wozniak, first reached $1 trillion in August 2018, after decades of innovation. Since then it has come up with some very good gadgets as well as pushed into services such as streaming music, streaming movies and TV programmes. Earlier this week it reached $2 trillion valuation.
For the time being, we are simply happy to drop in on a song and discovering a new artiste every other moment. Perhaps youngsters who have logged into Apple Music would also end up having a basic understanding of radio.
At a glance
Service: Apple Music
Library: Has over 60 million songs
Radio stations: Under Apple Music, there is streaming and three radio stations — Apple Music 1, Apple Music Hits and Apple Music Country
Countries covered: Since 2015, Apple Music has been having subscribers in 165 countries
Price: Apple Music can be enjoyed at Rs 99 a month and for students it's
Rs 49 a month. Family plan is at Rs 149 a month
OS: Can be enjoyed on iOS as well as Android