From their backyard in Calcutta, Mulo has been capturing ears with various audio solutions for a few years now. The strength of the brand lies in delivering high-quality audio at an affordable price, punching truly above its weight with established names. In for review is the company's latest, Arena 6000 soundbar, the successor to Arena 5000.
Though TVs are getting slimmer and more gorgeous, the sound output graph is going south. So soundbars can bring huge improvements to your TV and movie viewing experience. Or for that matter, music listening. Like cars or phones, there is no limit to spending on a soundbar, which makes it imperative to ask "What are you looking for?" Clarity of dialogue? A small amplification in sound quality? Booming audio? Surround sound? The Arena 6000 is a shoo-in among customers who are looking for crisp audio without many frills or breaking the piggy bank.
Clarity of sound
Instead of starting with the design component, let's turn it around to focus on audio. The total system power you get is 60W True RMS (15x2 speaker bar power and 30W down-firing subwoofer power). What really matters is the tuning.
The two three-inch speaker drivers and the 5.25-inch woofer driver are absolutely stunning, offering clarity no matter what you are watching or listening to. There is a sparkle and the resolution is detailed, which beats many soundbars from many brands that have been doing business for a long time. We are talking of the likes of JBL and Creative. Watching a film like Die Hard is an absolutely yippee-ki-yay experience as you can feel the punch each time a shot is fired, minus distortion.
In the mid-range, the soundbar shines and brightly, pushing vocals and voices to the front, while doing a good job with audio separation. Not only one can feel a clear movement of sound, there is a certain amount of airiness, ensuring that the audio doesn't hit you in one single plane; there are layers of depth.
While reviewing, we tried plenty of high-frequency audio input, like Formula 1 videos, films like Sully and Fast & Furious titles. In other words, the rumble of trucks and cars were common, the zips and zooms were aplenty and the sound of the plane was important, especially in the crash scene in Sully. None of the sounds created fatigue or ear-piercing moments, which is often the case with several soundbars.
What I have most enjoyed about the soundscape is that the overall sound doesn't end up being debateable, that is, nobody is going go after the brand about how music should sound. Mulo (short for 'music lovers') is trying to be accurate and also clear. There's bass, enough of it but not so much that it becomes muddy. We listened to a difficult track like A Day In The Life, which has spacey production techniques and a delicately chaotic arrangement. Not even for a second, the sound got blown all over the place.
To give you some control over sound, there is a built-in EQ with five preset modes, like jazz, vocals, balanced, EDM and trance. Most of the time I left it on 'balanced' because the sound is pretty feeling, with depth and dimension. Only while listening to music that I leaned towards a sharper sound. In fact, as a music speaker, I could amp up the volume while retaining quality. Also helping the cause of the Mulo device is the usage of high-density wood, which helps cut down on distortion while delicately amplifying the sound from the speaker driver.
The LED panel on the speaker is helpful while reading the sound input mode one is on but the only quibble here involves the labelling of EQ settings. What appears is E1, E2…. Had there been a label to each setting, life would have been easier. Keeping SNR (signal to noise ratio) at 72db works and it's nice to see 4 Ohm x 2 as impedance on the soundbar, offering enough boost in performance.
Practical design The remote control looks simple but is packed with plenty of functions The Telegraph
In way of design, three things help. First, I like a matte surface because if the soundbar is kept below the TV, there won't be any reflections off it. Second, the size is absolutely spot on for my 50-inch TV. Third, the wired subwoofer has a minimalistic finish that goes well with any TV console.
There are the usual control settings but all of them have been kept on the right side of the speaker. I hooked it to the TV via one of the most common techniques — from the optical output on the back of the TV to the optical in port on the soundbar. There is also a USB drive option in case you still play music via a pen drive. What I found missing is HDMI, which could have been a good addition. There is also a built-in FM feature, something I rarely used. To the remote control, it's a no-nonsense design with enough buttons to make life easy.
So, should you buy it? Absolutely. Mulo Arena 6000 brings home big, spacious sound for TV viewers and offers toe-tapping moments when playing music… without breaking the bank.
At a glance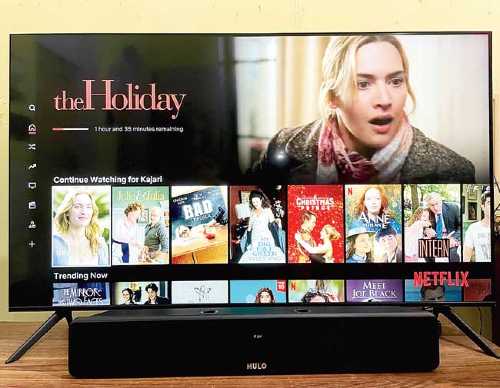 Mulo Arena 6000 soundbar goes well with large displays The Telegraph
Device: Mulo Arena 6000
Price: Rs 5,999 (on sale till August 9 at 4,999 on Amazon.in)
Recommended room size: 200-250sqft
High notes
• Crisp sounds across the board
• Doesn't create fatigue with high-frequency noises
• Excellent bass but doesn't overpower
• Sensibly priced
• Use of high-density wood cuts down on distortion
Muffled notes
• HDMI port would have helped
• More information possible in the LED panel on the soundbar