Snapchat, augmented reality and smartphones are reinventing storytelling for youngsters. The amount of time being spent in these areas also means fewer minutes are being dedicated towards books. What can publishers do? Rethink, of course. Publishers around the world are using apps in various ways to make storytelling exciting in the form of instant messaging-like narratives, interactive narratives and images that make an impact. It's a world beyond hardback, paperback and ebooks. Not that people are not reading. During the pandemic, the sale of physical books has picked up slightly in some markets but the appeal of Snapchat-like content continues to have a hold on young minds. Here are a few platforms that are keeping a new generation of readers engaged.
Tap by Wattpad
Immersive storytelling through taps; it is as simple as that. Tap is not a new entrant but it continues to engage the 'teenage to young adult' fan base, who like to read stories in the form of text messages. Each series comes with the number of taps required to finish it, a number that may look staggering but usually takes under one hour to finish a title. In case you are serious about the platform, then visit Tap Originals where stories go beyond the simple message-like format. There can be voice notes, images and even a "choose-your-own-ending" feature.
That Wattpad is going strong can be seen in its recent acquisition (it was reportedly a $600 million cash and stock acquisition deal) by South Korean Internet giant Naver, the parent of digital comics platform Webtoon. Under the deal, Wattpad continues to be headquartered in, and operate from Canada, with co-founder Allen Lau remaining CEO and he will now report to the CEO of Naver's Webtoon, Jun Koo Kim. According to reports, Wattpad community members spend more than 23 billion minutes monthly engaged with original stories.
The power of Wattpad can be felt beyond the app. The Kissing Booth, which was originally published on the platform, is now a Netflix film.
Radish
Torn Between Alphas, The Billionaire's Surrogate, Dating My Best Friend's Sister, My Pirate Prince… the list is endless on Radish, a serialised fiction start-up. It has shown how breaking up book-length stories into nuggets released over days or weeks work. If on Netflix, you can binge-watch several seasons of a show, on Radish, you can do the same by reading a countless episodes. Founded in 2016, the platform celebrates genres like romance, LGBTQ+, young adult, horror, mystery and sci-fi. It also produces in-house original series. The concept has paid off and Radish was recently picked up by Kakao Entertainment, an arm of South Korean Internet giant Kakao, in a transaction valued at $440 million.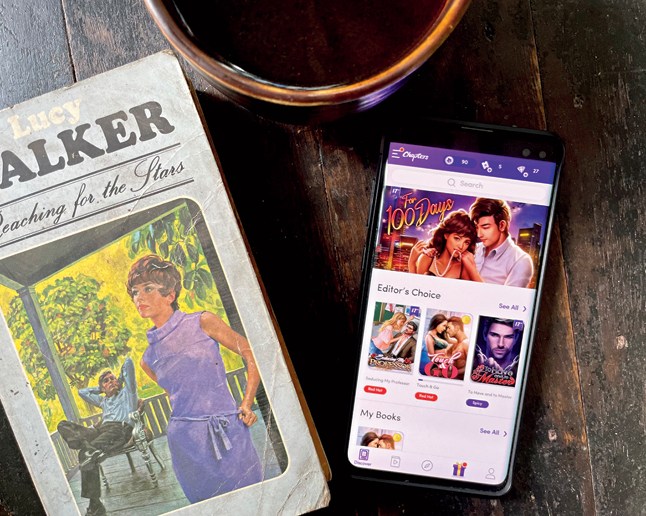 The app Chapters takes stories and turn them into interactive content
Tapas
Tapas is where individual creators can publish their graphic novels and comics. It's not just about superhero-dominated world of comics, there is a huge catalogue for romance and sci-fi and some of the popular titles are The Beginning After The End and Magical Boy. And most of the titles throw up a style that's closer to Japanese manga. Founded in 2013, the Los Angeles-based start-up brings in millions of dollars every month for its creators. Kakao Entertainment, which has acquired Radish, has also taken over Tapas Media in a $510 million cash transaction. According to reports, the company is exploring an IPO for a listing in either in Korea or New York in a float valued at more than $17.8 billion. The company recently announced a deal with print publisher Scholastic for its original series Magical Boy, with a graphic novel slated for release in November 2021.
Chapters
Not really a book-reading app, but Crazy Maple Studio's way of storytelling is attracting young adults, who are continuously engaged with other forms of entertainment. What you get are interactive games based on novels across genres, mainly romance, fantasy and paranormal. Users can choose the characters, what they wear and select a particular outcome. Not for children, there are titles like For 100 Days, Touch & Go, Cowbory Crazy, Seduced and Rough Justice.
Hooked
Among the most exciting platforms, Hooked is a mobile reading and short-form video app with Prerna Gupta at the helm. In the reading app, readers are introduced to an IM conversation-style format. You will be hooked by the quality of this form of storytelling, moving from one title to another, like Magic Locker. And then there are audio stories like Boyfriend or Best, or visual fests in the form of Trevor and the Virgin.