2016: Instagram introduces a feature inspired by Snapchat stories. Called Stories, it is now so integral part of the Instagram-Facebook experience that casual social media users may not even be aware of where it had originated. Kevin Systrom, Instagram's co-founder, back then had said the feature was bound to get replicated in other apps but with Stories, one also realised that fewer unique applications and features were making way to the tech ecosystem. It was time to copy-paste.
2020: Despite all the problems TikTok faced in 2020 (and before that), it inspired a slew of apps to come with something like the TikTok interface. Besides the troubled app, Clubhouse entered our world. Facebook is being challenged by other apps. And more people spend time on these "other" apps — even if it is for 20 minutes — it will be 20 minutes less on Facebook or Instagram.
Instagram obviously has many challengers but some make a bit more sense than others, like Dispo, the new app that youngsters fancy. It's an app that replicates the days of disposable cameras.
The hardest part of using disposable cameras was the wait. Such cameras have, of course, fallen out of favour but once upon a time, it took the photography world by storm for allowing one to capture a rush of moments without having to fiddle with exposure controls or focus.
It's easy to capture a moment on any smartphone, however basic the model. But imagine, how it would be if you were to take photos and not be given the power to edit away imperfections and, more importantly, you have to wait to see the final photograph. It's like the disposable camera trend — an exercise in patience.
Inside out
On Dispo, users can frame their shots through a small rectangular viewfinder. No other power is at one's disposal, like editing tools or the ability to caption photos. Next, you wait. Until 9am the next day! This is when you get to see what you had captured. That's the beauty of the app, it's all that Instagram doesn't offer — a rush of unfiltered moments.
When disposable cameras were the big trend, people used to carry them to parties and the next day all of the cameras got collected and then sent for developing. Some of the photos were artistic, some hilarious while the others out of focus.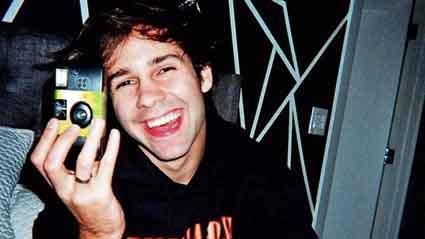 Founder David Dobrik's Dispo camera app is reportedly worth $200m already Sourced by the correspondent
The man behind it
The idea for the app came to David Dobrik, a YouTube personality who is also the founder of the app. The 24-year-old has told The New York Times that he started posting on a dedicated Instagram account, photographs developed from disposable cameras — used in parties he attended — in June 2019. After racking up millions of followers, influencers and celebrities like Tana Mongeau and Gigi Hadid started their own "disposable" accounts.
In December that year he introduced an app called David's Disposable that allowed people to take retro-looking pictures that "developed" overnight. Over the next one year it evolved into Dispo.
Currently an eight-person company, Dispo plans to open an office in Japan. It is already attracting some attention from venture capitalists. In a seed funding round in October, led by Reddit co-founder Alexis Ohanian's firm Seven Seven Six, Dispo raised $4 million. According to Axios, in the last week of February the company raised $20 million at a $200 million valuation in a Series A funding round led by Spark Capital.
Accessing it
At the moment Dispo can be accessed only through invitation on iOS. Free to download, you can choose a username but after that you will be taken to a screen with a "please find an invite" message.
The other invite-only app finding a lot of takers is Clubhouse, which recently hit an estimated 10 million downloads. Clubhouse — a social network with audio as focus — has already had appearances by Elon Musk, Joe Rogan, and Mark Zuckerberg. Plus, it raised money last month at a valuation of $1 billion. Will Dispo enjoy a similar trajectory? It all depends on how well it plays the invite-only game.