Meet Anita Kulkarni Puranik, co-founder of Metamagics Computing
Organ transplant care and data handling are complicated tasks. Here's a woman who's making it easier with some tech support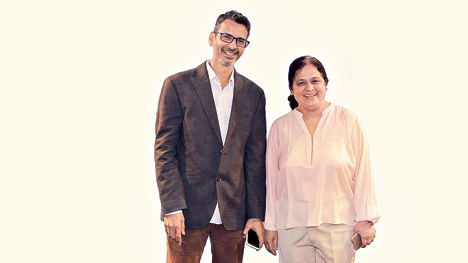 ---
---
Giving Apple a shot of vitamin is its app ecosystem. Yes, the company has a brilliant set of iPhones, iPads that glisten in a sea of tablets, and Macs that are among the best laptops money can buy. What Apple treasures most are the many apps found on the App Store. Many developers continue to make applications first for Apple devices and then for Android. This allegiance has encouraged Apple to make its devices better with every passing year.
The pandemic has obviously thrown a spanner in the way companies function but it hasn't stopped the Tim Cook-led tech giant from hosting its Apple Entrepreneur Camp in virtual mode. One of the participants at the recent event was Anita Kulkarni Puranik, founder and CEO of Metamagics Computing, the company behind Transplant Care app, which helps transplant centres and the patients who require organ transplant. A personal experience inspired Anita to dedicate herself to the app and now her company has its focus on the US market.
Here's what Anita told us about her Apple Entrepreneur Camp experience and the app.
How did Apple Entrepreneur Camp unfold this year?
Apple invites applications from the world over women entrepreneurs who have built apps using Apple's ecosystem, apps that have a substantial vision and impact. The event was to happen in Cupertino but the pandemic broke out. Finally, the event was held virtually.  
Esther Hare, who is senior director (worldwide developer marketing) at Apple, opened the virtual event and said it was tough to select the participants. It felt reassuring because the application had to go through many layers. The online experience was extraordinary. There were several women entrepreneurs across eight time zones. I wonder how Apple managed to bring it together.
Some of the people in the top brass of Apple spoke, like Lisa Jackson (vice-president, environment, policy and social initiatives) told us about leadership, environmental issues, social development and all that. One of the very senior design evangelists spoke about what makes an app great; he described eight qualities of a great app. It was an eye-opening camp. They did an audit of our app — the technology, the frameworks we have been using. Besides me, our iOS engineer Apurva Shete and our design director Atul Saraf also attended the camp. The Apple designers made some profound suggestions. We also had technology sessions, which is of interest to us. Healthcare being our focus, we had in-depth discussions on heathcare-specific technology frameworks that Apple has developed.
What prompted you to start Metamagics?
Metamagics has a patented technology called Grid Sense and that technology is about taking ad hoc data and turning it into a structured database to make it more useful. While we continued to develop the technology and applied for a patent, we tried to figure out ways to commercialise the technology. It was during this time that my husband was diagnosed with liver cirrhosis. This was around 2009 and it was clear that he needed a liver transplant. It takes time to get a transplant. We listed him everywhere, at five different hospitals in India. During the wait and post the transplant, I saw the kind of challenges that are there for a patient as well as for the caregiver and for the transplant centres. Unlike other treatments, organ transplanting is extremely dependent on seeing patients' trends; so it is very data intensive. Doctors will rarely give medication based on a single report. They always want more and more accurate data. If the liver is not working, it is probably taking a toll on your kidneys or your heart because of the medication you're taking.
My husband, after getting his transplant at Apollo Hyderabad, had an episode of rejection, which means his liver was not functioning how doctors expected it to. When we reported the results, the doctor asked me about some of his parameters. Those answers are sitting in one's 1,000-page box file. How do you produce those answers? If you don't have those answers at the time of decision-making then the treatment suffers, leads to more complications. Having seen these challenges first hand, we realised that we had a data platform, which we kind of transformed and pivoted into digital health and organ transplant care.
As time went by, I presented this whole thing at an international organ transplantation conference, which happens in India. Delegates from other countries… surgeons from other countries, like the US and the UK, walked up to me and said we were solving something that was a problem the world over. It's not just about India or about my husband; it's about tackling a bigger problem.
Transplantation follows a hub-and-spoke model… as patients get transplanted, they go back to their hometowns where they are not in front of the doctor. So the whole process involves managing the treatment remotely.
We are now poised to enter the US market. We already have a pilot with one of the large transplant centres in the US.
The Apple Watch points patients in the right direction when it comes to health. How can it help your start-up?
With transplant patients come chronic illnesses. They need to monitor many parameters and vitals like blood pressure, temperature, weight. They also need to monitor sugar levels and urine output. For some devices there may be IoT connectivity, like blood pressure monitors, glucometers may have but thermometers are different. And there is no easy way that urine can be digitally monitored. During the eCamp we got a jump start for our Apple Watch strategy. We have developed wireframes, got them validated through Apple's design, patients can talk to the Watch, which then records it. So a patient can log urine output using Siri. The Watch connects to the main app and the data gets processed.
Also important is whether patients are taking medicines on time. Some patients may get extremely annoyed when it comes to taking medicines. We are developing a method of medicine reminders that's non-intrusive and contextual.