Meaningful updates for the iPhone and iPad are coming your way
Learn about the new features you will find in iOS 15.4 and iPadOS 15.4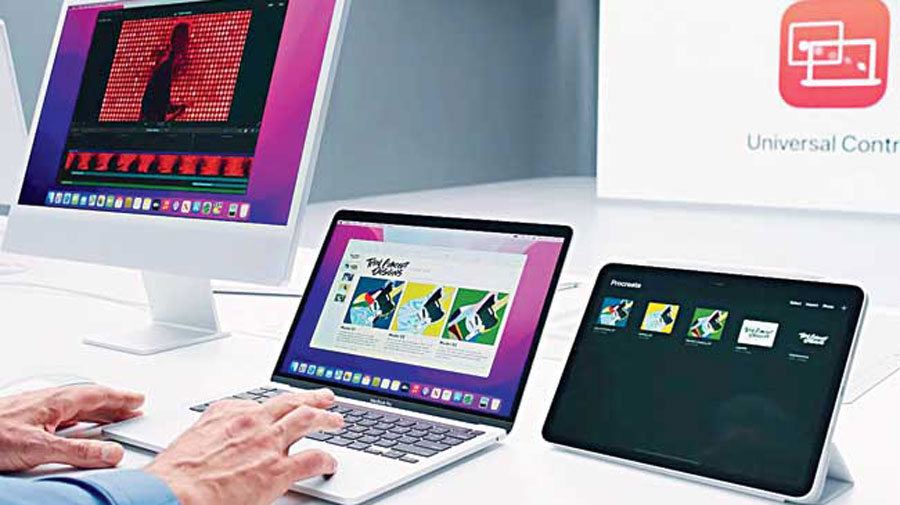 With Universal Control, a single keyboard and mouse or trackpad now work seamlessly between your Mac and iPad — they'll even connect to more than one Mac or iPad. Picture: Apple
---
Published 31.01.22, 03:53 AM
|
---
Apple has once again proved that sending out updates — meaningful ones — at regular intervals can make a difference to user experience, something Android has failed to learn after all these years. In fact, the company's bottom line received a major push during the Christmas shopping season despite constraints arising from a global shortage of microchips.
Apple CEO Tim Cook had warned in October that global chip shortages could affect manufacturing of most Apple products but last week, the company announced a very successful quarter in an earnings call with investors. While reporting its first quarter earnings of 2022, the company said it had made an all-time record revenue of $123.9bn, 11 per cent up from last year.
Cook pointed out the strong demand for the iPhone 13 line-up while other models have also done well in various markets. "We had several of the top-selling models in various markets, including the top 5 in the U.S. and Australia, the top 4 in Urban China, 2 of the top 3 in the UK, 3 of the top 4 in France and Germany and 4 of the top 6 in Japan. And certainly, based on some external data that I've seen, it does seem to say that we are gaining share as well."
Though he didn't specifically mention details about India numbers, a recent report says that Apple has ruled the ultra-premium smartphone segment in India with over a 70 per cent market share while the iPhone 12 and the iPhone 11 series boosted the company's market share in India during the festive sales.
An important milestone
Not only has the company made sacks full of money during the holiday season, the company managed to add 150 million more active devices. Cook has revealed that Apple now has 1.8 billion active devices, which is up from the 1.65 bill Apple reported a year ago, 1.5 billion active devices in January 2020 and 1.4 billion active devices in January 2019.
If the trend of Apple adding 150 million new active devices over the last year continues, it means the Cupertino HQed company needs an increase of 50 million this year to hit growth of 200 million devices, reaching a milestone of a two billion strong installed base. An improving supply chain should ensure that the company expects a record March quarter.
Google revealed last year that there are now over three billion active Android devices that have access to the Google Play Store. iOS 15.4 and iPadOS 15.4
Helping Apple grow every year are fresh line-ups as well as constant updates, enough of which are there on iOS 15.4. The first available public beta is available for you to test. A warning before you install beta software — it may not be a stable release, so the final experience may differ. It that doesn't bother you then it's best you try the beta rollout after backing up your device's data. Also available are new features in the developer beta releases of macOS Monterey 12.3 and iPadOS 15.4.
Universal Control: iPadOS 15.4 and macOS Monterey 12.3 allow the long-awaited and much-talked-about feature that allow you use a single cursor and keyboard to control the iPads and Macs that are signed into your iCloud account. Move your cursor from your Mac to your iPad, type on your Mac and watch the words show up on your iPad, or even drag and drop content from one Mac to another. To make it work, devices must be signed in to iCloud with the same Apple ID, Handoff must be turned on, and the devices must be within 30 feet of each other. Universal Control requires no set-up and uses Continuity so all you need to do is sign into your Apple ID on all of your devices.
Face ID with mask on: During the early days of the pandemic, unlocking the phone each time while wearing the mask required you to punch in your passcode. Then Apple Watch users were given an option to unlock phone even while wearing sunglasses or a face mask. The new release of iOS 15.4 includes a new addition of support for Face ID. The feature will be limited to iPhone 12 and later (to recognise a user with a mask on, the phone needs to use the advancements in the TrueDepth camera system). The new option is designed to use the area around your eyes for authentication purposes but a full-face recognition remains the most accurate way to unlock. Since Face ID with a mask utilises less biometric information than Face ID with full-face recognition, there could be circumstances when a user is not as easily recognised as when their full face is visible. In that instance, a user may need to enter their passcode.
120Hz animations in third-party apps: Soon after its release, iPhone 13 Pro users noticed that some third-party apps were not displaying all animations at the full 120Hz ProMotion refresh rate. The bug has been fixed with the iOS 15.4 update.