Little Indian field mouse spotted in icy Ladakh's farms at 3,768m
Scientists call for surveillance and management of rodent known as a crop pest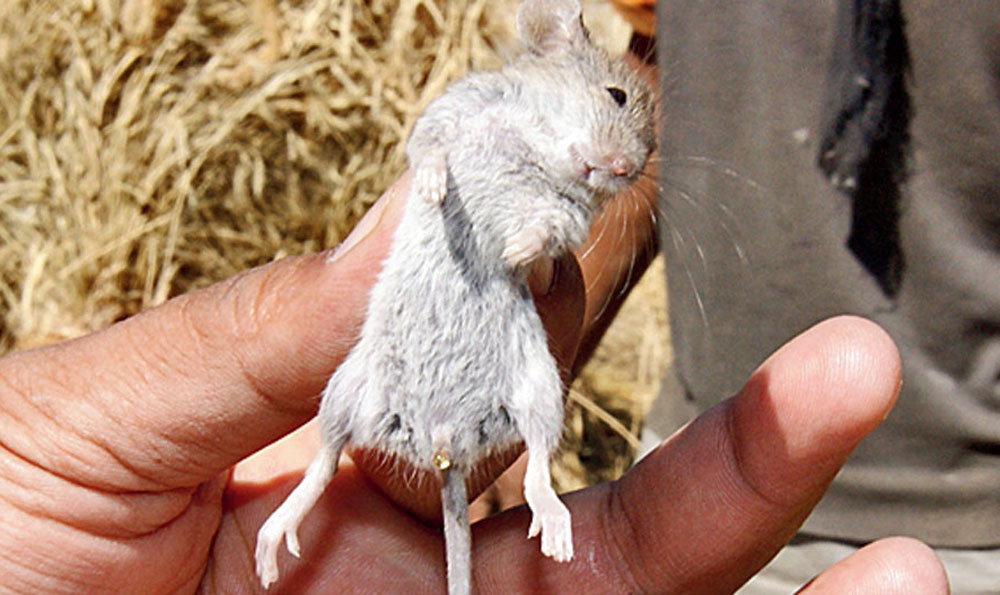 The little Indian field mouse at a farm in Ladakh
Sourced by G.S. Mudur
---
New Delhi
|
Published 14.01.19, 10:47 PM
|
---
Scientists have for the first time spotted the little Indian field mouse in farms and granaries in the cold, high-altitude region of Ladakh and called for surveillance and management of this crop pest there.
A two-year study by scientists from the Indian Council of Agricultural Research (ICAR) to explore the diversity of rodents in Ladakh has revealed the presence of the Mus booduga at altitudes up to 3,768 metres.
The tiny mouse has long been recognised as a major crop pest elsewhere across the Indian subcontinent where it damages many field crops, vegetables and fruits. Scientists have recorded the mouse causing damage to groundnuts, maize, rice, raddish, wheat, apples, peaches, plums, cauliflower and tomatoes, among other crops.
Earlier field surveys by the ICAR had documented the presence of the little Indian field mouse only up to 3,696 metres above sea level, its highest locations hitherto in Uttarakhand.
Several larger rodents — other mice, rats and squirrels — cause more damage to various crops than the little Indian mouse in other parts of the subcontinent. But the little Indian field mouse appears to be the major pest in Ladakh.
"In Ladakh, we've found the mus booduga thriving in fields during summer and in granaries during winter," Vipin Chaudhary, an agricultural entomologist and principal scientist at the ICAR's Central Arid Zone Research Institute (CAZRI), Jodhpur, told The Telegraph.
Chaudhary and senior CAZRI scientist Rakesh S. Tripathi, who's also coordinator of the All India Network Project on Vertebrate Pest Management, have published their findings in the research journal Mammalia.
The scientists say the presence of the little Indian field mouse warrants greater surveillance to determine the extent of crop damage it might be causing and the adoption, if necessary, of appropriate pest management practices.
"Ladakh is widely viewed as a cold, dry desert, but agriculture is the backbone of 70 per cent of its population," Chaudhary said. "Local communities grow wheat and barley during their seasons and vegetables throughout the year. Vegetables are grown in open fields in summer and inside special protective housing during winter."
The scientists said their finding did not imply that the little Indian field mouse had expanded its range into Ladakh in recent years. "We're not claiming that the little mouse is a new arrival in Ladakh — it just hadn't been observed thus far," Chaudhary said.
He said that understanding the biodiversity of an ecosystem was important for crop management. While the CAZRI had in the past conducted multiple surveys of crop pest rodents across India, the rodent diversity in Ladakh remained unclear.
The latest study has also documented a vole, a squirrel and a rat in Ladakh, but each of these species had already been observed there.