Arriving just in time for Christmas, it's time to sing-along to your favourite songs with Apple Music Sing, a karaoke-like feature coming to the company's music streaming service, Apple Music.
What makes the feature unique is that we are not talking about 10, 20 or 100 songs. The Apple Music feature will turn tens of millions of its top songs into karaoke tracks. To enable the feature, a simple tap is all that is required. There is a slider on the side to lower the vocals of the original song while you sing along to real-time lyrics.
Usually with karaoke tracks, there is only music and the vocals have to be left out manually. Not here. Apple Sing relies on an on-device machine learning algorithm that processes the music real-time. That means, an algorithm isolates the vocals from the song and at the same time users adjust their volume accordingly. The technology involved probably takes FaceTime audio developments in a new direction.
From the demonstration offered, the feature, at its lowest level, does not fully remove the original vocals but it will still be good enough for a house party or playtime with children.
Apple Music is also launching a suite of more than 50 dedicated companion playlists featuring all of the epic songs, duets, choruses, and anthems that have been encouraging people to sing.
"Apple Music's lyrics experience is consistently one of the most popular features on our service. We already know our users all over the world love to follow along to their favourite songs, so we wanted to evolve this offering even further to enable even more engagement around music through singing," said Oliver Schusser, Apple's vice-president of Apple Music and Beats.
At the moment, users follow lyrics line-by-line but the enhanced lyrics feature will now animate with each syllable for beat-by-beat sync, which will help the sing-along feature.
The background vocals feature is allowing the streaming service to break out the backup vocal from the primary line and these are animated separately, allowing a group of people sing along to different parts, for example. The lyrics for duets have been updated to indicate when there's a vocalist change by switching the justification of the lyrics on the screen.
As the process involves a complex algorithm, Apple Sing will be available across the top 80 per cent of its most-played songs at the moment with the library growing over time. At the moment Apple Music offers over 100m songs.
The new feature works on compatible iPhone, iPad and the new Apple TV 4K. Apple Music Sing will be available later this month for Apple Music subscribers worldwide (not for Apple Music Voice Plan subscribers).
At a glance: Top features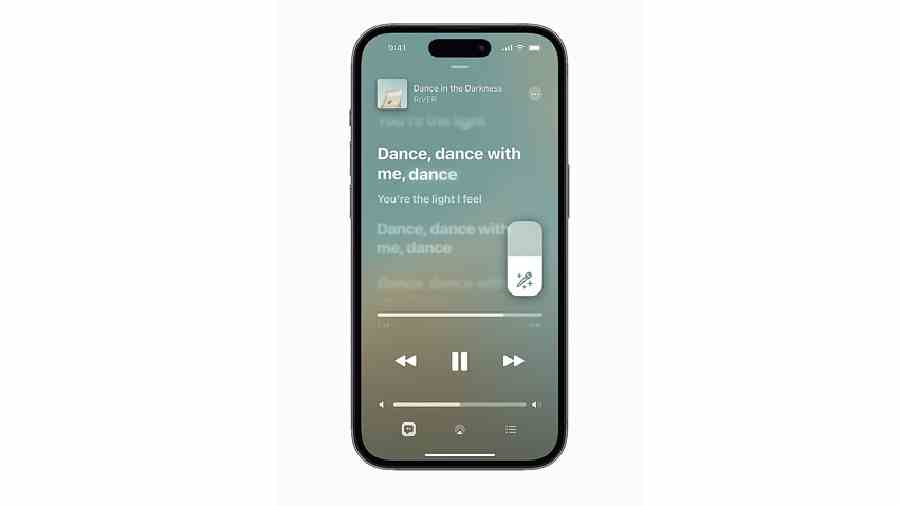 With adjustable vocals and real-time lyrics, Apple Music Sing gives fans more control as they sing along to their favourite tunes
Adjustable vocals: Users now have control over a song's vocal levels. They can sing with the original artiste vocals, take the lead, or mix it up on millions of songs in the Apple Music catalogue.
Real-time lyrics: Users can sing along to their favourite songs with animated lyrics that dance to the rhythm of the vocals.
Background vocals: Vocal lines sung simultaneously can animate independently from the main vocals to make it easier for users to follow.
Duet view: Multiple vocalists show on opposite sides of the screen to make duets or multi-singer tracks easy to sing along to.