Lately, your friends may have become astronauts or someone like The Bride from Kill Bill.Well, at least their display pictures announce they have a new avatar with a little help from an app that's climbing the charts quickly and that means, it's time to show caution.
Lensa, which launched as a photoediting app in 2018, has become the talk of the digital world after the release of its "magic avatars" feature. It uses a minimum 10 user-uploaded images (maximum 20 images allowed) on which the neural network Stable Diffusion works to generate portraits in a variety of digital art styles.The output ranges from photorealistic paintings to abstract illustrations. Lensa AI has even taken the top spot in the iOS App Store's 'Photo & Video'category earlier this month.
HOW DOES IT WORK?
AI-generated self-portraits are all over the place and there are many sources to create these images. Created by Prisma Labs, the Lensa image-editing app turns selfies into "magic avatars" not by using filters. It blends with its AI technology to generate personal avatars.The technology that's used here is Stable Diffusion, an AI-based image generator that shows pictures nobody took; it's more like bits stitched from a bunch of images.
Once you select a gender — male, female or other — and then allow the app to create "magic avatars", wait for anything between 20-30 minutes to create a suite of 50 to 200 images.The Telegraph tried the base pack and it took around 20 minutes.
IS IT SAFE?
There are a few issues to remember. First, artists have accused Stable Diffusion of using their art without permission.The final image brings together bits and pieces from different pictures but these imitate styles that actual artists have spent years refining.
"Whilst both humans and AI learn about artistic styles in semi-similar ways, there are some fundamental differences: AI is capable of rapidly analysing and learning from large sets of data, but it does not have the same level of attention and appreciation for art as a human being," Prisma Labs has said in a statement."The AI learns to recognise the connections between the images and their descriptions, not the artworks.This way the model develops operational principles that can be applied to content generation. Hence the outputs can't be described as exact replicas of any particular artwork."
Second issue is around sexualisation. When generating avatars if you choose "female", the results should only involve the face as you are uploading selfies.But Lensa AI is, at times, including full-body renderings, some of which can verge on murky territory.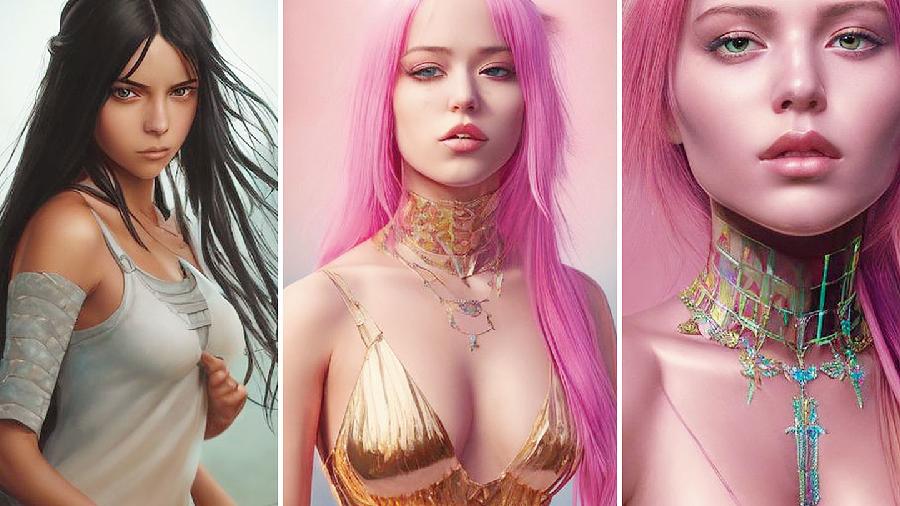 There is the issue of sexualised content even though what users are uploading are selfie images
IS IT FREE?
No.You can get 50 avatars — 10 images in five styles for Rs 349 but there are several packs to choose from."Magic Avatars consume tremendous computation power to create amazing avatars for you. It's expensive, but we made it as affordable as possible," reads Lensa's checkout page.
SHOULD YOU BE USING IT?
First, the "magic avatars" don't magically come free. If you like a set of avatars, you are sure to order another set, and then another set. Stop. Don't overspend. Second, skin colour may appear lighter or darker.Third, and very importantly, sharing selfies with any digital platform is not safe. Lensa AI's privacy policy claims that "face data" is deleted within 24 hours after it has been processed and data "cannot reasonably be used to identify any particular individual user" but it also states "(to train our neural network algorithms) we use your photos and videos to train our algorithms to perform better and show you better results.We have a legitimate interest to do so, and we do our best to minimise the data that we receive and not to override the rights and freedoms of the users in this regard." Personal recommendation, keeping privacy in mind: There are red flags.