Powerful enough to get work done
Hardy, stylish and versatile… that's Lenovo Yoga Slim 7i for you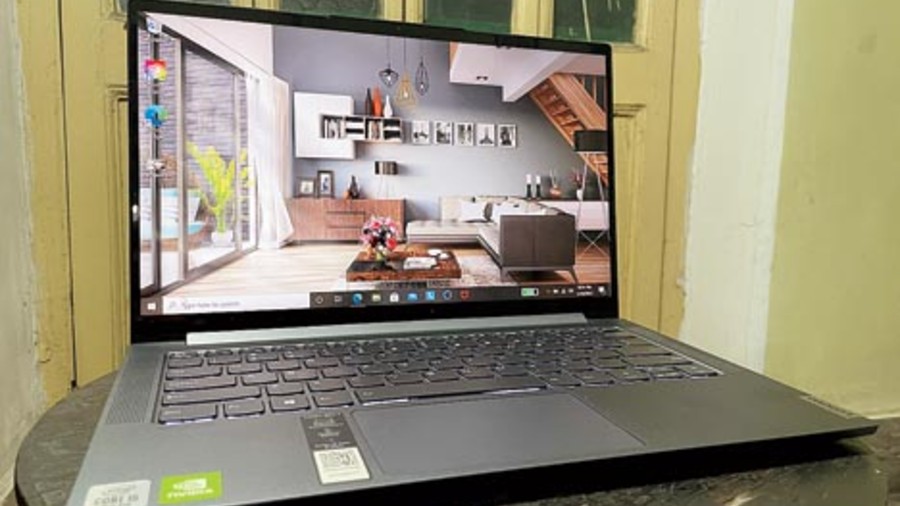 ---
---
Given that schools and colleges have mostly moved to online teaching, one can't emphasise enough the importance of having a laptop that can handle streaming lectures as well as run day-to-day programmes without hiccups. Then there is work. Ultimately it will be back to office full-time, so purchase decisions need to take into account battery power.
The more important questions before making a purchase is the degree of portability you require? Usually, there is a trade-off between screen size, weight, battery life and price. I wish I had an opportunity to experience the Lenovo Yoga Slim 7i sooner because it's a sturdy laptop with decent performance, just right for college and office work. There are minor hiccups with the laptop but then that's the case with every gadget out there. Let's delve deeper.
Great sound accompanies a good display
I really like what Lenovo has done with the design, which has an all-metal chassis that looks premium and is sturdy. Out of the box, it's light, only around 1.5kg.
There is no keyboard flex and the hinge is smooth to open and close. It's a laptop one would take to coffee shops or colleges or business meetings, it blends in everywhere.
Let's talk about the keyboard first. The keys are spaced out well while the secondary functions are also laid out well. The keys don't have any wobble but the travel distance is slightly short though it doesn't cramp up one's typing speed or accuracy. The trackpad is very receptive and just about the right size while the primary left and right buttons are integrated. The only quibble about the keyboard is the backlighting — it's not on by default. Once you find your way around Lenovo's Vantage software, toggle on the option. There are two levels of keyboard brightness.
Coming to the display, the 1920x1080 IPS panel comes with a refresh rate of 60Hz. A good colour spectrum gets covered while the viewing angles are more than acceptable. Be it editing photos or consuming content, there are no issues at hand. The only drawback is the screen's peak brightness of 300nits, which is enough for indoors but while sitting out in the sun, one may struggle from time to time to read the screen. The screen can be opened all the way to 180 degrees flat but we wonder how is that of any help.
The 720p HD web cam is passable during video conferencing as long as you sit under good lighting. On the other hand the microphone is surprisingly good. Turn on a noisy air conditioner but still your voice will appear crystal clear on the other end or sit close to a humming refrigerator, your voice won't get overpowered.
Staying on with sound, it's good that Lenovo has gone with front-facing speakers, translating into great sound projection. There is a fair deal of clarity in movie dialogues or songs in which vocals get emphasised. It's 3D Dolby Atmos that streamlines the audio department. Having a powerful sound set-up on a laptop ensures that you will spend hours consuming media.
In way of port selection, things are respectable. On the left-hand side you get USB-C PD port, which you can use to charge the laptop, a full-size HDMI port, another Type-C port (which functions as USB 3.2 Gen 2 port) and audio-microphone combo jack. On the right are two USB-A 3.2 ports and a microSD card reader. The power button is on the top right side, which is easily accessible.
Powerful enough to get work done
Now to the two important aspects — battery and performance. Let's talk about battery first. There is a four cell, 60.7Wh battery, which the company promises up to 15 hours of work. Well, that would be taking it to the extreme and would involve very light work. Browsing, keying in some documents, playing some mixed media content… the usual stuff which we do everyday… will give you around 10 hours. If you load up heavy-duty stuff like Adobe Premiere Pro then it goes down to seven hours. These are still very respectable figures. Getting on an average eight hours is enough to see through one's day at office.
Lenovo's Vantage software offers three battery performance modes — Extreme Performance, Intelligent Cooling and Battery Saving. By default, it the second option. Once we loaded Premiere Pro, the fans picked up speed but the laptop didn't heat up too much. And the fans didn't make much of a noise.
The Slim 7i is for those who like to use a laptop for office or college use. That means a lot of typing, presentations, video conferencing, Excel sheets and so on. In case you are planning to fire up a powerful game, you need to look at some other option from Lenovo. Powered by Intel Core i5-1035G1 processor and NVIDIA GeForce MX350 2GB GDDR5, there is just about enough muscle to keep things moving in the gaming department. Converting a 4.5-minute video to 4K took us around five and a half minutes while 15-16 tabs open on Google Chrome didn't make the machine buckle.
Is it for you?
Significantly compact, the laptop offers crisp visuals, crisp sound and excellent battery life. Unlike the recent Xiaomi laptop, which had cut quite a few corners, this one is a hardy choice. In fact, it has enough power to deliver good performance for years. There is very good build quality, a light form factor and impressive thermals. If I have to nitpick, I will say there could have been a physical webcam shutter for better privacy and if there was the option to upgrade the RAM. Hardy, stylish and versatile… that's Lenovo Yoga Slim 7i (Rs 79,990) for you.
Lenovo Yoga Slim 7i flies because…
⦿ It has excellent build quality
⦿ There are front-firing speakers
⦿ It sports a good selection of ports
⦿ There is good keyboard backlighting
⦿ It doesn't heat up too much
⦿ It offers good battery life
Lenovo Yoga Slim 7i could have flown higher had…
⦿ It added a physical camera shutter to the webcam
⦿ It allowed an upgrade in the RAM department
⦿ The peak brightness been slightly higher (helps under direct sunlight)