iPhone 13 Pro Max has the best camera
One of the biggest features on the phone is perhaps the most understated — photographic profiles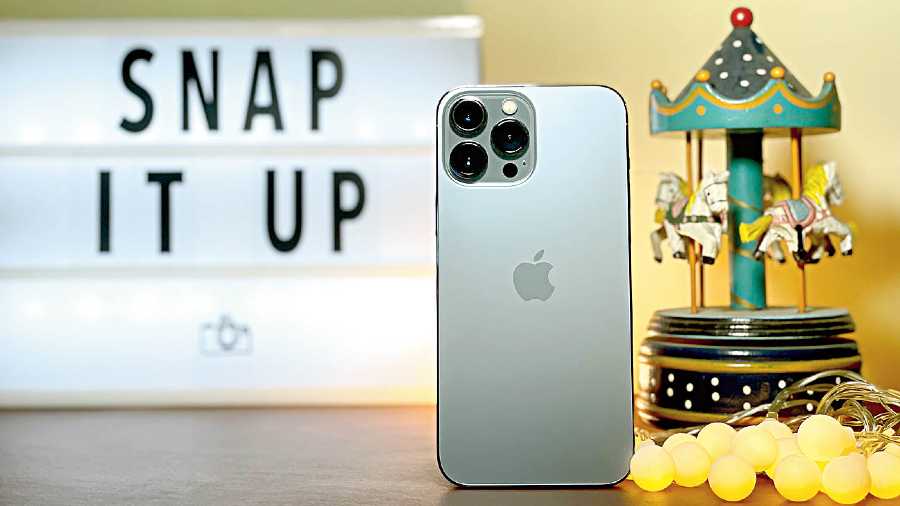 Apple iPhone 13 Pro Max can capture an insane amount of light, resulting in pictures that are crisp. Plus, it offers unmatched battery life on a smartphone.
The Telegraph
---
Published 27.09.21, 11:04 PM
|
---
The poet Robert Frost spoke about how way leads on to way. That's how I feel after using the iPhone 13 Pro Max, the most powerful phone money can fetch. And like the poet, I doubt "if I should ever come back" to anything else. Living in an era unlike any other, this too is a year like no other for the iPhone 13 series, which has taken into its stride one of the biggest leaps in the camera department, leaving competition far behind. Anybody who cares about details will care about the iPhone 13 Pro Max. It's one party with a lavish spread but at the same time, Apple doesn't forget to touch upon a few niggling criticisms from years gone by.
Speaking about how fast a new iPhone is like asking whether Quicksilver can run fast or having inhibitions about Flash's performance in a 100m dash. The A15 Bionic chip can take up tasks in the flashiest of flashes, given that it has an insane five-core GPU. What makes this phone special is the camera and battery life. Oh, and that screen, but we will get to that in a few hot minutes.
Pro means professional
The first note to remember while shopping for Pro models of the iPhone 13 is that the camera systems are identical on the Pro and Pro Max; it's about the size of the devices. Usually, the main wide-angle camera steals the spotlight because we use that most of the time but on the Pro Max, all three — each of them 12MP — jostle for attention.
Instead of playing the megapixel game, Apple went with offering improvements that live up to the pro moniker — pixel size of 1.9µm, f/1.5 aperture on the main camera… all of these add up to a simple fact: The sensor can take in a mind-boggling amount of light and more light means better pictures. I tried using the phone under varying conditions, right from 4.30am till past midnight with impressive results and not a single missed shot. An interesting result from the changes is that the camera doesn't need to switch to night mode as often as it did before, resulting in much faster clicks.
The other change is how the iPhone does computational photography. The results are clear to the naked eye: Images have less noise and more dynamic range. There is more accuracy with shadow exposure, which is easily visible and instead of brightening up the entire scene to look like day, the Pro Max allows darker parts of an image to retain the tone while brightening up other things.
Filters are passe
One of the biggest features on the phone is perhaps the most understated — photographic profiles. These are not filters. Consider them to be a creative styles that you can apply to every shot you take. When it comes to an explanation, bear with me.
Two things here. First, filters apply a certain feel to the entire photo, which is not the case here. Second, every phone brand has a certain feel to its images — Samsung flagship phone photos are punchy while Google Pixel has that cool vibe going. iPhones offer a certain crispness to photos. What if Apple can retain its unique photo quality but also offer almost every other possible "feel"? There is a slider on which you can choose the kind of feel your photos need to have — standard, rich contrast, vibrant, warm and cool. Apple's computational photography process, smart HDR, takes a slew of frames before combing them into an end result. During the process, the iPhone plays with white balance, colour, contrast and so on. Another side to the process involves the iPhone semantically recognising objects in the scene, like houses, fruits, sky and furry creatures. By setting a photographic profile, the iPhone takes the help of the A15 Bionic chip to make different choices during the smart HDR capture process. Instead of applying a one-size-fits-all look, it treats different objects differently, like skin tone. The resulting images are unlike anything you will see. What you get in a picture is an iPhone look by default but you can play around with the snaps to a degree that it may even have a completely different feel.
Remember, by applying a photographic profile, you cannot shoot a photo in RAW because the choices are baked into the file. Of course, it's possible to save all the extra data but it will create files that are chunky. In case you want a RAW image, simply shoot in that mode.
The Pro Max manages 3x zoom (6x optical zoom range), which may appear peanuts compared to a few other companies but what you get are the best portrait shots on a phone. No, we're not talking about portrait mode. Here, 3x is equivalent of 77 millimeters and the shots are super-rich. Every colour detail is taken care of. Where the telephoto lens suffers slightly is while using night mode but that too ever so slightly.
Let's talk rack focus
Apple has just pushed a technology that's possible on expensive cameras into your pockets. They call it Cinematic mode but what it does is something like rack focus effect. With rack focus, your camera should be able to change focus during a continuous shot. So, when two people are talking on the screen and one of them looks away, the focus should be on the other person but it should return to the primary subject as and when required. If there are three faces on the screen, it should also be able to handle the same. If the subject of focus moves out of a frame for a few seconds, he or she should be given back the focus on returning to the frame. All this is possible with Cinematic mode.
You can also change the focus throughout the video later and even change the f-stop for the whole video but only using Apple apps like Photos and Final Cut. The format is not being made public. And if you share the file, the choices get baked so they can't be changed. The accuracy is simply tops and if the camera fails to adjust at times, the same can be done manually later.
A fun feature
We have seen throwaway macro cameras on Android phones, which can be so bad that some reviewers find it fun to crack jokes at its expense. Apple too allows macro photography and video but without adding any extra lens. When you bring the camera close to a subject — up to two centimetres — the phone automatically changes camera modes while retaining the faming, offering photos that are stunning. The same can be done to shoot macro videos. It's one feature that I think will result in some very cool videos on YouTube and Instagram.
Battery king
One of the biggest knocks in the iPhone 12 line-up was battery life, especially on the Mini. So this year, that has been one of the biggest areas Apple has focussed on. On a single charge, we kept getting 10 hours of screen time on the Pro Max, which is up by 2.5 hours. And that's insanely good. And I am not talking about doing easy tasks on the phone. Throughout the day, I kept taking photos, shot videos and edited them. Plus, tethered a bunch of devices to the phone besides playing Pokemon Go. Yet, I went to bed with at around 12 per cent battery life left, which translates into more screen time. I can literally leave my battery pack behind for the day. Do I mind the charging speed? No. A sane person will prefer charging the phone at night.
What does it all mean?
I haven't mentioned that this year you get 120Hz screen refresh rate (ProMotion) because I didn't really miss it so far. iOS is so well tuned that animations have never shown any lags. Do I like it? Yes. Apple has done it better than other companies. The refresh rate can fall to 10Hz when using static pages and pick up while scrolling, allowing you to save battery life. And the Super Retina XDR display is big (6.7-inch) and pleasing to the eye.
I like photography. I like to create content. I like to play games. And that's where the Pro Max steps in. Sure, the iPhone 13 Pro now has features that Apple could have/should have earlier but when a person upgrades from the iPhone X or iPhone 11, the difference will be chalk and cheese. That's the crowd the company is looking at — the upgrade pool.
And anybody who cares about phone photography or shooting videos, need not think twice before buying the iPhone 13 Pro Max — it's simply the best smartphone camera money can buy you. Period.
At a glance Device: iPhone 13 Pro Max
Price: Upwards of Rs 129,900 (128GB, 256GB, 512GB and 1TB)
High notes
• Bigger aperture and sensor size
• Rack focus effect on point
• Photographic profiles changes the photography game
• Apple ProRes coming soon
• Excellent battery life
• High screen refresh rate
Muffled notes
• Auto switching between lens during macro photography could be slightly jarring to the eye