iPhone 11 and Apple TV+ are on the way and leaving us jazzed is the pricing
Plus, welcome 'slofies'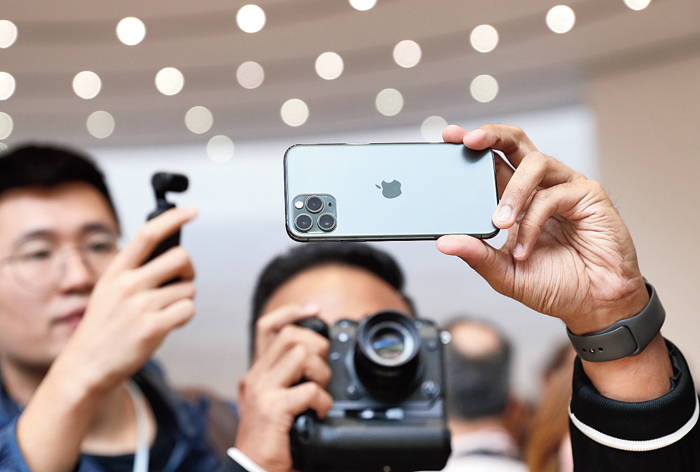 Apple is waking up to the fact that consumers no long race to buy more expensive phones
Pictures: Apple
---
Published 11.09.19, 08:58 PM
|
---
The biggest feature in this year's iPhone lineup is lower price, which has come as the biggest surprise at the company's annual launch event in Cupertino on Tuesday night. It simply shows that Apple is waking up to the fact that consumers no long race to buy more expensive phones. Here are the most exciting announcements CEO Tim Cook and his team made.
Cheaper entry-level phone
Three new iPhones are coming your way — iPhone 11, iPhone 11 Pro and iPhone 11 Pro Max (yes, now we have an easy iPhone naming formula!) and though the starting prices of the two advanced models have been maintained (Rs 99,900 and Rs 109,900 respectively), the entry-level model at Rs 64,900 opens up new opportunities for the company to attract new customers. Till last year, the US tech giant just couldn't justify the ratio between rising prices and new features, making people hold onto their phones longer. The pricing will certainly make competition nervous because once a person checks into the Apple ecosystem, it's darn difficult to check out. And having phones in lavender-esque purple and minty green colour can be a winning strategy.
The eyes have it!
Each of the three iPhones has gained a new camera lens, which was much needed because competing brands have been offering a triple-lens set-up for long now. Though the entry-level model has a dual-lens camera (up from a single lens in last year's iPhone XR), all the iPhones now include an ultrawide-angle lens, which offers a wider field of view that comes in handy while shooting landscapes or big groups.
On the Pro and Pro Max, the triple-lens system will allow you to zoom in on your subject and a new Night mode is there to make low-light photography easy. This is playing catch-up with Google Pixel's night photography feature, which is probably the best in the industry. Another good feature is the ability to take videos while capturing photographs — just press down the shutter button to take a short video.
Multiple cameras on all the phones also give Apple an opportunity to set new benchmarks in photography and video filming. The company has made a great attempt to prevent shifts in exposure and colour tone while changing between lens (this helps while shooting videos), which, sadly, happens on many Android flagships.
The iPhone 11 Pro will allow app developers record with more than one camera simultaneously and this opens up possibilities. While showcasing the Pro, the company previewed an upcoming Deep Fusion feature that analyses nine photos (including one long-exposure shot) taken in sequence. It then assembles a photo with added detail and low noise. This is "computational photography mad science", Phil Schiller, senior vice-president of Apple, said during his presentation.
On to videos. All three cameras now shoot 4K at 60fps. Sean Baker, the director of Tangerine (which was shot on iPhone), helped Apple present the video-shooting capabilities of the new phones. "I'm always excited when I see new evolutions in the craft," Baker said about multiple shots being generated from a single vantage point, adding that the new tools' main contribution will be "reducing the number of takes and giving me more options in post". Expect a lot more "filmed on iPhone" TV shows, films and music videos to come your way.
Hello 'slofies'
Okay, this may sound shallow but this feature may become the next big thing on many phones. Apple is trying to popularise the 'slofie' or slow-motion selfies, a new feature on the iPhone's front camera, which now can take videos at 120fps, resulting in some really cool videos. Though social media is divided over the feature, one certainly can't ignore it.
Apple TV+
Another high point of the evening was more announcements around the company's upcoming streaming service. It could very well have been the "one more thing" moment but the announcement was made before the new iPhones were unveiled.
Apple TV+ will make its first shows available on November 1 in 100 countries and regions and in India it will come at Rs 99 per month. In fact, the company is offering a free year of Apple TV+ to customers who buy a Mac, iPhone or Apple TV. The service debuts less than two weeks before Disney's new service, which will cost $6.99 per month (Apple TV+ costs $4.99 in the US).
The service comes at a time when Apple has started shifting its narrative from just being the iPhone company. To beef up its content slate, Apple has, according to a report in The Financial Times, spent over $6 billion on original TV shows and movies.
Apple TV+ will include projects from Sesame Street and Peanuts, but the mission is similar to HBO's original programming. And that's why it has a list of top creators, including Steven Spielberg, Oprah Winfrey, Ronald Moore and
M. Night Shyamalan. And that is why Apple is spending a reported $15 million per episode on just one of its shows — the post-apocalyptic fantasy See, starring Jason Momoa.
The question we ask is can Apple make people subscribe to one more streaming service besides Netflix, Hotstar and Amazon Prime Video?
iPads and Watch Series 5
The base model of the latest seventh-generation iPad will have a larger, 10.2-inch display, compared with the prior model's 9.7-inch screen. It's also getting the faster A10 Fusion chip, support for Apple Pencil and a smart connector for a keyboard cover, which will appeal to the education market.
On the Watch front, Apple made a presentation that may give the impression that if one doesn't have the device, it may just well be lights out! The Series 5 Watches come with improved health-monitoring functions and the ability to access international emergency calling without a phone on hand. It also has a low-energy, always-on display, which is really helpful when one is exercising or taking public transport where there is little room to flick one's wrist to make the screen come alive. There's a new titanium model in the wearable series that is easier to accessorise.
Game on
Apple Arcade was announced back in March, but now we have more information about the subscription service, which may prove to be a game changer. Customers will have access to exclusive games, available across mobile, desktop, and TV platforms and when Arcade launches, there will be over 100 titles to choose from. Those with an Arcade subscription will be able to download and play games with zero additional charge. During the presentation, Apple invited game developers on stage to showcase their games, including a new Frogger title from developer Konami and Shinsekai: Into the Depths, a survival horror title from developer Capcom. Apple Arcade is a big opportunity for Apple to have a predictable revenue stream from services.
The high points
The pricing of the entry-level phone is competitive enough to stop users from switching over to Android.
Apple ensures the new iPhones match the features and capabilities of the Android world, ensuring people don't move away from the ecosystem.
Apple TV+ has been competitively priced, ensuring the company's ecosystem has new users.
Apple Arcade has exclusive games on a subscription basis, which will ensure a steady flow of users.
Hate it or like it, Apple has given the world something to talk about — 'slofies' or slow-motion selfie videos!
The Pro and Pro Max models include an 18W USB-C fast charger and a USB-C to lightning cable in the box.